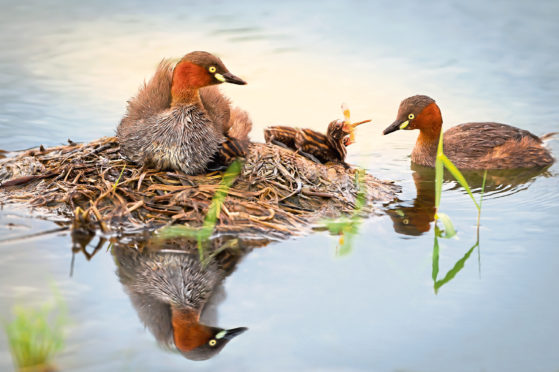 A shrill winnowing call drifts across this tranquil reed-fringed lochan in Devilla Forest in west Fife and out on the water I spot a dabchick and her two chicks.
This is mighty late in the season to have chicks, but I remember noticing this phenomenon a couple of years ago on Forfar Loch, having seen dabchicks out and about with youngsters at the beginning of October.
They can have two broods in the year, so presumably these birds were having one last fling at nesting before winter sets in.
I bring my binoculars to bear upon this family, the youngsters weirdly garbed in their scruffy striped coats of down, while the mother was sleeker altogether with dark brown plumage and striking patches of chestnut on each side of the head.
Also known as little grebes, they are delightful waterfowl, constantly diving under the water in search of small fish and aquatic invertebrates.
A dragonfly whizzes by my head and then alights by the water's edge, before taking to the air again on powerful wings and sweeping over the lochan towards a reedy margin. It is a common darter on its final swansong, for in a matter of days it will perish, having completed its job of mating and laying eggs.
Once hatched, the dragonfly nymphs will become ferocious predators on the silty pond bed, feasting upon other invertebrates with gusto – although they will also have to be wary of being predated upon themselves, for those dabchicks up above will actively seek them out. Eat and be eaten, it is the very cornerstone of nature.
I move on, taking a wide sweeping track that eventually bounds on to Peppermill Dam, a much larger loch altogether. Here, the water is full of honking Canada geese, perhaps a hundred or more birds, and I don't think I've ever seen so many together in the one place before.
As the name suggests, they are a non-native species, and numbers seem to be increasing with each passing year.
Introduced creatures are seldom desirable and I wonder what impact they wreak upon our native animals, especially in competing for food on such restricted bodies of water. Canada geese are very territorial, and I imagine they must hinder other waterfowl from breeding near areas where they nest.
As I leave the loch edge, a large brown toadstool shines out by my feet, its umbrella cap glistening from recent rain. It is a birch bolete, and a herald to a host of other fungi that will soon be adorning the countryside.
While fungi may not be everyone's cup of tea, they are the very bedrock of our ecosystem, being essential recyclers and nutrient providers for trees and other plants.
In short, fungi underpin every type of habitat there is, and without them our natural world would descend into chaos and instability; reason enough for us all to hold fungi in awe and wonderment.
Info
Dabchicks are highly territorial, and the nest comprises a floating platform of waterweeds anchored to submerged vegetation. They lay between four to six eggs.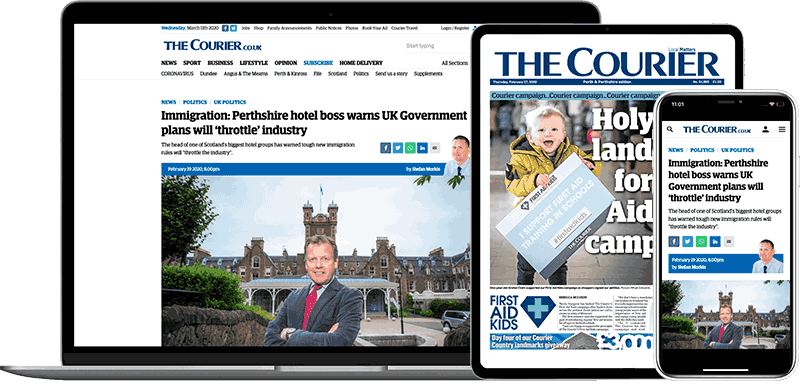 Help support quality local journalism … become a digital subscriber to The Courier
For as little as £5.99 a month you can access all of our content, including Premium articles.
Subscribe