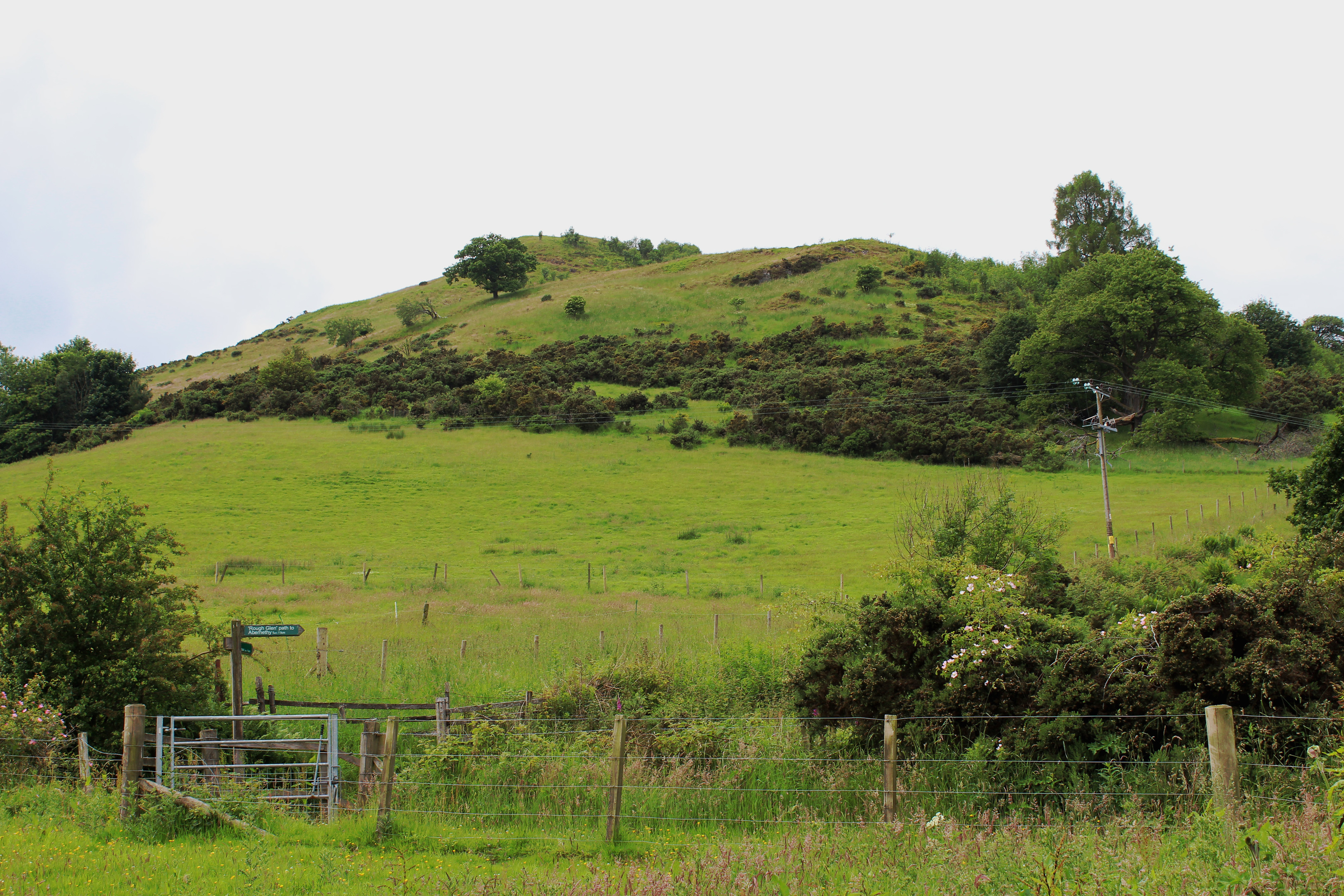 Abernethy's famous Round Tower is a striking landmark, believed to date from 1100. But, standing in its historic shadow, I planned to step much further back in time, to explore remnants of earlier settlement.
Overlooking the village, Castle Law is the site of an Iron Age hillfort, the rocky crown protected by steep flanks. To breach its defences, I would have to conquer these hilly slopes.
From the tower, Main Street led me west towards the A913, an easy enough approach. I paused briefly to admire the Nurse Peattie Memorial Garden, dedicated to former district nurse Elizabeth Peattie, who served the area for almost 30 years, before a track opposite enticed me into Abernethy Glen.
Dipping left, a footbridge conveyed me over the Ballo Burn and a path on the opposite bank led me upstream, through mixed woodland and past a succession of small falls.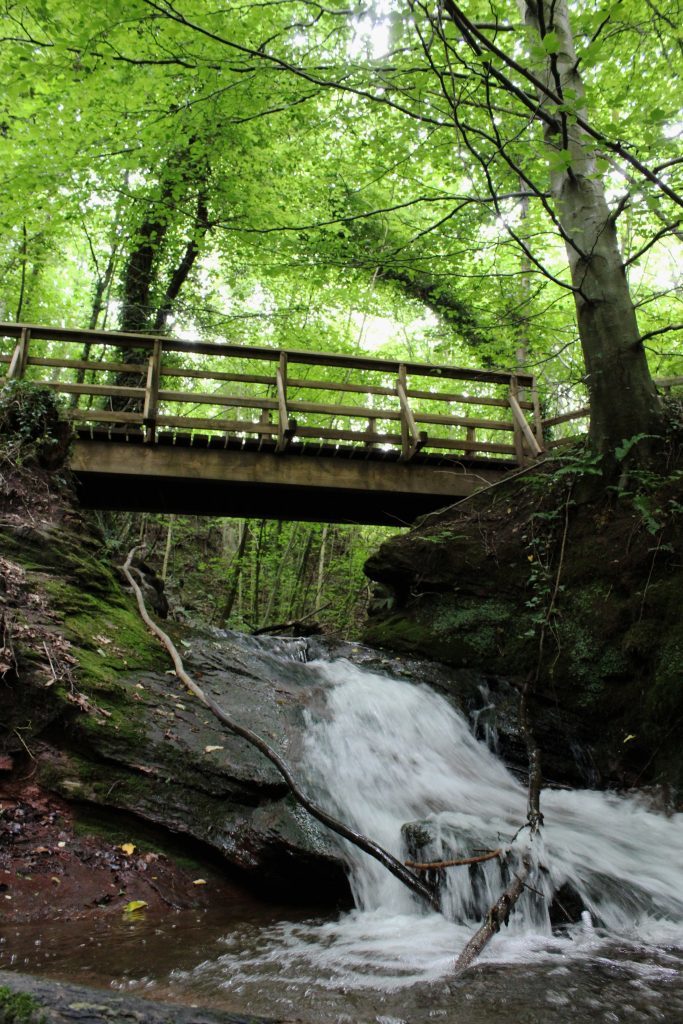 The route emerges from the leafy dell briefly, crossing a field where ponies graze below Castle Law, before re-entering the trees and then skirting up the edge of a field to meet the Glenfoot road.
Across the asphalt, the assault really begins, a grassy path rising sharply up the eastern side of the hill. It is a strenuous, unrelenting pull but the effort is rewarded with views over the flat, arable lands of Strathearn and the River Tay.
With frequent pauses to savour the vista, I made steady if unremarkable progress, the path looping up through bracken, gorse and pockets of woodland to a bench and information board, a last pit-stop ahead of the final push.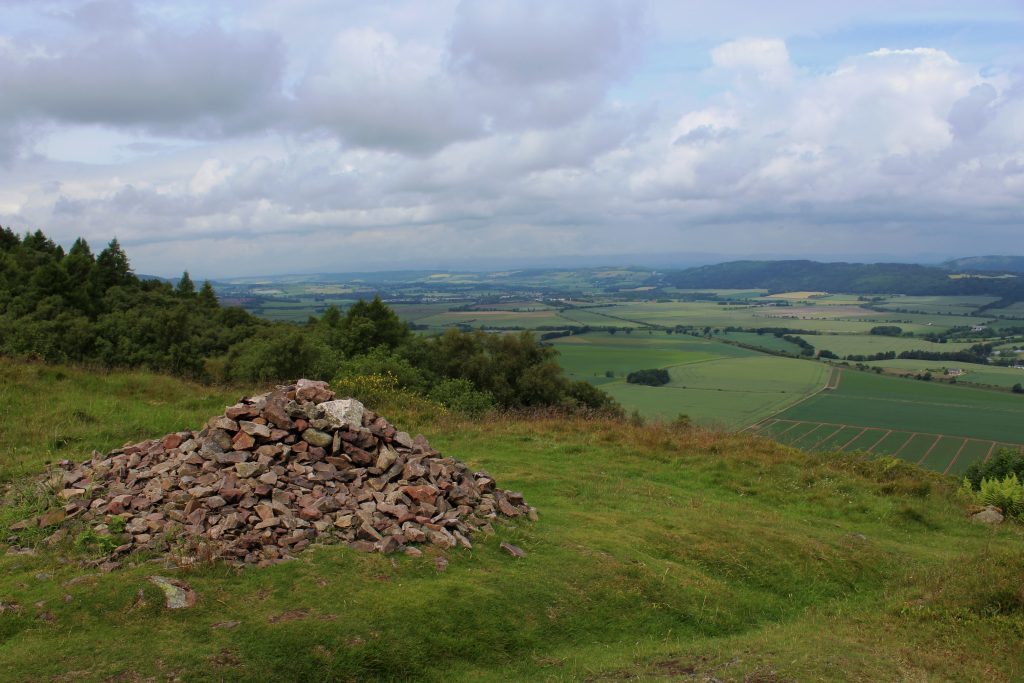 A cairn sitting atop an exposed, rocky outcrop marks the site of the fort, first excavated by two local men at the end of the 19th century. Over subsequent years, various ancient artefacts have surfaced, including a polished stone axe, arrowheads and a bronze ring.  
While enjoying an elevated defensive position with commanding views, the fort does not occupy the top of Castle Law – it lies to the west, shrouded in woodland.
A slim trail leads into the trees, passing above a small pool before meeting up with and following the line of a fence.
Weaving through a carpet of heather and blaeberry bushes, the way undulates over stony outcrops, sheltered by a mix of lichen-draped larch, Scots pine and deciduous trees.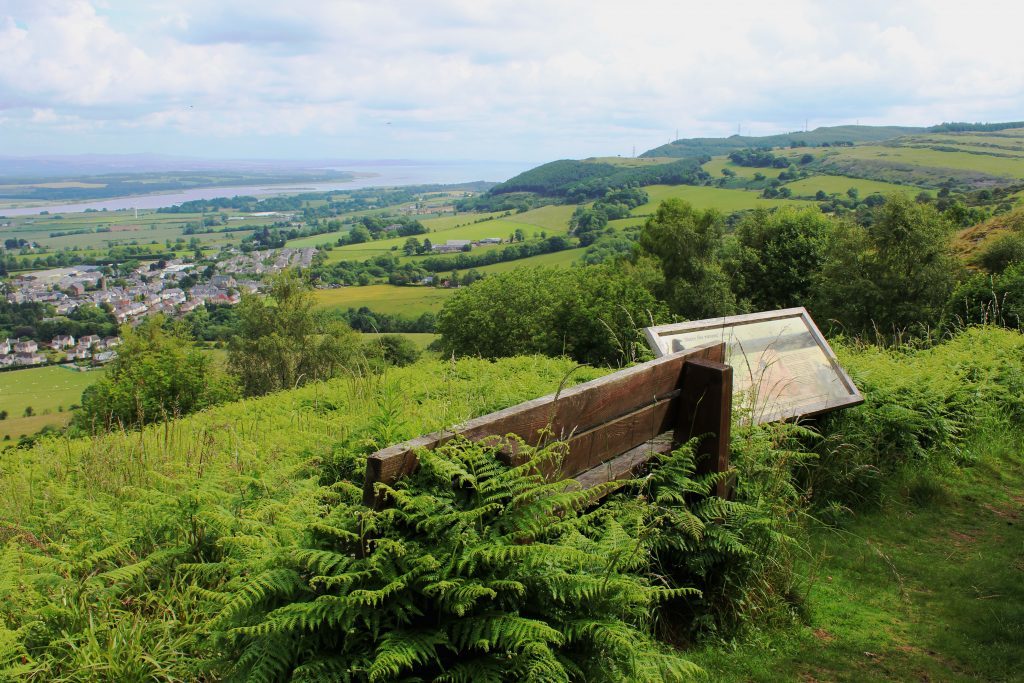 The summit, when it comes, is not instantly discernible as such but the high point of Castle Law lies atop a more substantial band of exposed rock, just beyond another wee pool.
From here the path descends gently, curving right to cross the top of a narrow incision at Cutty's How and, after negotiating a final mound, drops in earnest through tall conifers to meet a grassy forest track.
Roaming along the northern slope of the hill, the track offers easy walking east and, where it ends, a distinct path with a more open outlook takes over, a final stretch through bracken meeting the outward route.
Thankfully, after puffing my way up this incline earlier in the day, I enjoyed a swifter and less demanding return to the Glenfoot road.
Rather than simply retrace my steps through the den to Abernethy, I trotted down the road, picking up the Rough Glen route, a mix of track and path leading back to the village and the present day.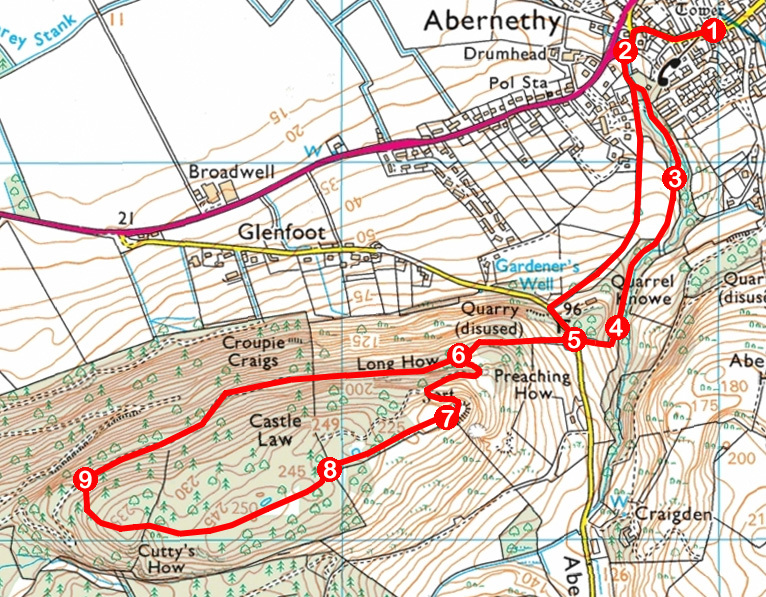 ROUTE
1. Follow Main Street west.
2. Approaching brick shed on left, go left up track then branch left, descending to cross footbridge. Bear right on path by stream.
3. Go through kissing gate and ascend left side of field to second kissing gate. Go through and continue ahead on woodland path to junction.
4. Turn right, signed Castle Law, and ascend path to road.
5. Cross road and ascend path, signed Castle Law.
6. Following Castle Law sign, stay on main path, looping up to large cairn.
7. Walk west from cairn on path, passing above pool down to right and following fence.
8. Cross fallen fence and bear left at junction beyond. Continue west then, above rocky outcrops, bear right on path, soon descending to grassy track.
9. Turn right and follow grassy track then path east to point 6. Descend to road and go left, following signs for Abernethy via Rough Glen path.
INFORMATION
Distance: 6km/3¾ miles
Ascent: 250m/825ft
Time: 2-3 hours
Grading: Moderate walk following paths and tracks, primarily through woodland, with a section of strenuous ascent. Keep dogs on lead where signs request
Start/finish: Abernethy Tower, Main Street, Abernethy (Grid ref: NO 190163). Parking available in Inn Close car park, signed off Main Street
Map: Ordnance Survey 1:50,000 Landranger sheet 58; Ordnance Survey 1:25,000 Explorer sheet 370
Tourist Information: Perth Information Centre, 45 High Street, Perth PH1 5TJ (Tel 01738 450600)
Public transport: Stagecoach bus service 36 from Perth to Glenrothes stops in Abernethy