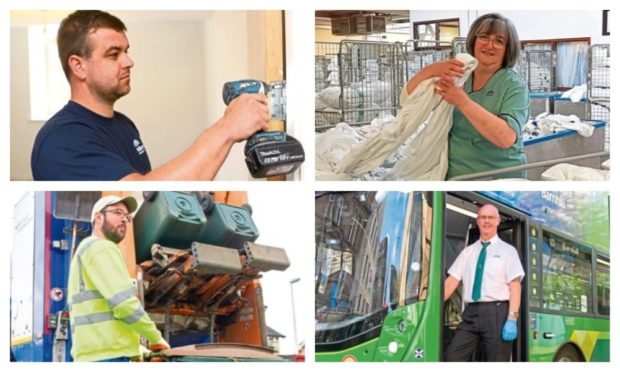 From joiners to nurses, bus drivers to binmen, they're the people who are keeping the country going during lockdown. Jack McKeown meets Courier Country's key workers.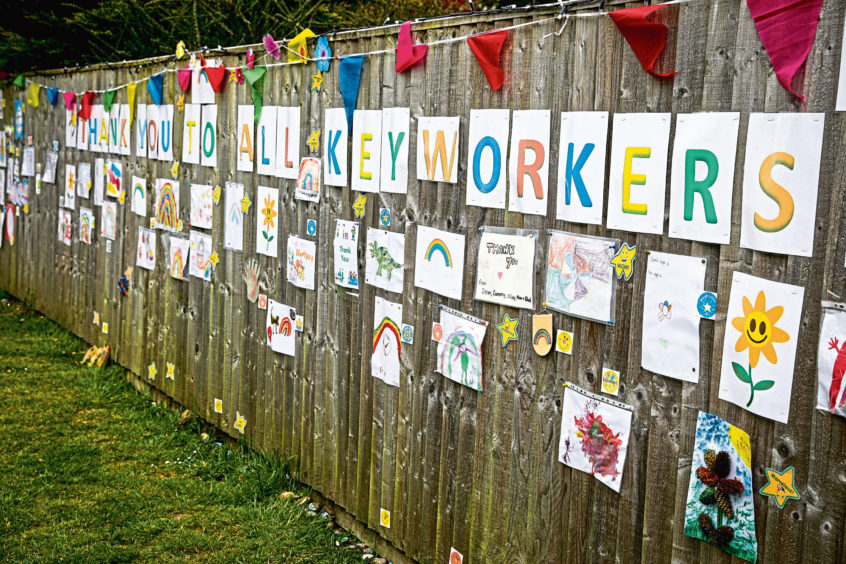 It's life, Jim, but not as we know it. Living under lockdown has been strange for everyone. One of the many things coronavirus has done is make us reappraise our priorities. Never have hedge fund managers, marketing executives or "influencers" seemed less important.
Instead, our focus has rightly turned to the people who really keep society going – often for very modest wages.
Here we meet some of the key workers who have been putting their lives at risk to help Scotland get through the Covid-19 crisis.
The nurse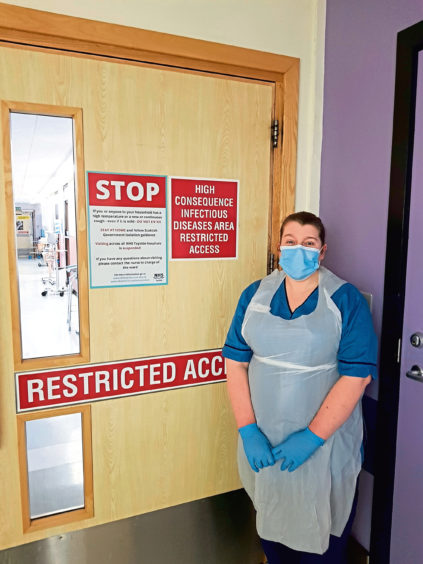 Kirsty Gibb, 29, is a charge nurse at Ninewells Hospital.
"One of the biggest parts of the job is keeping people's spirits up as much as we can. Patients who have Covid can't have visitors but fortunately we have an iPad on the ward and patients can FaceTime their family.
"We had a gentleman who was in hospital before this started but then caught Covid and had to be isolated. We managed to get his daughter to speak to him by video and he was so delighted to be able to see and talk to her. It brought a tear to my eye.
"We have to wear a mask for all 12 hours, apart from on our breaks. They're not the full masks that give people red marks on their faces – those are worn in the high dependency unit.
"They're simple surgical masks which are more comfortable. The biggest issue for me is I like to smile a lot and patients can't see that when I've got a mask on.
"We've been overwhelmed by little gifts and tokens from the community. I was driving home after my shift (on Thursday night) at 8pm and the streets were lined with people clapping.
"I'd seen it on the news before but this was the first time I'd seen it happen myself. It's really touching how many people were out there and it makes me proud to work for the NHS."
The tester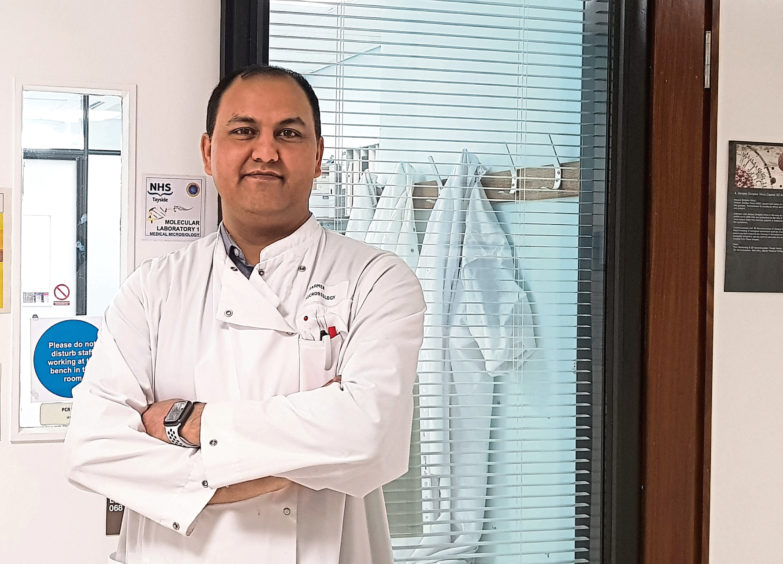 Rajiv Farmer, 40, is the service manager for NHS Tayside's Virology unit.
"We've gone from nothing to super busy. We're accustomed to being seasonal – in the winter our workload goes up by 200 or 300% – but this is like nothing we've ever seen before.
"We began Covid-19 testing on March 12. We were the first lab in Scotland to test social care and health workers. We've expanded testing to care homes and prison workers, and will shortly begin testing fire brigade, ambulance and police staff as well. By mid-May we should have the ability to test 1,400 people a day.
"The first minister singled out NHS Tayside for its testing, which she said was exemplary.
"It made me very proud to hear that. We're a small team of just 13 staff and I'm very happy to lead such an incredible group of people.
"Every member has stepped up and given their absolute best. Normally we work 9-5 but we've expanded our hours from 7am-9pm.
"Staff have been very happy to work different shift patterns. They've all been putting in extra hours and coming in at weekends.
"Very often the work that laboratories do takes place in the background. Now we're front and centre of the response to this. Our work helps with diagnosis, bed management and infection control.
"My job is ensuring we have enough testing kits, equipment, reagents and so on to continue testing. That's been quite challenging – as you would expect there is a lot of competition for the resources that are out there.
"I've worked for the NHS for 12 years. I was here through swine flu, but we had a treatment for that. This is completely unprecedented and it has affected the whole world.
"On a personal note, I have a wife and child and I'm the only key worker in the family. That means I'm the only one leaving the house to go places so if either of them gets the virus it is because of me. It's something I'm quite worried about."
The bus driver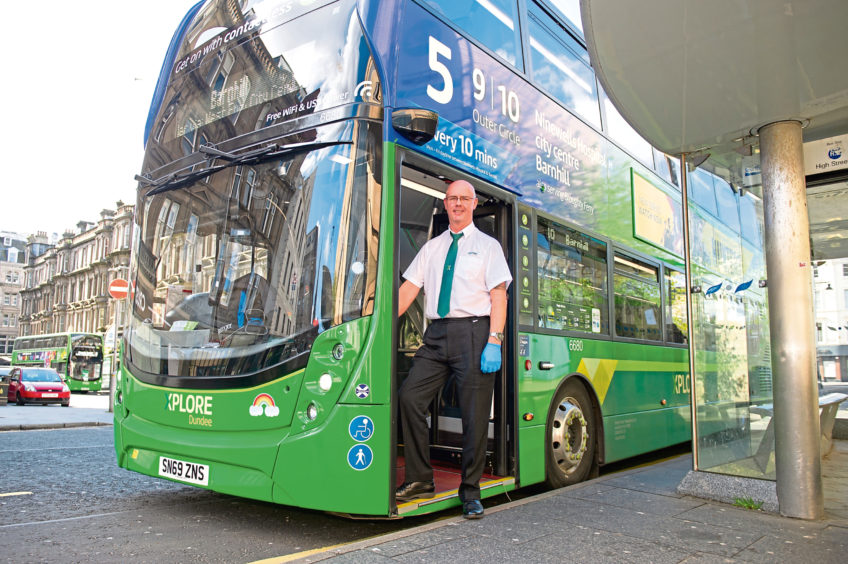 Jim Tyrrell, 58, is a bus driver for Xplore Dundee.
"I've been a bus driver for 30 years and I've never seen anything remotely like this. We've reduced our service from around 90 buses during the daytime to 24. Most of our passengers are key workers but we do still get quite a lot of pensioners. For some it's their only social outlet – they like to sit and speak to people. They should really be in the house, though, so we try to discourage that.
"People who don't have cars need the bus to get to the supermarket. Instead of going as couples, either the husband or wife now go on their own and buy as much as they can carry. Their partner will meet them at the bus stop to help them carry it home. People like that have to go to the supermarket more often because they can't bulk-buy like people who have cars.
"We have a supply of antiseptic wipes, gloves and face masks. When we change buses the new driver wipes everything down.
"We each take a turn on furlough. I've been working for the past three weeks and at the end of this week I'll go on furlough and drop to 80% of wages. It's a fair system. The company has been very good with us.
"Quite a few passengers have approached and said they appreciate that we're continuing to run a service."
The binman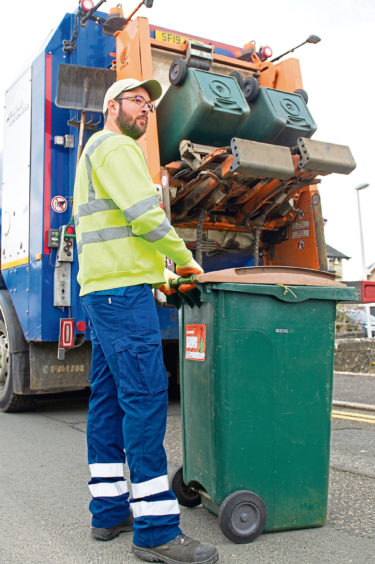 Robbie Milne, 26, is a binman with Perth & Kinross Council.
"The biggest thing for us has been social distancing. Normally we work three to a cab but we've reduced that to two so we can maintain a safe distance. We have two more guys who follow behind in a car, so there are four of us in a crew now – we've taken on people from other departments to help out.
"Some councils have reduced their collections but we're still doing a full collection and so far it's been OK.
"Hygiene is the focus for us. We've got latex gloves, masks and alcohol hand gel.
"The public have been great and a lot of them have shown their appreciation. We get a lot of clapping and people waving for us when we're out. It's really nice – it feels like there's a newfound appreciation for what we do.
"I live with my girlfriend. All of us have family and none of us want to put anyone at risk. As soon as I get home I put my clothes straight in the wash and get in the shower."
The hospital laundry manager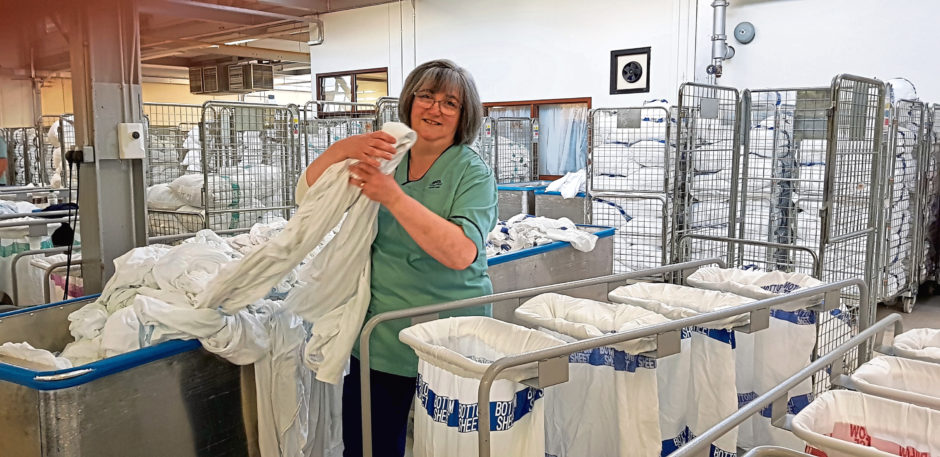 Jane Livingstone, 57, is supervisor in Ninewells' laundry department.
"We clean and process all the laundry across NHS Tayside. Infection control is a huge part of the job so we're always very aware of that. We have clean areas and dirty areas and wear PPE in the appropriate areas.
"Where we've seen an increase in workload because of Covid is in more scrubs, for doctors and nurses, and in bedding. We're issuing a lot more uniforms.
"When the pandemic first started and people were panic-buying, some of our colleagues went to the supermarket at the end of their shift and were met with empty shelves. Thankfully things have settled down now. Supermarkets have been great, with a lot of them doing opening times specifically for NHS workers."
The joiner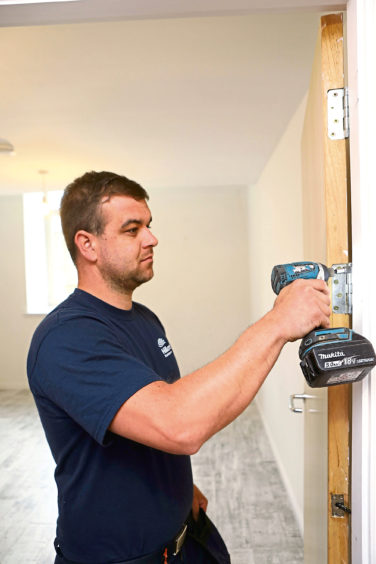 Dean Wilson, 29, is a joiner for Hillcrest Maintenance, which looks after Hillcrest Housing's more than 6,000 properties.
"We're only working on empty properties or doing emergency work, like if a tenant has locked themselves out. Something like 70% of the maintenance staff have been furloughed.
"We're down to five joiners, five plumbers and five electricians. I'm working two days a week and on call for the rest of the time.
"We cover a huge area – the other day I was in Cupar, Auchterarder, Perth and Dundee.
"The company has been really good with us.
"We have all the PPE we need, hand sanitiser and wipes in the van.
"There's a manager we can call if we need anything. If a tenant is coughing we carry out a risk assessment and if we don't feel it's safe we don't go in.
"I've been working for Hillcrest for seven years and we're a tight-knit group who support each other."
The doctor
Tom Fardon, 44, is a respiratory consultant at Ninewells Hospital. His Facebook posts on Covid-19 have become essential reading, with many of them being shared thousands of times.
"I wrote the first Facebook post because friends were worried about Covid and didn't have a good source of information.
"The posts started being shared and now a lot of people read them.
"These measures are unprecedented in our lifetime and lockdown is a big ask for people.
"I think having someone local who they can trust to give an honest appraisal of what's going on without being sensationalist is reassuring.
"I'm not long back at work after contracting Covid myself.
"For the first week symptoms were very mild but for reasons we don't yet understand there's often a second wave of the virus.
"From day seven and eight I had a much harder time of it with a very severe headache, tiredness, muscle pain, sore throat and a cough.
"I was due to run the Boston Marathon on April 20 so I'm in pretty good shape. It's important to stress that if you're in your 30s or 40s your chances of dying from Covid are very low indeed. However, it's still a very unpleasant thing to go through.
"I'm pleased there is a focus on what key workers are doing through this.
"Key workers are not just the NHS.
"They're bus drivers, council workers, supermarket workers, joiners, plumbers, cleaners, carers and so on.
"We often don't appreciate how important they are to our lives.
"Covid has made us realise how vital these people are to keeping things going.
"It's a huge team effort of people who are often under-recognised."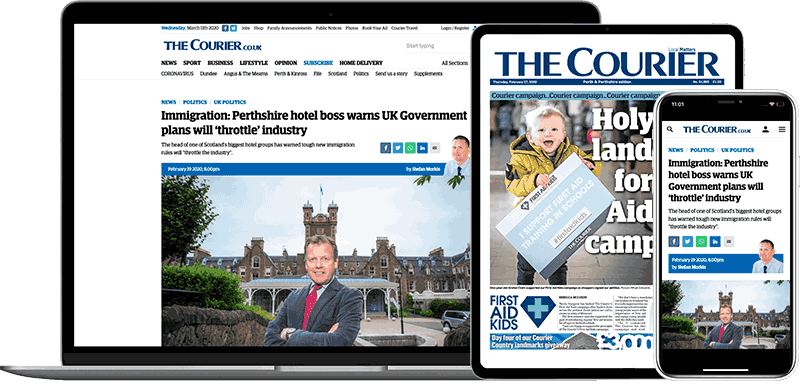 Help support quality local journalism … become a digital subscriber to The Courier
For as little as £5.99 a month you can access all of our content, including Premium articles.
Subscribe