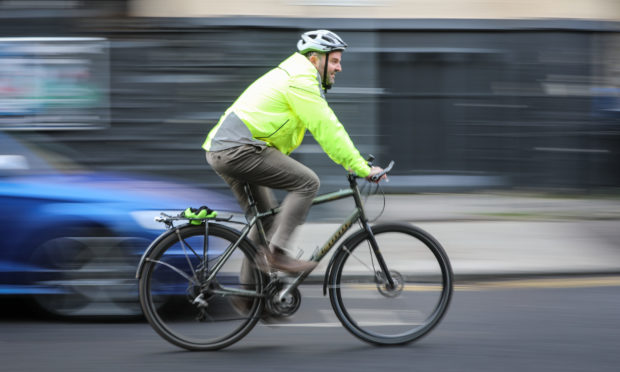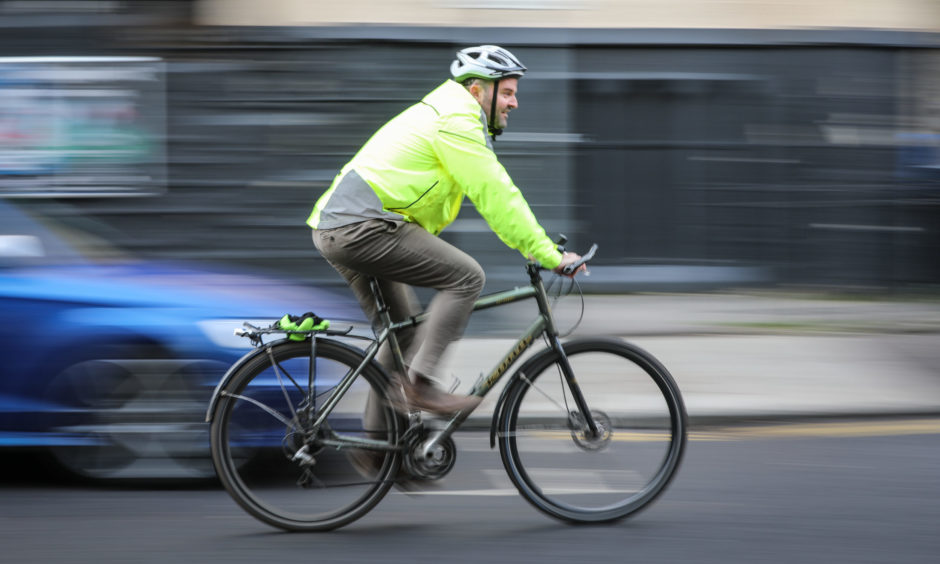 Since lockdown began, cities across the country have seen a phenomenal rise in the number of cyclists on the street and improvements in air quality. But as lockdown restrictions continue to ease, are our cities planning far enough ahead to keep people on their bikes and out their cars?
Colin Murray has never seen his cycling shop so busy.
Nicolson's Cycles has never not known steady business, but since Covid-19 arrived bicycles have almost wheeled themselves out the door of the Forfar Road shop due to unprecedented demand.
"From day one bike sales have just gone through the roof," he says.
"We've no mountain bikes, no hybrids, very little road bikes. It's a nice problem to have in a business sense but the suppliers have literally obliterated all their stocks across the country."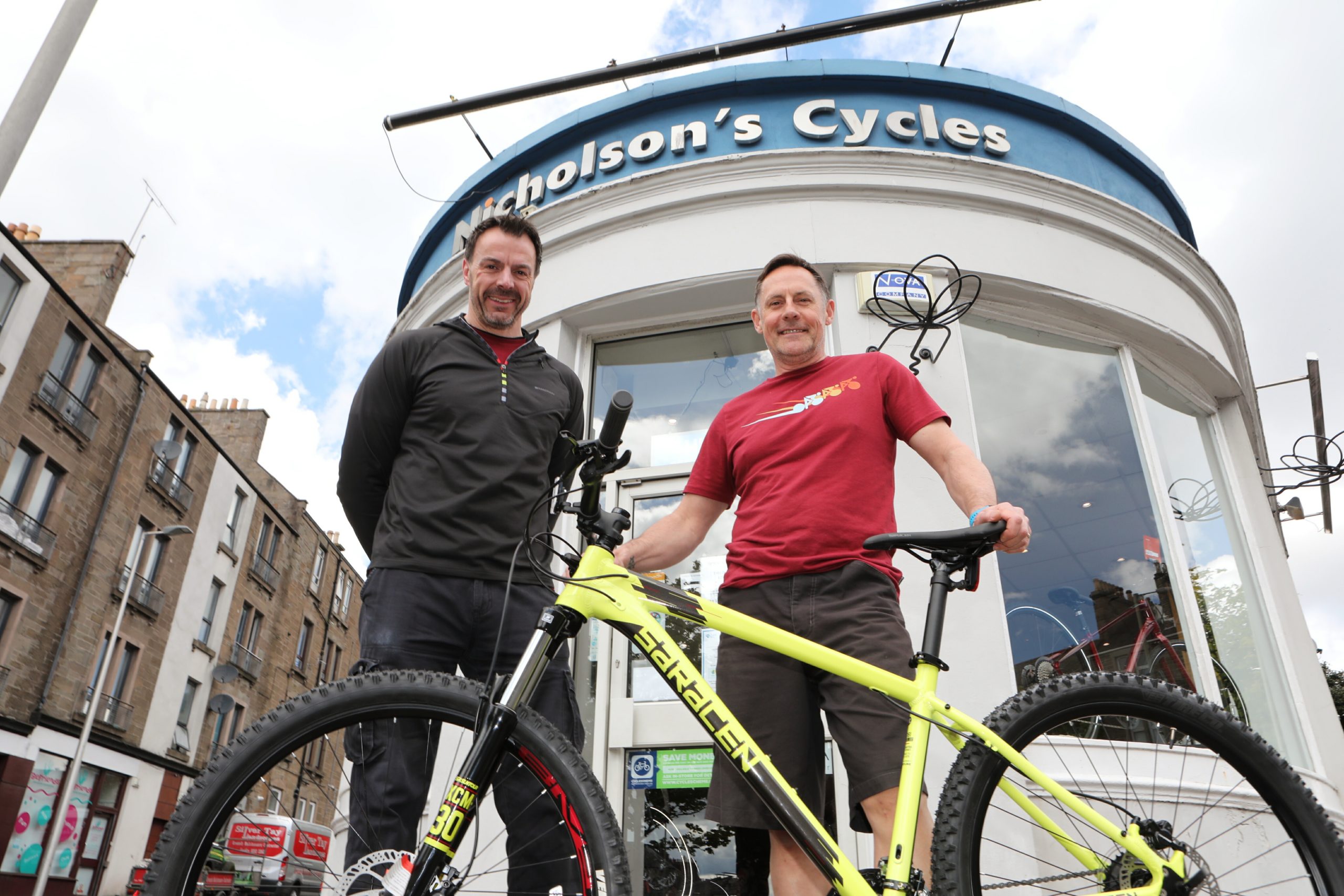 The data backs up the sentiment: three months after the nation's non-essential workers set up at home, car journeys across Scotland have fallen by 800% while bus firms have slashed their timetables due to low demand.
And with roads so invitingly quiet, the pavement-pounders and pedal-pushers have come out to play.
Average levels of cycling have risen by 80% across Scotland, and walking by around 50%, according to data published by Transport Scotland, surpassing even pre-lockdown levels of physical activity.
Car journeys have fallen by 250-300% compared to early March, while bus travel is down nearly 700%.
Alongside the nicer weather throughout April and May, Murray believes quieter roads have played a key role in getting people out and about.
"It's not kids bikes we're selling, either," he adds.
"It's all adult bikes, 95% of the time, I would say. People are commenting on the quieter roads, saying they're great. There are some roads in Dundee you wouldn't have gone down before for love nor money."
Cycling counters installed on key Tayside routes by Cycling Scotland have recorded a noticeable dip in weekly activity at the start of March as cases were reported – and record-breaking levels of pedestrians and cyclists from the end of the month onwards.
Air quality has also improved on the streets of the city, some of which are among Scotland's most polluted.
In the city centre's Seagate, the level of nitrogen dioxide pollutant in the air has fallen from a daily average of 65.7 microgrammes per cubic metre on March 5 to 3.2 on May 10 – a fall of 95%.
On Lochee Road, which regularly breaches European safety limits for NO2 exposure, levels of the gas have fallen from a peak of 77.8 mgm-3 in February to 3.6 mgm-3 in May – a similar 95% fall.
However, as lockdown measures are eased and Scotland moves from Phase One into Phase Two – allowing limited car travel – there are concerns that an opportunity to reshape local transport is being lost, with negative consequences for public health.
In April, sustainable transport charity Sustrans and the Scottish Government announced the creation of the Spaces for People fund to give councils cash to create additional space for socially distanced walking and cycling. Advocates for sustainable transport say councils could use the eight-figure pot to lay the foundations of the future of transport in our cities.
In Perth and Kinross, which has secured £1.1 million, traffic lights are being changed to automatically detect pedestrians waiting to cross and temporary cycle lanes are being created, in recognition of reduced car use.
Aberdeen has been given £1.76 million to pedestrianise 300 metres of Union Street and ban private cars from it altogether, while Edinburgh and Glasgow have each secured six-figure sums to give more space to walkers and cyclists.
However, in Dundee – where less than half of the city has access to a car – just £470,000 has been secured to temporarily close Union Street to motorised traffic as well as streets in Broughty Ferry, one of the city's most affluent areas.
Dundee City Council (DCC) says it has prioritised areas which already have high levels of bike ownership, but even then it is an outlier compared with other councils of relatively low levels of car use, seeking less funding from Spaces for People per head according to independent analysis.
In all, the city has an estimated 360 miles of roads for motorised vehicles to use, but just 28 miles of cycle and walking routes away from traffic, according to Sustrans' Bike Life Dundee report. Of that, just 0.1 miles – 160 metres – is exclusively for the use of cyclists.
Critics of the authority say it is making markedly less ambitious moves to encourage active travel in lockdown than other councils, in what has been perceived as a continuing trend of unpopular transport policy decisions.
Cycling survey: We asked what do you want from your council?
DCC has sought to bolster its environmental credentials by replacing much of its own fleet with electric vehicles (EVs) and building a network of charging points across the city. It also followed a number of local authorities in declaring a climate emergency in June 2019 following pressure from the guerilla environmental movement Extinction Rebellion.
But it has been panned over its "absurd" plan to exclude Lochee Road from its proposed Low Emission Zone because it is too valuable a traffic corridor.
The £1bn Central Waterfront redevelopment, which spans up to four one-way lanes with little provision for buses or active travel, has also been a frequent target of criticism, while locals have hit out at recent changes to road layouts elsewhere in the city that prioritise parked cars over keeping people moving.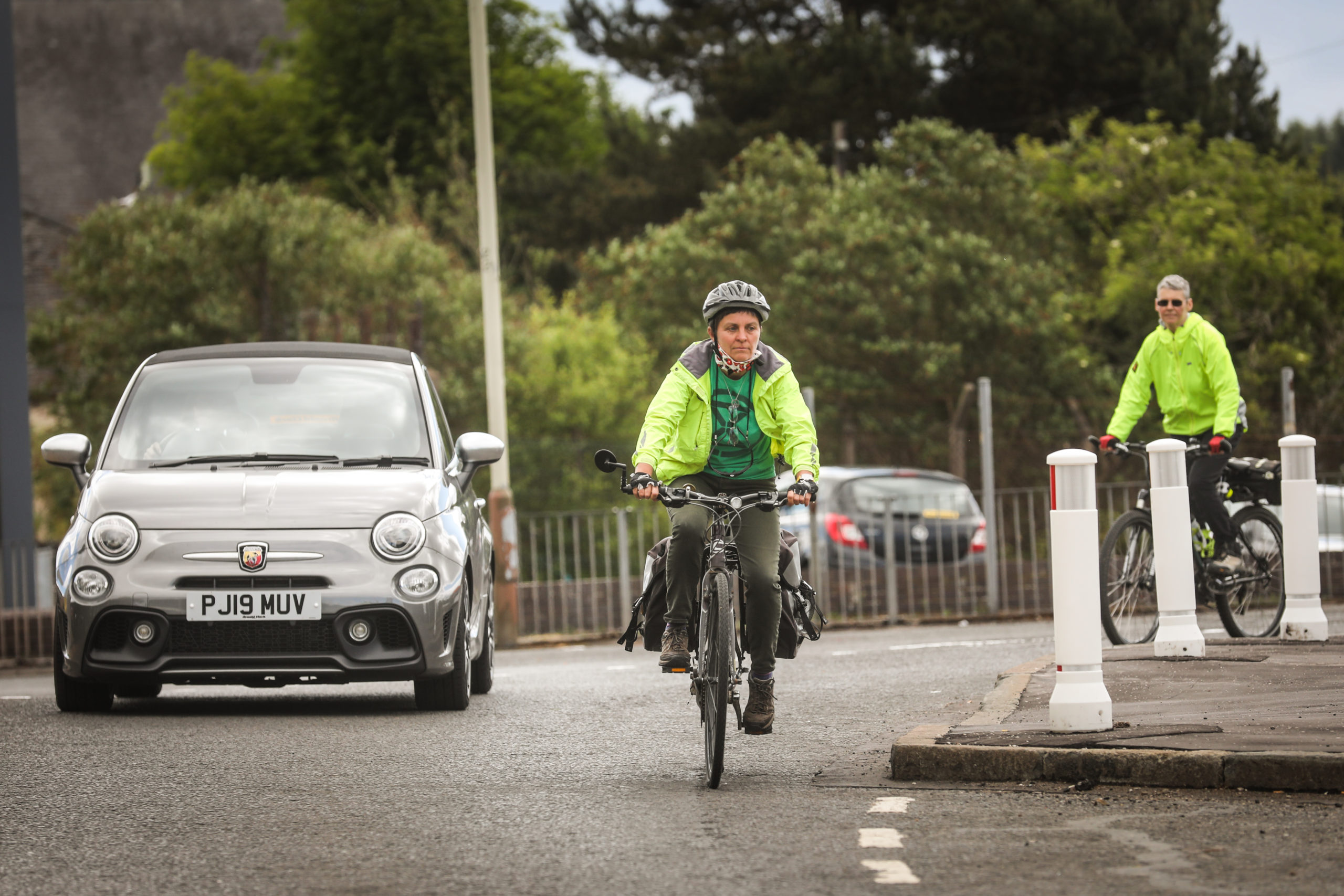 On Harefield Road, in the Lochee area, additional kerbing was installed to turn a dual carriageway into a single-lane road, with the leftover lane turned into a strip of car parking.
The work, carried out early this year, is contradictory to a 2017 recommendation made by local transport partnership Tactran to create a segregated cycleway on the road where the parking now exists.
In short, the general feeling among local cyclists is that, for all its chest-beating, Dundee's actual commitment to active travel does not come close to matching the puffery of its eco credentials.
Kate Treharne, a local who campaigns for environmental issues, says the Harestane Road layout is "genuinely dangerous" for road-going cyclists who must compete with lorries from the nearby Marchbanks depot to fit into the single lane.
As an activist with the local Extinction Rebellion group, Treharne had spray-painted a makeshift bike lane on the kerb while it was being built, in protest at the bike-unfriendly works.
"You really feel the pressure from the car behind. I got very upset when they built that sticky-out thing," she says, gesturing to the kerb.
"They didn't put a kerb ramp in or anything (for bikes to mount the kerb) – it's just so thoughtless."
Asked if she could think of any positive moves the council has made to support active travel, she could only name one: a 135m-long contraflow for cyclists built three years ago on the city centre's Bank Street which goes against the flow of motorised traffic.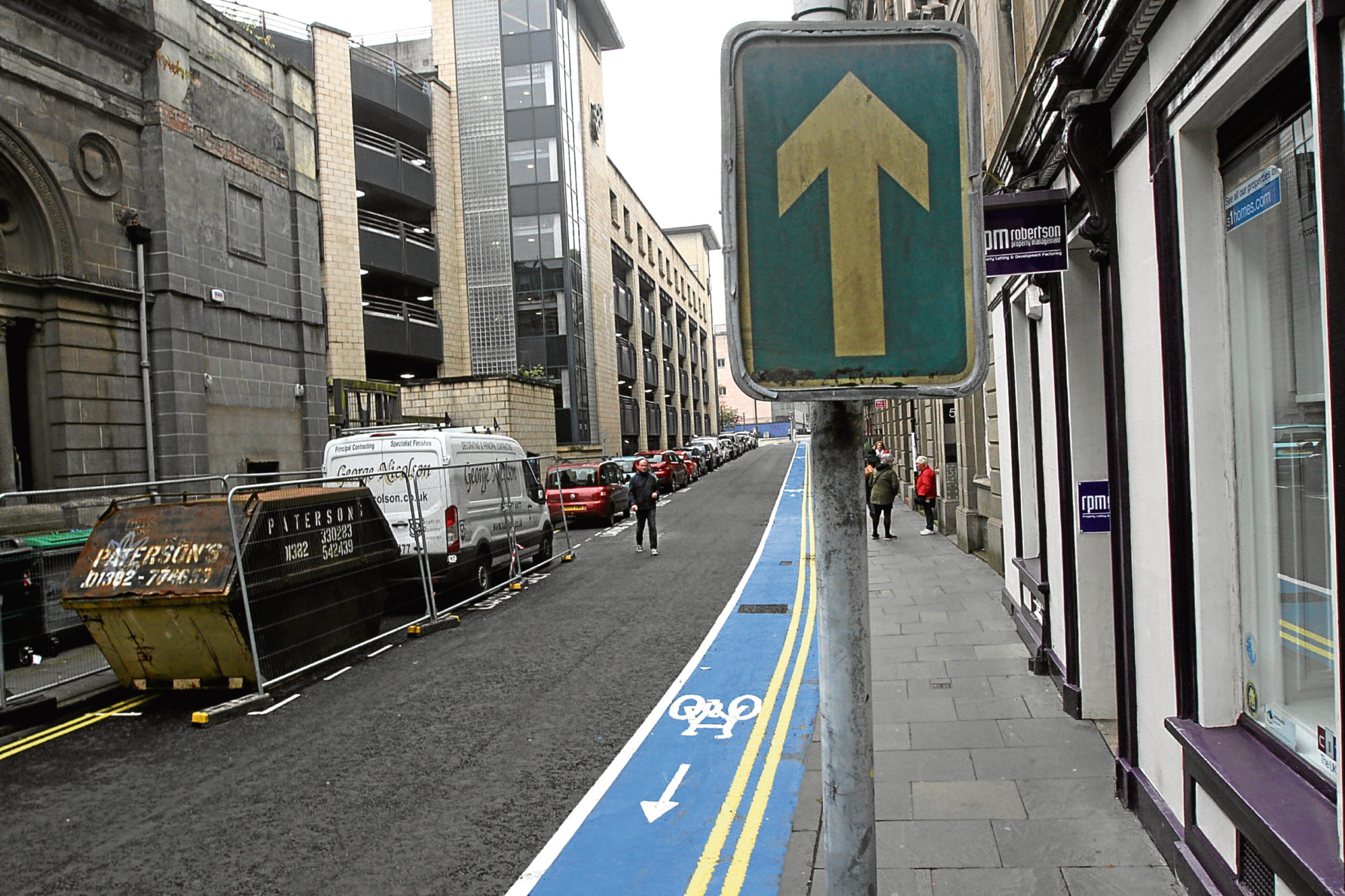 She added: "When they have an opportunity to act they pretend they haven't seen these Tactran reports.
"All these routes have been picked out by Tactran and Sustrans can provide the funding. All the council has to do is apply for it."
Russell Pepper, spokesperson for the Dundee Cycling Forum (DCF) – created by the council to be the voice of cyclists in the city – describes Dundee's current cycle provision as "piecemeal". To him, cycle paths have been seemingly painted at random at some of the city's more significant junctions. After the lights go green, they often lead nowhere.
"From a personal view, while I'm a confident cyclist and happy to cycle on busy roads, infrastructure in Dundee is crap, to put it bluntly," he said.
"It's not conducive to anyone wanting to cycle. That's why the numbers are so low. People are scared of cycling in traffic. It's the number one reason."
"The Waterfront is an absolute disaster: town planning from the 70s, a big square roundabout. But it would be embarrassing to admit that you got this brand-new road wrong. It would take balls, politically."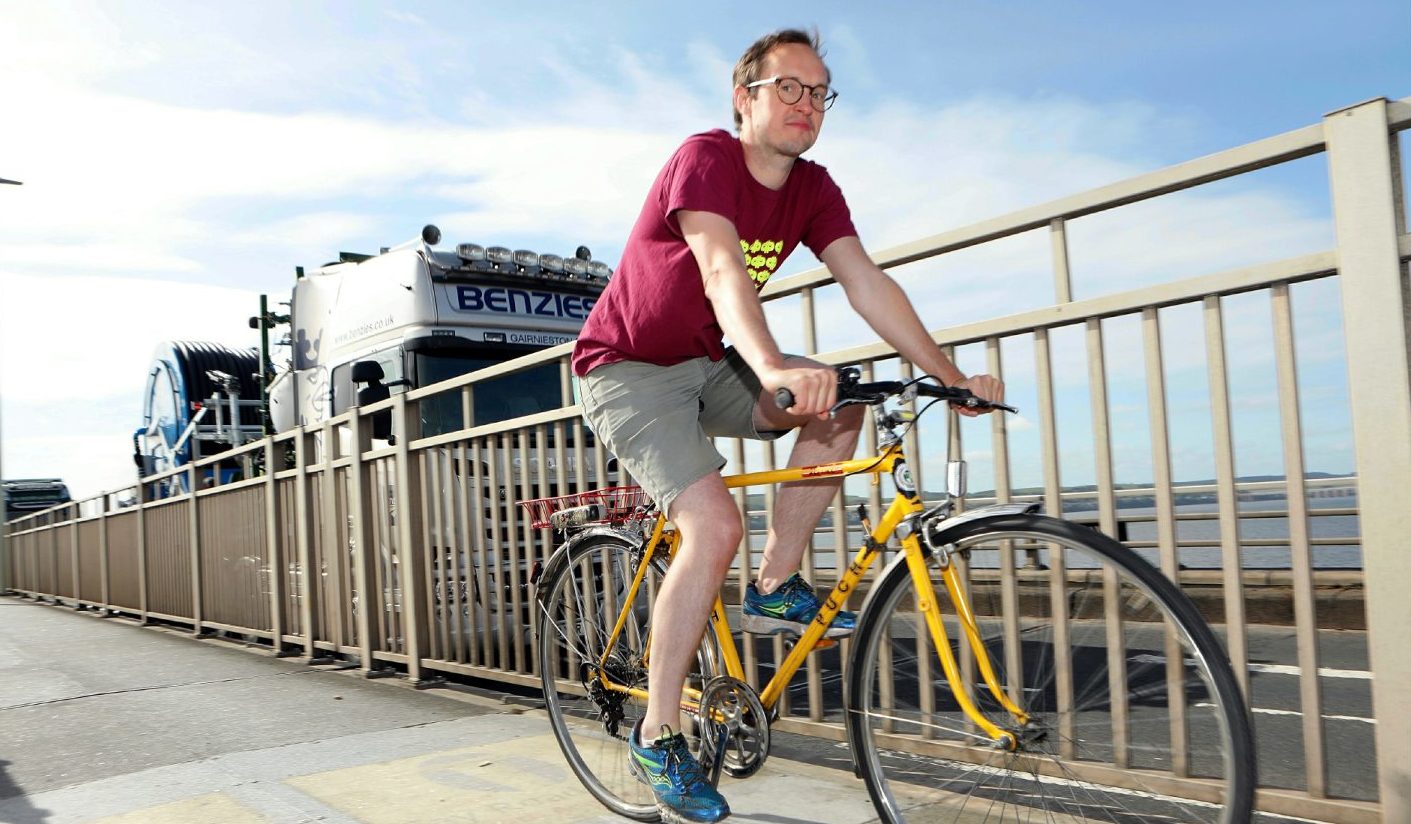 The DCF has launched a petition calling on Dundee City Council to take greater advantage of the Spaces for People fund. In its detailed proposal, which has 1,000 signatures to date, the forum calls for the council to create a "temporary, city-wide cycling network" which does not leave out areas of the city with low levels of bike use.
The council says it is waiting until its current projects are finished before applying for more funding. However, DCF fears there is a "real chance it will be too late" to make a difference before car usage returns to pre-lockdown levels if the council does not act.
And while Pepper recognises the SNP-led administration's support for environmental issues, he often feels that it is all bark and no bite.
Dundee transport chiefs preparing fresh cycling and walking bid
"It's very nice what they're doing at Broughty Ferry and it looks like it will be a nice active route but the city (as a whole) should have that. They aren't trying to to increase everyday journeys and they are not trying to increase accessible or safe routes outside the most affluent areas in the city.
"The political will is there and they (the administration) all support what we do – they've said so. But it is a bit weird that they say that and nothing happens.
"We need to see a full sustainable travel plan for the city that will include safe walking and cycling routes that join up. It's already there, in their cycling strategy. I don't know why they can say all this stuff and not act on it."
To locals like Nicholson's Cycles boss Colin Murray, the lockdown is a chance to reshape how Dundee gets about.
"Councils here and everywhere have a prime opportunity to get this right and do something big to keep people cycling," he says.
"One of the biggest factors we hear about from people is the safety aspect – they don't feel safe and there's no safe lanes or pathways for them to use.
"I really hope councils do take the funding available on board. There are loads of cities down south – Manchester, Sheffield, Liverpool, London – where the local authorities are just getting on with it and cutting out areas where there's no traffic for cycling. I really hope something like that happens."
---
Our cycling survey
Over the coming days we will hear what local, national and international experts believe needs doing to keep people on their bikes during and after lockdown – and give the council their chance to respond in turn.
We also want to know what you think about cycling where you live, whether in Dundee, Angus or Fife. Are you a seasoned rider enjoying seeing others get in the saddle, or a new member of the cycling club taking to the roads for the first time?
Complete our survey and share it with your friends so we can put together a complete picture of cycling in Tayside.

If you have anything further you'd like to contribute to our story, email jbrady@dctmedia.co.uk with pictures, videos and anything else you'd be happy to share.