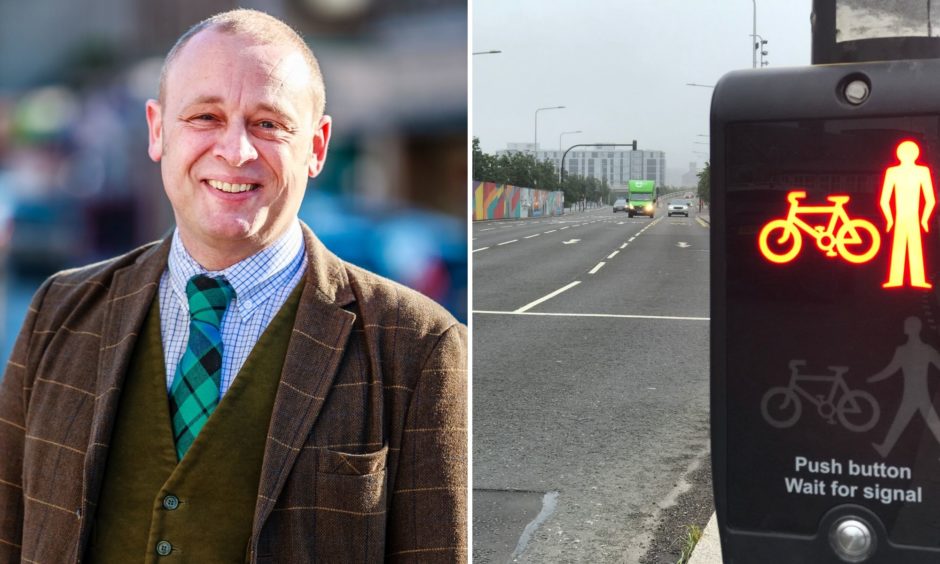 How do we make transport better for the environment, the local area and ourselves post-Covid? We've been seeking answers to this with our Pandemic Pedal Power series, speaking to everyone from local cyclists to international urban design experts. In this piece, we put the criticisms and suggestions to Dundee City Council's city development convener and its cycling spokesman.
Despite promises that it would cater to cyclists, Dundee's new central waterfront road network is evidence that the car remains king.
City bosses boasted at the turn of the millennium of how the development would reconnect the city centre and the River Tay – but with the road network finalised, pedestrians and cyclists have found they must wade through a sea of traffic lights to get from one to the other.
There are no fewer than four pedestrian crossings between Union Street and the V&A Dundee museum, all of which prioritise motorised traffic.
Councillor Kevin Cordell, Dundee City Council's cycling champion, admits that the layout is not ideal – and if the idea had been explored now, rather than 20 years ago, it would likely be different.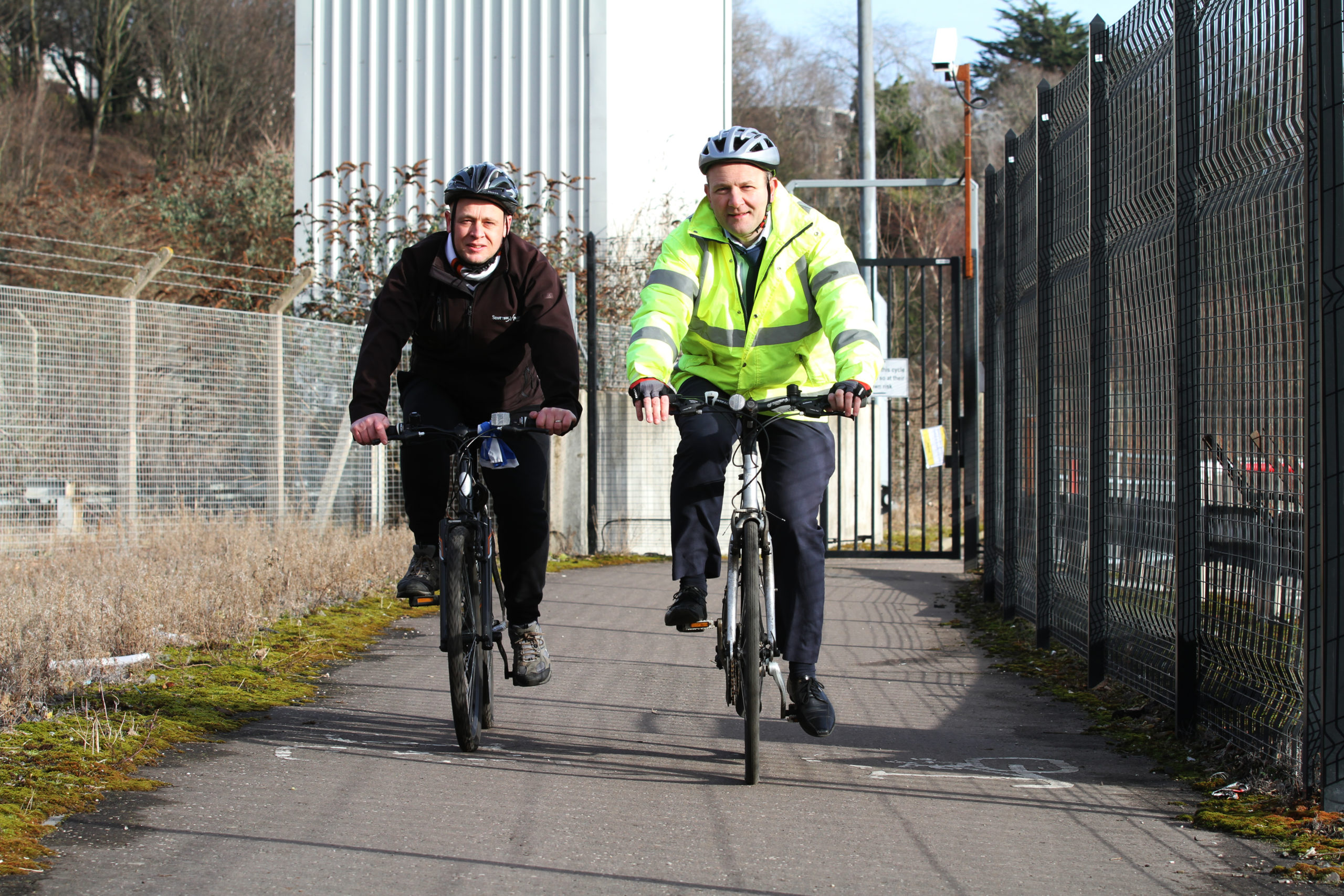 "I would disagree that the waterfront is impenetrable — and cyclist-friendly crossing points have been installed — but it is fair to say that the design instigated a decade ago would not be the same as a design instigated now," Cordell said.
"I would agree that there are gaps in provision for cycling in the city and that is recognised by the council.
"It is why we have a cycling strategy and the appointment of a cycling spokesperson to help move forward an agenda that seeks to improve that situation.
"However, a re-prioritisation of signage in the waterfront is something that could help during this lockdown period and is something worth exploring."
'We can't rush back to the car'
An SNP councillor for the Ferry ward, Cordell points out that the administration has earmarked £10 million in the council's capital plan for sustainable transport, which he hopes will be invested in segregated cycle paths and improving links between existing cycle-friendly infrastructure.
He also checks the investment that has been made in some parts of the city, from a £400,000 secure cycle storage shed at the railway station to the £376,000 of improvements made to the path running through the Port of Dundee.
Cordell also rejects criticism that the £9 million earmarked for improvements to an existing path between Broughty Ferry and Monifieth could have been spent elsewhere, as it forms part of the ongoing coastal protection works on the banks of the Tay.
However, he does concede that critics may have a point when they say large parts of the city are missing out.
The last significant move by Dundee City Council to target other, less affluent parts of the city was its Northern Links project, which could have led to segregated cycle lanes on major routes such as Lochee Road.
It fell at the first hurdle after failing to secure essential funding from Sustrans, and the project's website has been taken down – but the council has held initial discussions with the sustainable transport body about putting in a renewed bid.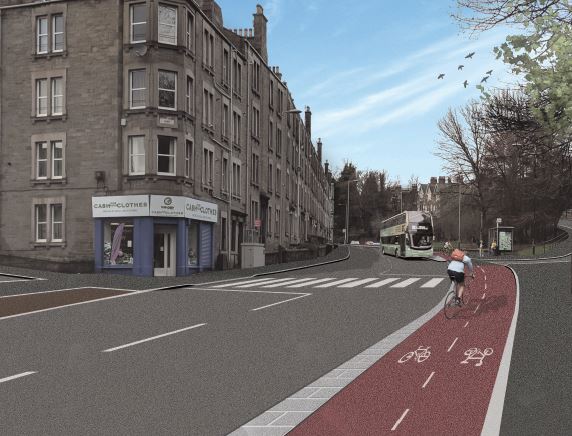 "As well as the temporary funding to cope with social distancing, of which I hope to see Dundee make further bids into, the Scottish Government has massively increased the budget for permanent active travel infrastructure which Dundee City Council will be hoping to tap into too.
"Public transport and active travel need to be seen as the future and Dundee City Council must be taking action to make these choices easier.
"The current lockdown and its subsequent easing does present a great opportunity to change. It cannot simply be a rush back to the car."
'Throwing up bollards'
Infrastructure in Dundee falls within the purview of the council's city development department and its corresponding committee.
The council has this week formally submitted its bid for more money from the Sustrans Spaces for People fund after its initial bid for £470,000 was criticised as lacking the ambition of the likes of Glasgow, which secured £3.5 million to impose temporary measures in both the city centre and in suburban areas.
Dundee's first instalment of Spaces for People cash is being used to close streets in Broughty Ferry and the city centre, and to impose 20mph speed limits in further-out parts of the city.
Lockdown active travel investment in Dundee to date works out at roughly £3.16 per head: far lower than Glasgow, Aberdeen and Edinburgh city councils.
Alan Ross, convener of Dundee City Council's city development committee, defended the authority's approach so far.
"It's not as easy as throwing up bollards," he said, making reference to cities such as Glasgow and Edinburgh which have done just that on some of their wider streets.
"We need to get away from comparing Dundee to other cities. Other cities have areas where it's possible to do things like segregated lanes.
"There is already capability for cyclists on the waterfront – the pedestrian crossings have the lights for cyclists on them.
"The cycling forum want segregated lanes so, fair enough, those aren't there – but we're committed to looking at active travel around the city and having it joined up so people can use bikes safely. There's a lot of work to do before that.
"We want to make sure anything we put in is of quality. We need to make sure cycling is safe all around the city and that's a longer-term ambition."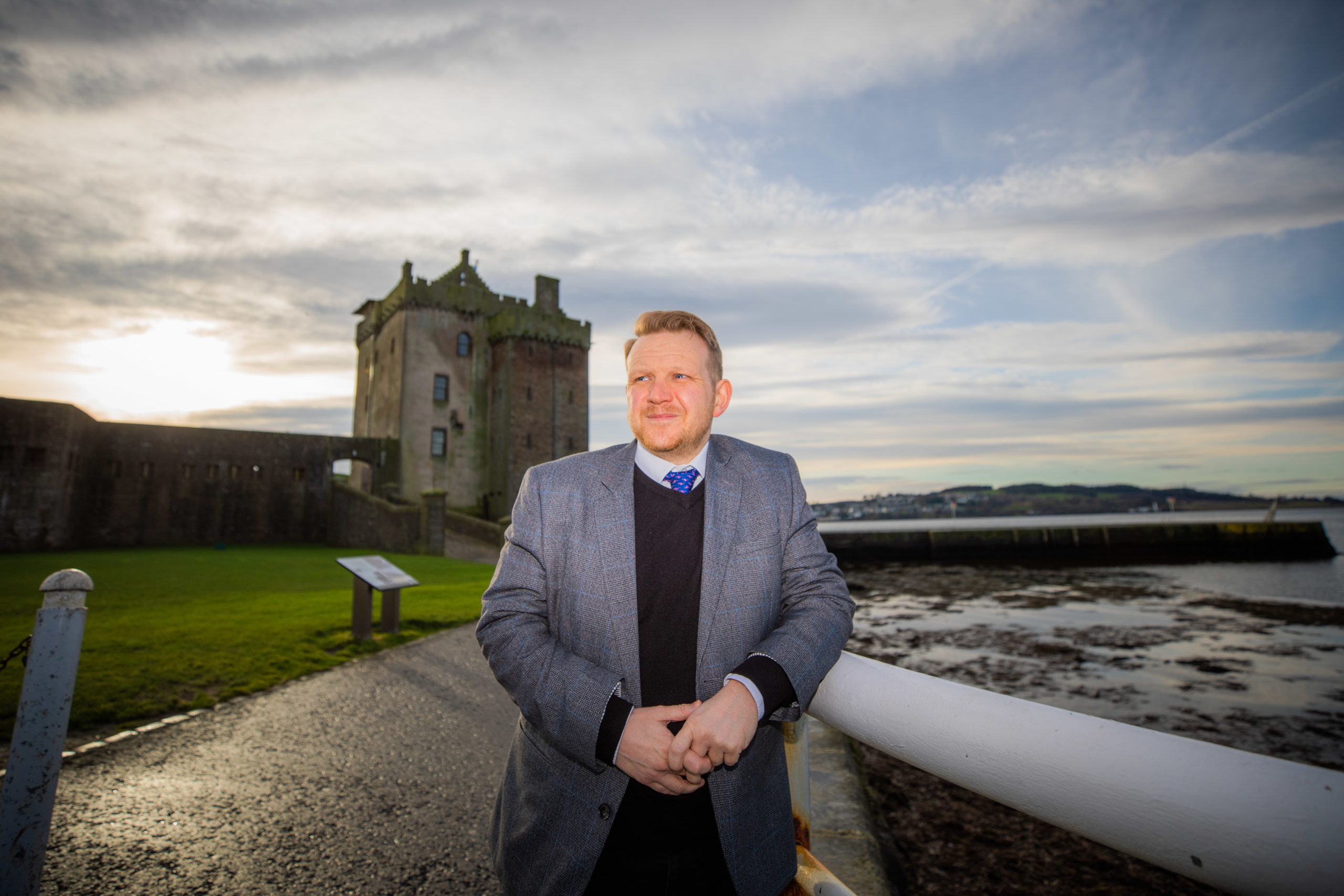 Ross also rejects the idea that areas with lower levels of cycle ownership are being ignored. He says the likes of Broughty Ferry has been targeted as they can monitor how people take to the new measures with a degree of confidence.
"We have to look at areas where we can do it effectively and safely," he says.
"We looked at what we could do within the parameters – we did the things we knew we could do and do well.
"Had they not been ambitious enough Sustrans would not have approved them."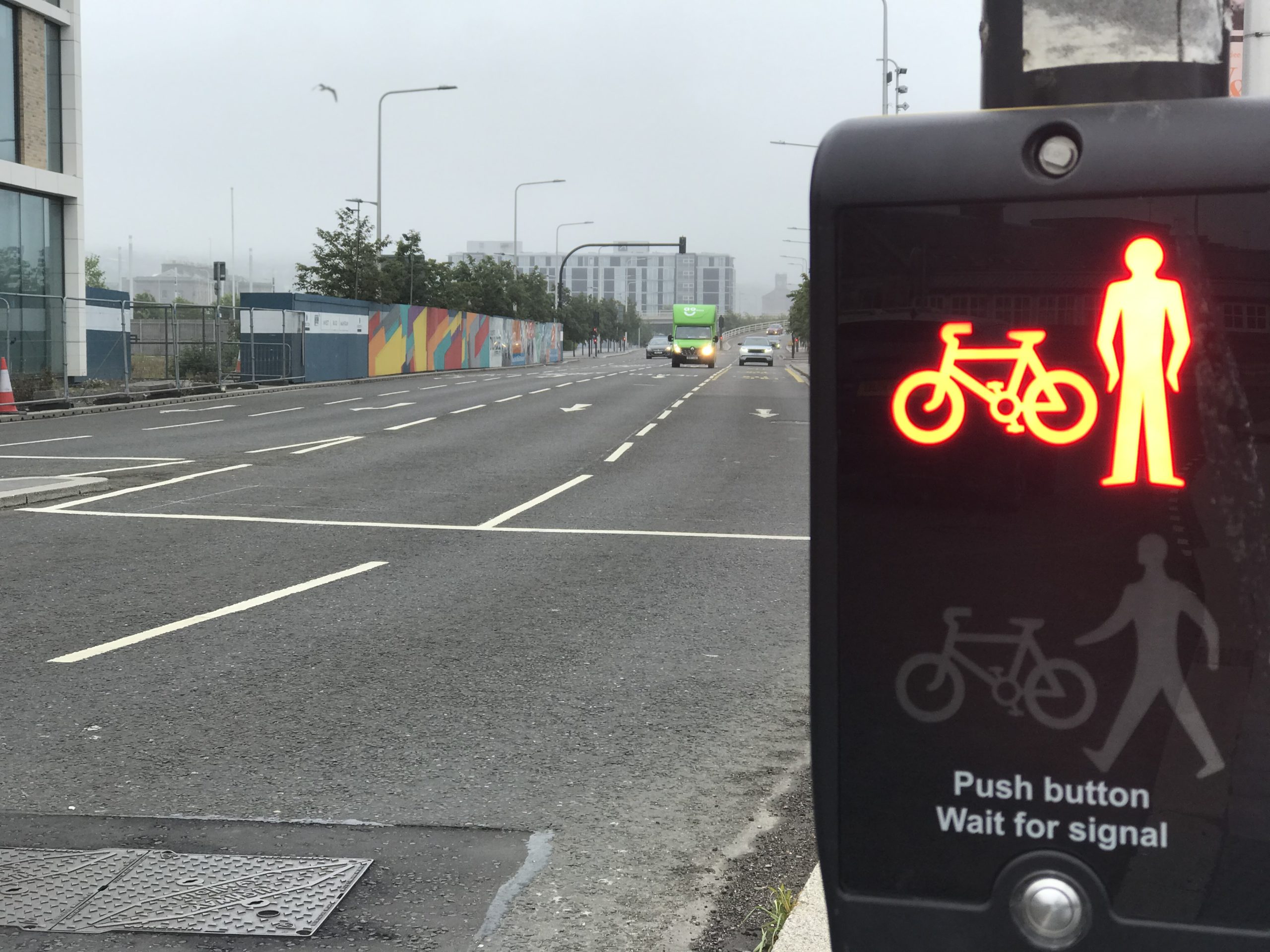 No fumbling
Ross, a councillor of 13 years, is among those who has taken advantage of the quieter city streets to buy a bike and get out and about during the pandemic and so, he says, appreciates the advantages cycling offers.
"This pandemic is changing everyone's ways of doing everything, I've saved money on petrol and have been enjoying going around the city. I can see where there can be conflict, where there are dangerous areas that need to be worked on. That's something we've always been committed to doing.
"I'm not going to say it's perfect but we're committed to doing what we can to make Dundee more cycle-friendly. We have to remember all the strides Dundee has made in electric infrastructure too.
"I can cycle from my house in Lochee out to Invergowrie and out to Arbroath if I wanted to and we've committed to the £9 million upgrade for that path as part of the coastal protection.
"I cycle for leisure and we need to improve that – we need to do it in a way that is safe."
A wee jaunt over to Fife this afternoon. Loving the new bike. Much better than running or going to the gym…and kinder on my knees! @dundeecycling @DundeeCouncil pic.twitter.com/WtqRoLsExj

— Councillor Alan Ross (@councillor_ross) May 9, 2020
While the council's first Sustrans bid targeted Broughty Ferry and the city centre, Ross insists the follow-up bid is a sign of a determination to do more – but additional factors need to be considered.
Bus operator Xplore Dundee has announced that it plans to increase the number of buses on the road as Scotland's lockdown measures continue easing in Phase Two. They need to be brought into the conversation to ensure that passengers don't lose out when cyclists gain.
"There are areas of my own ward where car usage is low, people rely on buses and they might not want to bike or be able to. But all of this has been an ambition of our administration since before the pandemic happened."
Ross concludes by putting across, once again, the council administration's "definite commitment to improving sustainable transport". But until locals see action, rather than just words, the jury is out on just how serious that commitment is.
The Lochee councillor says: "One thing I don't think we've been doing is fumbling over excuses – there is a political will in Dundee to improve active travel in the city. That's never not been the case."