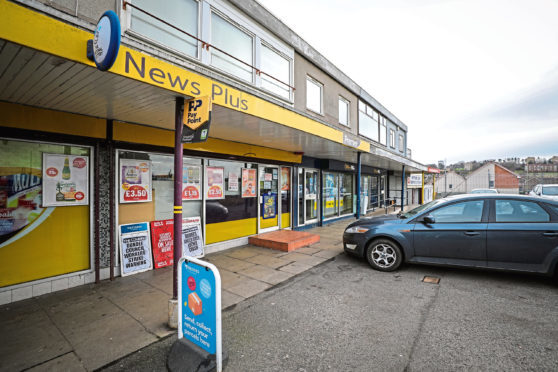 A masked teenager threw a hammer and brandished a knife at a shopkeeper during an attempted armed robbery on a newsagent's in Dundee.
Aidan Kelly, who was 17 at the time, narrowly missed hitting Amjad Perviz in the face with the claw hammer at News Plus on Buttar's Loan.
He demanded money from the till then fled the premises when he was told that police were on their way.
The teenager dumped the mask he had been wearing on top of some bins in the surrounding area and was later traced by police.
Appearing at Dundee Sheriff Court, the teenager pled guilty to attempted robbery and possessing weapons at News Plus on February 18.
Fiscal Depute Laura Bruce said: "At 5.40pm a witness cycled to William Hill next door.
"As he arrived he became aware of the accused standing beside a fence. He appeared to be watching people going in and out (of the newsagent's).
"The witness went in and purchased a scratch card. He saw the accused walking towards the locus, wearing a mask and carrying a claw hammer.
"He could see another item poking out of his pocket and he had a dark rucksack."
Kelly then went up to the counter, held the hammer out to Mr Perviz and asked him if he could fix it.
Ms Bruce added: "Witness Perviz told him he could just buy a new hammer.
"The accused then went into his bag and took out a butcher's knife.
"He said 'get me the money'.
"Witness Perviz told him police were on their way and what he was doing was a criminal offence.
"The accused panicked and went to go out. He threw the hammer, narrowly missing Witness Perviz's face and went out of the door."
The court was told that Kelly, of Napier Drive, had a background of extensive psychiatric involvement but was deemed fit to plead guilty.
Sheriff Lorna Drummond deferred sentencing until February 17 for more psychiatric reports and a social work report.
She told Kelly: "You are very young.
"You were 17 when you committed these offences, serious as they are.
"I will get reports and you will come back to court, and I will decide what to do then."