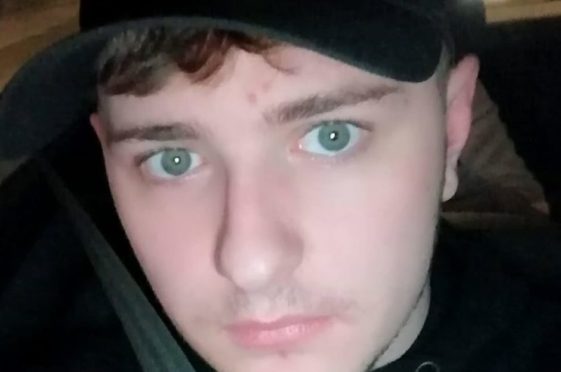 A man has been jailed after leaving a Dundee shopkeeper terrified during a knife-point robbery, before attacking a police officer with a knuckleduster.
Rory Starkey, 24, was yesterday jailed for three years after admitting carrying out the robbery with an 8″ blade at the Keystore on Dunholm Road in Dundee on November 22 last year.
Dundee Sheriff Court heard female shopkeeper Arooj Sarwart was so shocked by the incident she had a panic attack.
Heroin and crack addict Starkey, of Perth Prison, aroused suspicion when he entered the shop with his face covered and only his eyes showing.
Fiscal depute Kirsten Letford said Ms Stewart watched him at the back of the store as she was convinced "something was going to happen".
She said: "She asked him to remove the covering from his face and as he walked towards the till, he produced a large knife from the waistband of his tracksuit bottoms.
"He said 'give me money, give me money' and she managed to take several photos of him with her phone.
"She was shaken and didn't know what to do so removed several notes from the till and handed them over. These totalled £240."
Ms Letford said Starkey returned to a friend's house on Dunholm Place where he "bragged" to the group there about what he had done.
The court heard police attended at the property in relation to another incident and asked for the names of all those inside.
Ms Letford added: "When the accused was asked for his name, he gave a false one but witnesses there told him to 'stop being stupid' and told police 'his name is Rory'.
"Police officers noticed he had something which appeared to be a knuckleduster in his hand.
"When asked what it was, the accused adopted a boxing stance and struck one of the officers over the right eye.
"He was restrained but threw the knuckleduster away. This was then recovered and found to have a blade inside, which was in the lock position."
When arrested, officers noted Starkey as saying "I have done some stupid things but I didn't mean to do an armed robbery".
CCTV footage checked by police showed a man with tattoos matching Starkey's carrying out the robbery.
A defence agent acting on behalf of Starkey said he has held down a job as a chef at his father's hotel and when not intoxicated, is a "very decent person".
He added: "When he does drink alcohol or take drugs, it's absolutely disastrous.
"He very much regrets his actions, particularly the impact on the shopkeeper. He is getting help with his drug addiction in prison."
Sheriff Lorna Drummond sentenced Starkey, who has an extensive list of previous convictions including some involving weapons, to 36 months in total, backdated to November 25.
30 months of the sentence was handed down due to the robbery, including three months because he was on bail at the time, while an additional six months was given for the assault.
He was also given a supervised release order for the maximum period possible of one year.