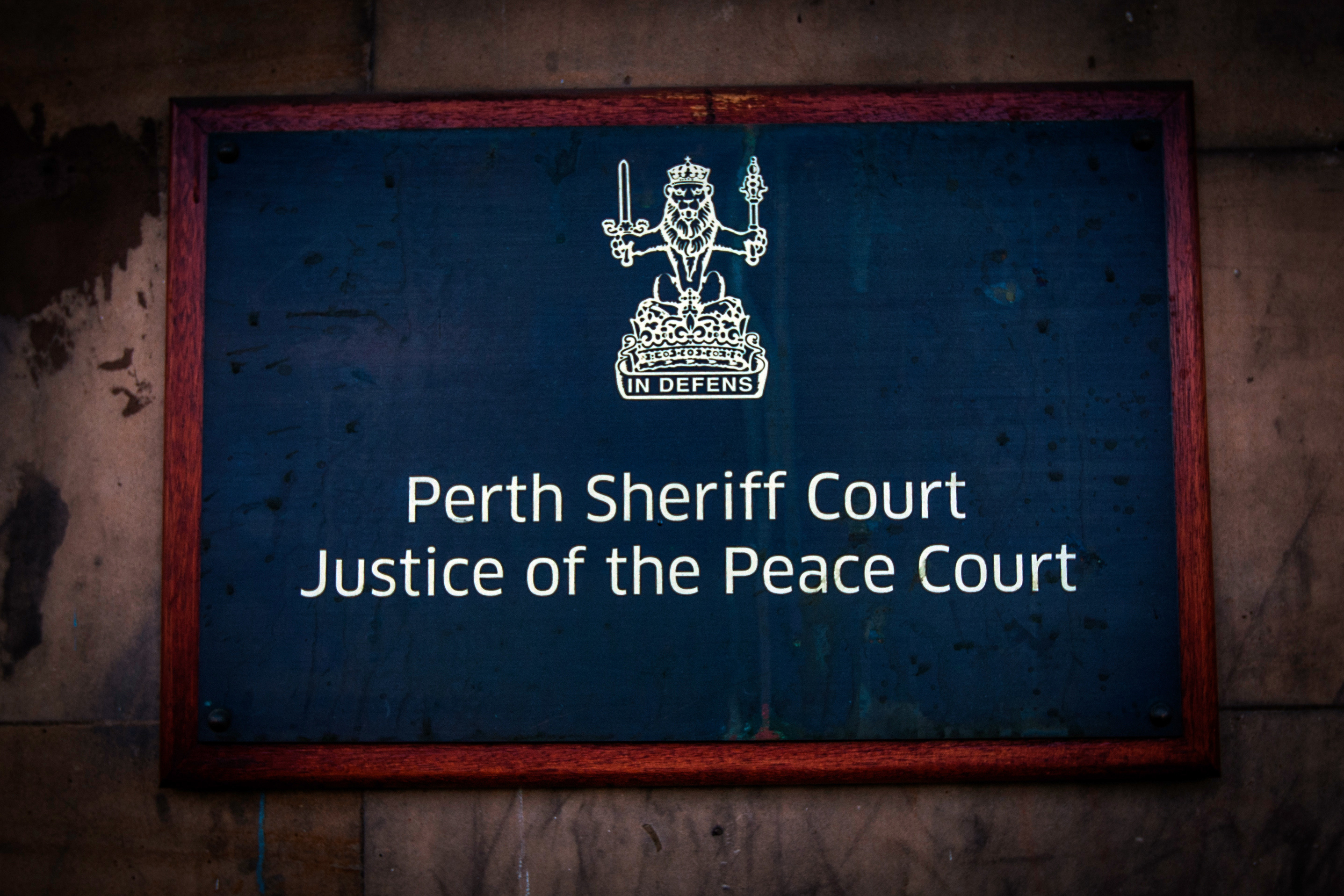 An out-of-control granddad has admitted a month of drink and drug fuelled madness during which he assaulted a paramedic and police officer and dropped his trousers in the midst of a newsagents.
John Sword repeatedly punched the medic in the breasts while she tried to save his life after he had taken a drug overdose.
Minutes later he tried to bite the police officer at Perth Royal Infirmary but denied that could be classed as an assault, saying "I've nae teeth".
It was the culmination of months of outlandish and "unacceptable" behaviour on the part of the 40-year-old.
Customers in a Crieff newsagent were the first to find themselves at the mercy of Sword's antics as he stumbled into the High Street branch of RS McColls.
They were said to have been left "alarmed" after he let his trousers fall to the floor in the middle of the store and began rubbing and scratching his legs.
He also careered around the store, battering into displays and sending merchandise cascading to the floor before fleeing without paying.
As matters escalated he then attacked and punched a supermarket trolley attendant after they declined to give him a cash handout.
He then began following the shaken member of staff at Tesco's Crieff Road store in Perth, before colleagues eventually came to his aid.
The most serious incident took place the following day after he was found unconscious in the street after taking an overdose of drugs.
A paramedic had to give him three doses of Narcan — used to reverse the effects of opiates — before he could be roused.
Far from thanking the medic for her life-saving intervention, however, he instead viciously attacked her, though he was strapped to a stretcher at the time.
Sword's ranting and raving could be heard by staff inside the accident and emergency department who rushed out to offer assistance.
Police officers arrived within minutes.
They found him on a hospital bed, on his hands and knees and "making noises to himself".
He was trying to stand, nearly falling off the bed in the process, but when officers attempted to assist him he first swung a punch, which did not connect, and then tried to bite an officer on the hand.
Solicitor Billy Somerville said his client's recollection of the various incidents was "no-existent" and said he'd no idea what drugs had contributed to his overdose, other than that he had taken "a significant amount".
Sword, of Cairns Court in Crieff, admitted committing a breach of the peace at RS McColls on August 3 and assaulting a man at Tesco in Perth's Crieff road on August 22.
He also admitted assaulting a paramedic while travelling in an ambulance on the A85 between Methven and Perth on August 23 and assaulting a police officer at PRI.
Sheriff William Wood told him: "I am particularly concerned by your behaviour towards the paramedic.
"Clearly if you took an overdose there may have been a degree of confusion when you were roused but it should thereafter have been abundantly clear that you were in the back of an ambulance.
"You must have known that the paramedic was only there to assist you and protect you from further harm.
"Drug and alcohol misuse is not an excuse."
He jailed Sword for ten months and ordered him to undergo supervision and alcohol treatment as part of a community payback order upon his release.