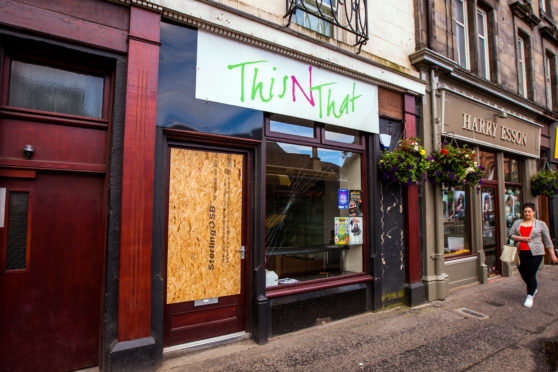 Two men who raked in thousands of pounds a week running shops as fronts for selling "highly addictive" so-called legal highs that left their customers hospitalised and in danger of death have been locked up.
Liston Pacitti and Paul Brocklehurst were facing jail terms after they admitted supplying "new psychoactive substances" to customers as young as 13 from stores in Montrose, Arbroath and Perth.
Two users were left in comas after taking a substance known as "Psyclone" sold by Brocklehurst.
His shop in Perth was exposed by a BBC documentary, The Deadly World of Legal Highs, and both men were warned by police that their products were endangering their customers.
But the businessmen carried on regardless – with workers telling police the businesses were taking in up to £6,500 a week – branding their products "herbal research chemicals".
The substances included the notorious synthetic cannabis Spice, another called Sky High which came as a pre-rolled cigarette, and other compounds sold under names like "White Columbian", "Pink Panther", "Ching", and "Blue Cheese".
Workers told how Brocklehurst encouraged staff to give out free samples and operate a loyalty card scheme.
A sheriff told the two men they face long jail terms – and may be sent to the High Court for sentences of at least five years to be imposed.
He said: "They were motivated by profit and would supply to anyone who came to buy."
Dundee Sheriff Court heard that two men who took Psyclone fell into comas with a Glasgow coma scale score of seven – indicating a severe injury.
Fiscal depute Vicki Bell told the court: "He was admitted to the High Dependency Unit.
"He was hypothermic, had a slow heart rhythm with a rate of 38 beats per minute and his blood was acidic."
The court was told that two other customers aged 14 and 13 were found heavily under the influence of substances sold by Brocklehurst's shop.
The 13-year-old boy was rushed to hospital with heart palpitations, a racing pulse and hallucinations that the walls were moving. Forensic experts said the substances the pair sold can lead to severe physical effects and even death.
Brocklehurst, 62, of Glen Afron, Tregarth, Gwynedd, Wales, and Pacitti, 28, of Deveron Road, Aberdeen, both pled guilty on indictment to charges of culpably and recklessly supplying new psychoactive substances to the danger of health and life.
In February the court heard Brocklehurst's offences were committed at his shop, This 'N That, in County Place, Perth. Pacitti's were committed at his stores, Declaration and Evape-O-Lution in Brothock Bridge, Arbroath and The High Life and Evape-o-Lution in High Street, Montrose.
Sheriff Alastair Brown deferred sentence until April 12 for reports and remanded both men in custody meantime.
He said: "They embarked on a business which was intended to take advantage of what they believed to be a perceived loophole in the law so as to supply these substances to, among others, a 14-year-old child.
"It was done cynically and for no motive other than profit."