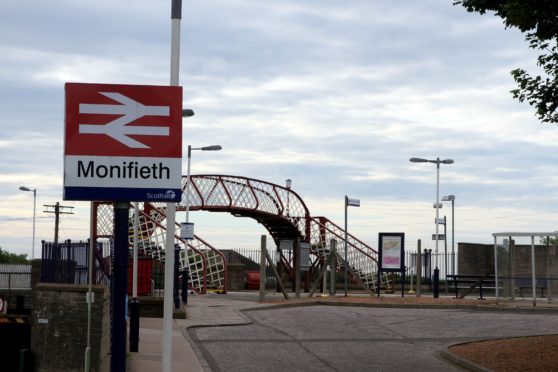 Rail passengers were sent home in a taxi after a train driver missed the platform at Monifieth.
"Human error" was blamed for the mishap as Wednesday's 17.02 Edinburgh to Arbroath train stopped 200 metres past the station.
Bemused passengers were forced to wait as the driver tried to find out whether he could reverse back up the line.
The request was turned down by management and the train continued on to Arbroath where four passengers who wanted to disembark at Monifieth were taxied back, with ScotRail paying.
Passenger Barry O'Neill from Montrose said: "It was amusing for me as I was only held up for five minutes or so on my way to Arbroath.
"But it probably wasn't so fun for the passengers who wanted to get on or off at Monifieth, who were forced to watch the train whizz through the station.
"The funniest bit was a slightly sheepish announcement from the guard as they awaited instructions as to whether they could 'reverse' back to Monifieth."
He joked: "This happened just two days after a British Airways flight destined for Dusseldorf landed in Edinburgh by mistake.
"There must be something wrong with global GPS systems this week."
Monifieth was opened in October 1838 on the Dundee and Arbroath Railway although the wooden building was removed in 1988.
The ScotRail website states that the "platform at this station may be shorter than the train".
A ScotRail spokesman said: "We're sorry to customers who were delayed by this incident.
"Anyone who was delayed by 30 minutes or more as a result is entitled to claim money back through our Delay Repay Guarantee.
"Just keep hold of your ticket and claim on our website or mobile app."
North East region Scottish Conservative MSP Liam Kerr said: "Accidents do happen and I'm sure the driver will have been hugely apologetic to these poor people.
"But at a time when ScotRail is in remedial measures for poor performance, this is another embarrassment. It's little wonder that mistakes are creeping in.
"Between April last year and January, ScotRail axed 2,691 services due to crew shortages – an average of 46 every day.
"The SNP government is entirely responsible for this franchise and must make Scotland's rail network fit for purpose."