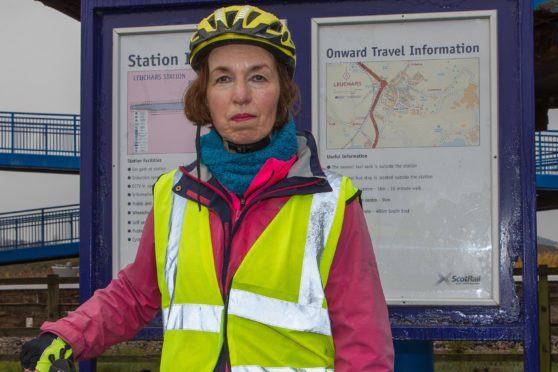 Calls have been made for a joined-up transport agreement at Leuchars after delayed rail passengers were left stranded in the early hours of the morning.
Former councillor Jane Ann Liston was among a number of people who got off the last train from Edinburgh at Leuchars, intending to travel on to St Andrews by bus.
But when the train was late the bus they thought would wait for them just after midnight had already left the deserted station, where staff had locked up and gone home.
Ms Liston pedalled home on her folding bicycle while a group of six or seven young people, thought to be students, were left standing at the station.
Scotrail said those with PlusBus tickets for St Andrews would have been able to request alternative transport through its station help-points.
However Ms Liston said she believed there was a long-standing agreement that Scotrail would alert Stagecoach East Scotland to the train's estimated arrival time so that the bus could wait for passengers.
She said: "I thought this problem had been solved long ago, but apparently not."
When the last train from Edinburgh arrived 15 minutes late at the station which serves St Andrews at 12.40am on Sunday, Ms Liston said there was no sign of either the 94, which departs at 12.29am nor the 12.40am 42 bus.
She said: "About a dozen passengers disembarked. Two or three were collected by car-drivers waiting on the platform, another had apparently pre-booked the single taxi which was waiting and went off in it, leaving six or seven young people plus myself.
"I was able to give the young people, who were standing disconsolately in the bus shelter apparently unsure of what to do, the number of a taxi firm before I unfolded my Brompton and cycled the five and two-thirds miles home to St Andrews.
"There are issues of passenger safety here, particularly if passengers cannot contact a taxi, if they have poor signal or no mobile, or perhaps cannot afford one, to get home, and taxis late on a Saturday night can be difficult to get.
"I fear that if passengers feel they cannot rely upon this bus connection, they are less likely to use public transport and instead use cars, the opposite of what I thought we were trying to encourage."
A ScotRail spokesman said: "If customers miss their last connection due to delays or cancellations, we will source alternative transport to allow them to complete their onward journey.
"Passengers should use station help-points, which are manned 24-hours per day, when there is no staff present at the station."
A spokesperson for Stagecoach East Scotland said: "Unfortunately there is no official agreement between Stagecoach and Leuchars rail station to guarantee a connection between trains and our services.
"We do not advertise a guaranteed connection, however in some cases our drivers that serve the rail station will wait for the train out of courtesy if they see it approach."