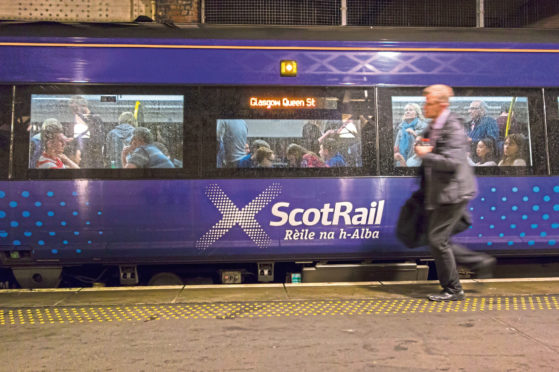 Fife rail passengers endured further misery the day after First Minister Nicola Sturgeon warned ScotRail it was in the "last chance saloon".
Scores of outraged commuters struggled to get home from work on Friday evening after four consecutive peak time trains were cancelled at short notice.
The train company said the issue on the Fife circle route was due to staff training and offered replacement buses from Inverkeithing as an alternative.
But passengers expressed fury, saying they were fed-up with constant cancellations, delays and overcrowding.
The situation was branded "ludicrous" and "a total farce" by stranded commuters, who took to social media to condemn the ongoing problems they were facing.
One man said he wanted a refund on his season ticket as he had been late for work twice last week.
"I had to get a taxi home three times too due to multiple cancellations," he said.
Another traveller said she had been forced to take a taxi to ensure she was on time to collect her young child.
The disruption came as a petition calling for a 30% cut in fares to and from Fife reached almost 1,000 signatures.
Some 890 people have so far supported the demand by Kirkcaldy Labour MP Lesley Laird, who said it was the only thing that would cut it for exasperated commuters.
"People are absolutely sick to the back teeth trying – and failing – to juggle job and family commitments because they can't rely on ScotRail trains," she said.
"The petition is perfectly reasonable, calling for meaningful compensation until services return to normal."
The First Minister said on Thursday that ScotRail could be stripped of its franchise if it failed to deliver on a "second remedial plan" notice.
"ScotRail should treat a remedial plan very much as a last chance saloon," she said.
"ScotRail has been left in no doubt that its recent levels of performance, particularly in the Borders and Fife, have been completely unacceptable."
Cowdenbeath SNP MSP Annabelle Ewing said: "It is encouraging to see that the Scottish Government, at the very highest level, is taking the shortcomings of Abellio's running of the ScotRail franchise so seriously."
A ScotRail spokesperson said everyone was working "flat out" to deliver the quality of service customers expect.
"We know there are still areas where we need to improve and we will work closely with Transport Scotland to deliver those improvements," they said.