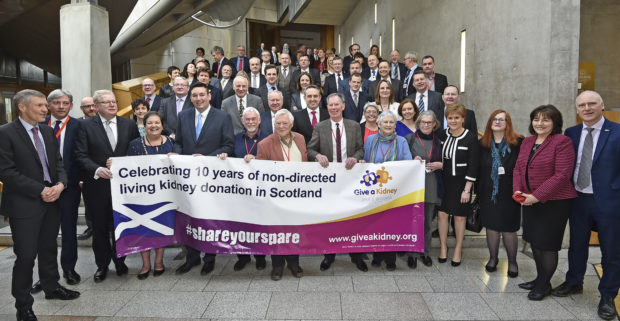 Six generous Fifers, who each donated one of their healthy kidneys to a complete stranger, have been celebrated in the Scottish Parliament.
They joined First Minister Nicola Sturgeon, Public Health Minister Joe FitzPatrick and politicians to mark the 10th anniversary of the first altruistic kidney donation  in Scotland.
The group included two pioneers, John Fletcher, 72, from Auchtermuchty and Maureen Jack, 72, from St Andrews, who donated in 2009.
Also there were Colin McLachlan, 71,  from Crail who donated a kidney in 2014, Dysart's Bill Mair, 57, who donated last year, Tracey Jolliffe, 52, from Kirkcaldy who donated in 2012 and Susan Greig, 46, from Leven who donated in 2015.
The first non-directed donations in Scotland took place in March 2009 and 78 people in Scotland have now given a kidney to someone they do not know through the programme.
The Holyrood event was organised by Give a Kidney Scotland, a charity aiming to raise awareness of this type of donation and support those going through the process.
Mr Fletcher described his procedure as "the best thing I ever did".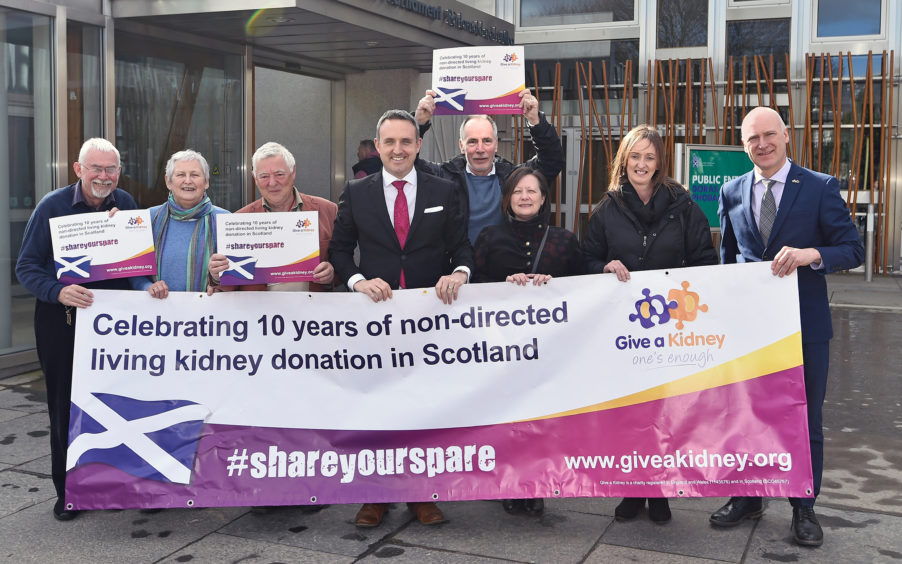 "The way I looked at it, it was a few weeks out of my life to save someone else's," he said.
"It was major surgery, but the recovery was a lot quicker than I expected, and I was back at work within weeks.
"The feeling I had not been expecting was the sense of wellbeing after I'd donated, knowing I'd transformed another person's life and their future."
Chairman Chris Jones, 69, is himself a kidney donor.
He said: "Our aim is simple – to raise awareness of this kind of kidney donation and, in turn, to help save lives.
"The 78 people who have so far donated a kidney to a stranger in Scotland over the last 10 years have undoubtedly helped to transform the lives of their recipients."
Currently there are around 400 people in Scotland on the kidney transplant waiting list and each year, across the UK, around 250 people die in need of a kidney.
Organs from living donors are considered the "Rolls Royce of kidneys" as they generally work better and last longer than those from deceased donors.
To find out more visit www.giveakidney.org   or www.livingdonationscotland.org.