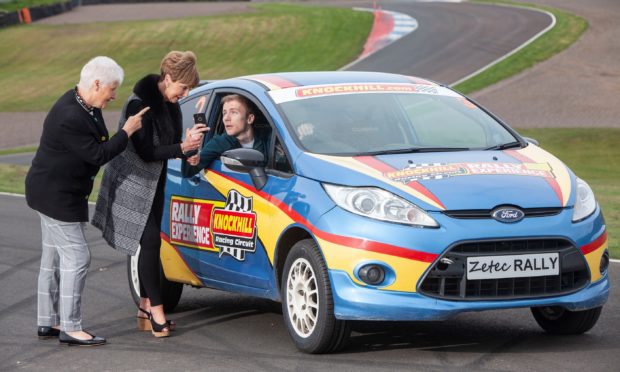 Forget the peril of back seat drivers, how about taking on a driving challenge when your gran's your conscience?
At Knockhill racing circuit this weekend, visitors are being invited to take part in a real-life Gran Kart experience as part of the Scottish Government and Road Safety Scotland #DriveSmart campaign.
This has been encouraging young male drivers, aged between 20 and 29, to drive like their gran is in the car in a bid to get them to adopt safer driving habits.
Following the success of three videos shared on social media, visitors to Knockhill, which hosts the British Touring Car Championships at the weekend, will be asked to enter through gran's living room and compete on an indoor go-kart circuit in which they will have to avoid obstacles and distractions – including gran herself.
The winner will be the driver who hits the fewest obstacles before crossing the finish line.
More than 61% of Scottish men aged 20 to 29 consider themselves to be either very good or excellent drivers but the latest figures reveal more than 2,040 were involved in accidents, with 314 killed or seriously injured.
This age group was also more likely to be involved in an accident than any other.
However, they also claim to drive better with "precious cargo" in the car and worry about letting down family members, including gran, by engaging in poor driving behaviour, such as texting or speeding.
Road Safety Scotland director Michael McDonnell said: "We've had a really positive response to the campaign so far, with young men in the target age group actively engaging with our gran content on social media and a number of organisations helping us to share our #DriveSmart message.
"Our Gran Kart experience has been travelling across Scotland bringing the campaign to life in an even more interactive way and we'll be regularly updating our social media channels so you can see where we'll be next."
Christine Hinshelwood, a Scottish grandmother who took part in the radio advertising, added: "The thought of my grandson being involved in an accident or, God forbid, being the cause of one, just doesn't bear thinking about.
"This campaign struck a real chord with me, so I jumped at the chance to get involved and help spread the #DriveSmart message."