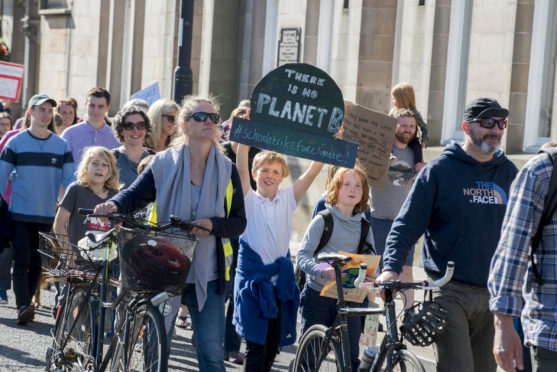 The leader of Perth and Kinross Council has confirmed he has no plans to formally declare a climate change emergency.
Local authorities across the country are being encouraged to make an offical pronouncement to show their commitment to reducing carbon emissions.
Such statements have already been made by councils in Angus, Fife and Dundee, but there has been confusion over whether Perth and Kinross had ever made a declaration.
In June, cross-party councillors unanimously supported a motion from the SNP's Richard Watters which was titled "Climate Change Emergency" and called for the council to show support for the national declaration, and agree a range of specific actions.
But council leader Murray Lyle has confirmed that no emergency was actually declared.
He said: "The Scottish Government declared a Climate Change emergency and we recognised that – and we are acting accordingly.
"All our policies going forward will recognise that there is a climate change emergency. We are certainly not ignoring it."
Asking if he felt there was need to declare an emergency, he said: "No, I think there's a need to acknowledge it and that is what we have done.
"The fact that climate change will be fundamental in all the council decisions going forward should satisfy everyone's desire.
"Climate change will be an integral part of all decisions that the council makes."
The Perthshire branch of the Scottish Green Party had called for the local authority to make a formal declaration, after the party announced last week that it would not stand for election in the Perth and North Perthshire ward.
A spokesperson tweeted: "The actual declaration of a Climate Emergency is a symbolic statement that highlights the seriousness of the issues we face.
"Although it's great to see these topics discussed and approved by the council, it should have been broadcast loud and clear. Frustrating."
Friends of the Earth Scotland climate campaigner Caroline Rance said it was important that the council was taking steps to address environmental challenges.
"What is key is that the council takes urgent action to tackle the Climate Emergency, to bring together the people who can make a difference and to immediately stop doing the things that make the crisis worse," she said. "Political rhetoric must be matched by political action that brings down emissions.
"Councils have a key role to play in leading the transformation away from fossil fuels in our communities.
"Crucial areas include using planning powers to drive change, improving energy efficiency of homes and ensuring transport budgets are spent on walking, cycling and public transport instead of decisions which encourage people to drive even more."
She added: "This is an opportunity not only to tackle the climate emergency but to create healthier, better connected, thriving communities."