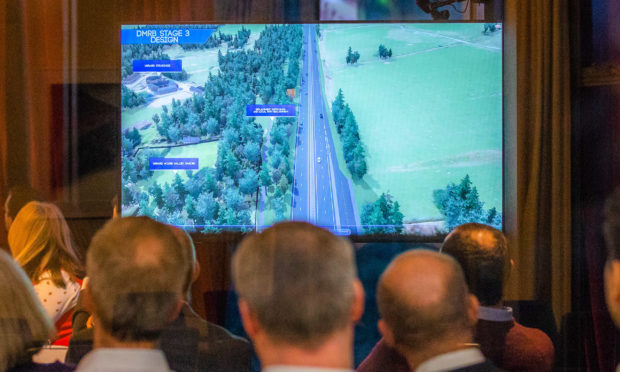 Campaigners fighting to preserve part of an ancient Perthshire battlefield  say a public inquiry carried out before lockdown is now "hopelessly outdated."
Action group Killiecrankie1689 have been campaigning to protect the historic battleground where the First Jacobite Rising took place over 300 years ago from the A9 dualling process.
The group have set up a petition which has garnered more than 5,000 signatures and say the information accrued at at local public inquiry  is now out of date.
An inquiry began last year into the stretch of the £3bn infrastructure upgrade
Since submitting their last documents to the public local inquiry (PLI) reporter in March, Killiecrankie1689 say "the world has changed."
A spokesperson for the group said: "The restrictions imposed to curb the spread of coronavirus affected every aspect of how we live.
"Now that we are beginning to ease our way out of lockdown, it is evident that we are not going to snap back to the way we were.
"The evidence that objectors gave to the Reporter at the PLI related to Killiecrankie pre-coronavirus. The scheme which Transport Scotland devised used historic parameters which have informed road building for decades. In the wake of the pandemic, they may be hopelessly outdated. "
Work was stopped on the A9 dualling process, which is currently being carried out between Luncarty and Birnam, when lockdown measures were introduced.
Local Conservative MSP Murdo Fraser believes the situation could also have changed since the pandemic.
He said: "I am a strong supporter of the local campaign in Killiecrankie to try to ensure that A9 dualling will not eradicate large parts of the historic battle site.
"I wouldn't want any suggestion that the A9 dualling project as a whole should be rethought, however, I feel it's fair that there is consideration of whether circumstances have changed since the public inquiry took place."
Transport Scotland say their findings from the inquiry will still be assessed in order to provide a recommendation to Scottish Ministers.
A Transport Scotland spokesperson said: "We are aware of the sensitivities around what is an important battlefield, and site of historical and cultural significance, which is why we have been engaging extensively with the local community and key stakeholders since 2012.
"Ultimately, following the PLI and detailed consideration of all objections made but not withdrawn, the Reporter will provide recommendations to the Scottish Ministers for their determination.
"We are working hard to deliver our ambitious programme to dual the A9 which when complete will bring many benefits to local communities, businesses, visitors and road users living, travelling and working along the route. These include reduced journey times, improved journey time reliability and, crucially, improve road safety for all users."