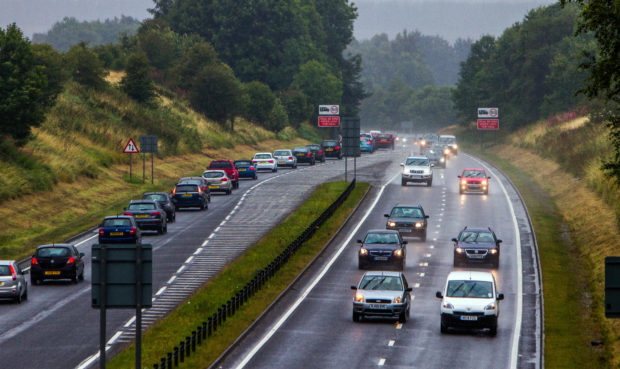 Motorists are braced for another three weeks of delays as roadworks return to the A9.
Two-way traffic lights and a 30mph limit between Luncarty and Pass of Birnam had been removed for the festive period but will be re-installed on Monday for three weeks.
The restrictions were first imposed in November, to allow contractors Balfour Beatty to carry out preparations before work to build a dual carriageway.
Temporary site access points will be made, as well as preparations for barriers and more traffic restrictions for the main work, due to begin in February.
Transport Scotland has said most of the work will be carried out overnight, starting at 7.30pm, to keep disruption to a minimum, but part of the stretch which is already dualled will be closed for two weeks from January 21.
This will allow two lay-bys –  northbound on the approach to Inveralmond roundabout and southbound at Pass of Birnam – to be  extended to accommodate wide loads.
A short section of one lane will be closed between 9.30am and 3.30pm and the speed limit will be reduced to 50mph.
Gemma Montrose, Transport Scotland's project manager, said: "These further enabling works will take place using a similar traffic management layout to that which has been in operation since late November.
"Our contractor has consulted with stakeholders including BEAR, Police Scotland and Perth and Kinross Council to finalise its plans for the traffic management and road users should experience no additional disruption during this period.
"We would like to take the opportunity to thank road users and the local communities for their patience whilst we undertake these important works which will enable our contractor to safely begin mainline construction, planned for early February 2019."
Details of restrictions to be enforced during the main works will be announced later this month.
Balfour Beatty has set up a dedicated community liaison team to answer questions during the work. They can be contacted on 0800 193 7313 or A9L2B@balfourbeatty.com.
When the Luncarty to Pass of Birnam project is completed, the A9 will have 15 kilometres of continuous dual carriageway from Inveralmond roundabout to the Pass of Birnam.
It is anticipated the work will improve the safety of the A9 and provide safer overtaking opportunities along the route.
Transport Scotland hopes these improvements will reduce driver stress as well as improving  journey times and overall operational effectiveness.
Work to upgrade 80 miles of single carriageway between Perth and Inverness is one of Scotland's largest transport infrastructure programmes.
The £3 billion project is scheduled for completion in 2025.