The Scottish Youth Parliament has been rocked by the resignation of at least seven of its members amid calls for structural change and amid claims of bullying, sexism and stifled debate, The Courier can reveal.
A number of budding politicians have walked out in recent weeks with several – including four with Tayside/Fife connections – claiming that the youth-led rights-based organisation, funded with £421,285 of public cash per year, was not letting their members' voices be heard.
Amongst those who have resigned are Kirkcaldy MSYP Kelly Given, 19, of Burntisland; Angus North and the Mearns member Robbie Nicoll, 18, of Laurencekirk; Dundee West member Marc Winsland, 20, and former Scottish Youth Parliament vice chairman Ewan McCall, 18, of Kilmarnock, now a first year history and philosophy student at St Andrews University.
In an interview with The Courier, Mr McCall, who was first elected in 2013 and stood down from the SYP board in September, shared the view of all those resigning that the SYP was a "necessity" of public life.
Achievements, he said, included advocating votes for 16 and 17-year-olds during the Scottish independence campaign, equal marriage, the living wage, and more recently the current national campaign, Speak Your Mind, which is focused on young people's mental health.
But Mr McCall said he resigned because he was sick of a culture where "views are trapped, debate stifled and opinions constricted by a web of policy to which we must conform or be disciplined."
He also claimed there was a "toxic atmosphere" and "heavy tribalism" at board level where he insists there was "no accountability" for decisions.
He said: "We often call ourselves the democratically elected voice of Scotland's young people, but not all young people speak with one voice.
"If there's a 51% vote in favour of a certain policy, for example, the other 49% are not allowed to indicate they were against it if speaking in public later. If they do they are disciplined.
"That's quite wrong and is no way for us to present the future of politics in Scotland."
Former Balwearie High School pupil Kelly Given, 19, whose day job is parliamentary caseworker for Kirkcaldy SNP MSP David Torrance, was elected to the SYP in March 2015.
She confirmed yesterday that she resigned from the youth parliament on Monday October 17.
"It's still an effective organisation," she said, "but it needs internal reform. It seems to be very board centric and doesn't seem to represent the views of MSYPs. The tough disciplinary approach also needs to be reformed."
Robbie Nicoll, 18, was first elected to Angus North and the Mearns in 2013 and again in 2015.
But the Strathclyde University politics student resigned shortly after the AGM in July after alleging that there was "sexist behaviour" within the SYP.
"I don't think there's a culture of bullying, as has been suggested elsewhere, but I did express concern about the way some men spoke about women.
"I offered to reword my comments but felt I had no option other than to resign after being asked to withdraw my statement completely."
Marc Winsland, 20, believes in the "power and the potential of the collective voice of Scotland's young people".
But he confirmed he had resigned as Dundee West MSYP after concluding that the SYP organisation is a "deeply and unnecessarily flawed one".
He said: "These failings are driven in large part by a small cluster of members who were placed in decision-making positions and then proceeded to discredit these positions by eschewing many of the undertakings they were chosen to pursue.
"The word for that is not democratic. It is disappointing. An organisation cannot claim to be the 'democratic voice of Scotland's young people' when so many of internal practices lack even the most basic impression of decency and fairness. Accountability is almost non-existent and morale if grindlingly low.
"The so-called disciplinary culture is as strong as the membership's spirits are weak."
Jack O'Hara, 15, who resigned as SYP member for the Borders, and claims closer to 10 members have resigned, said: "There is a lack of clarity with regards to who is in charge and who has authority at board level. There is also a lack of accountability – and I would argue corruption at board level."
A Scottish Youth Parliament spokesperson said: "Since September, seven MSYPs have resigned, out of a total membership of around 140 MSYPs.
"As MSYPs are all young volunteers, resignations are a regular occurrence, and by-elections are a held to fill vacant seats.
"There are a number of reasons why MSYPs resign, including new responsibilities at school, university, or in the workplace.
"We are aware that some former MSYPs have provided public feedback regarding their reasons for resigning.
"It is the policy of the Scottish Youth Parliament (SYP) to take on all complaints and feedback.
"As a youth-led organisation, our members work from the inside out to reform and improve the policies and structures that govern the organisation.
"All complaints that we receive are taken very seriously and investigated thoroughly, in line with our procedures."
Established on June 30, 1999 – making it one day older than the Scottish Parliament – the Scottish Youth Parliament set out a vision for Scotland as a nation that actively listens to and values the meaningful participation of its young people.
Elections for the 140-strong SYP are held every two years, with young people aged 14 to 25 invited to stand at the next poll in March 2017, representing all 32 local authorities across the country, and several national voluntary organisations besides.
A rights-based organisation, which is non-political, it is grounded in the United Nations Convention on the Rights of the Child, and particularly Article 12, which states that young people have the right to be listened to on the issues that affect them, and that their voices are given weight.
The structure of SYP is entirely youth-led, with the Board of Trustees comprising entirely of MSYPs elected to those positions by the entire membership.
At full strength Fife has nine MSYPs for the five parliamentary constituencies: Cowdenbeath, Dunfermline, Kirkcaldy, Mid Fife and Glenrothes and North East Fife; Dundee has four members representing Dundee East and Dundee West; Perth and Kinross also has four members and Angus has two.
Fife MSPs at Holyrood are amongst those who fully support the work of the Scottish Youth Parliament.
Mid Scotland and Fife MSP and deputy leader of the Scottish Labour Party Alex Rowley said: "I very much support the work of the youth parliament and have been impressed by that work over many years now.
"I would highlight the focussed and influential campaign the youth parliament ran on the living wage in Scotland where I met with many MSYP's from Fife who were out making the case to employers as a good example of young people influencing and making a difference.
"Their recent campaign highlighting the unacceptable levels of poverty in Scotland is another example of the excellent work.
"As a council leader and then MSP I have met regularly with members of the youth parliament and worked with them on issues so yes they do make a difference and whatever the current issues are, they need to be addressed because it is my view that the Scottish Youth Parliament is an important part of civic society in Scotland."
Kirkcaldy SNP MSP David Torrance said: "I employ a former youth parliamentarian, Kelly Given, in my constituency office, and she has been a tremendous asset to my team.
"I believe the Scottish Youth Parliament has given her an excellent insight and experience which I am confident will help her excel in her future career.
"To me, Kelly is a shining example of how the youth parliament can succeed.
"I am aware there have been a number of internal conflicts within the youth parliament in recent months, but its importance as an organisation has been demonstrated many times.
"Only a few weeks ago, the youth parliament's Speak Your Mind campaign proved vitally informative for the Scottish Parliament's recent Members' Business Debate on Mental Health Education led by my colleague Jenny Gilruth MSP.
"Like all institutions, there may be need for some reform going forward, but I hope the Scottish Youth Parliament will go to strength to strength in the years to come."
West Scotland Green MSP Ross Greer, 22, a former youth parliamentarian who is now the youngest ever member at Holyrood, added:"We expect a huge amount from MSYPs, who are after all unpaid volunteers.
"Given this, SYP has achieved so much and is an essential voice for young people in Scotland.
"In my time as an MSYP we won votes at 16, all 32 local authorities committing to the Living Wage and same-sex marriage.
"These were major national achievements but every day MSYPs are doing great work in their constituencies as well, setting up youth forums, winning local campaigns and effectively representing the young people who elected them.
"My experience as an MSYP absolutely influenced my work now as an MSP and I'm incredibly proud of the organisation.
"I'm sure SYP will be taking these events seriously and make any necessary changes to ensure MSYPs feel like their voice is being heard within the organisation."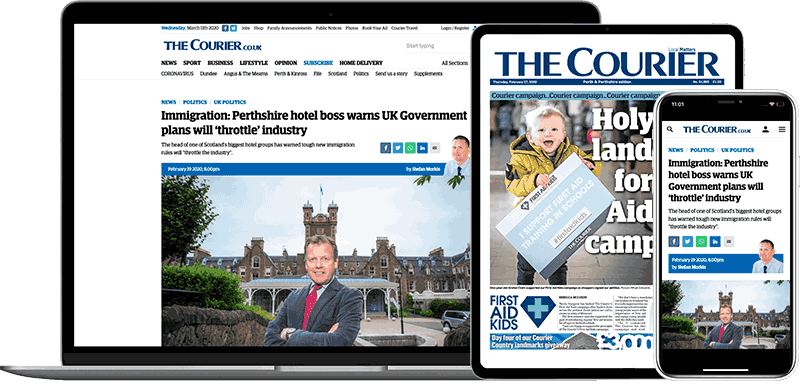 Help support quality local journalism … become a digital subscriber to The Courier
For as little as £5.99 a month you can access all of our content, including Premium articles.
Subscribe