Research into how Scottish juries reach decisions, including their use of the 'not proven' verdict, will be carried out over the next two years in a major new study. Michael Alexander reports.
It is the system that, unlike most of the world's legal systems, has three possible verdicts in criminal cases – guilty, not guilty and not proven.
But could Scotland's controversial not proven verdict be on borrowed time?
The possibility has been raised after it was announced that a "ground breaking" study into how juries come to decisions – including their use of the not proven verdict – is to be carried out in Scotland.
The research has been described as the first of its kind in Scotland and will take place over the next two years.
The study will involve members of the public sitting on "mock juries" and will examine the size of juries and their decision-making processes.
It will also consider Scots law's unusual three-verdict system.
In Scotland, unlike many of the world's legal systems, jurors have three possible verdicts to choose from in criminal cases – guilty, not guilty and not proven.
Justice Secretary Michael Matheson announced that the team will be headed by market research company Ipsos Mori, working with Prof James Chalmers and Prof Fiona Leverick, of Glasgow University, and Prof Vanessa Munro, of Warwick University.
Mr Matheson said: "This important research is a direct result of Lord Bonomy's post-corroboration safeguards review in which he recommended that research should be carried out to ensure that any changes to our jury system are made only on a fully-informed basis, including the impact having a three-verdict system has on decision making.
"The Ipsos Mori team will work in collaboration with three respected academics and will use case simulations rather than real jurors. Their findings will help inform any future decisions that may be taken in relation to potential reforms of our criminal justice system."
Last year, Holyrood's justice committee concluded that Scotland's not proven verdict was on "borrowed time" and may not serve any useful purpose.
In last year's programme for government, the Scottish Government said it wanted to commission "independent jury research to consider the dynamics of decision-making by juries, including the current jury majority and three-verdict system, helping to inform future proposals for the reform of the criminal justice system".
Responding to the plans, Douglas Thomson, of the Law Society's Criminal Law Committee, said the not proven verdict was the "logical" one to keep in criminal cases and there was an argument for dropping not guilty.
He said that if the Crown failed to prove a case, the logical verdict was not proven, rather than not guilty.
The legal implications of a not proven verdict are the same as with a not guilty verdict: the accused is acquitted and is innocent in the eyes of the law.
Not proven is seen by some as offering additional protection to the accused.
But critics argue that it is confusing for juries and the public, can stigmatise an accused person and fail to provide closure for victims.
Liam McMonagle, a Fife-based partner with Thorntons Law LLP said: "I tend to agree the verdict is anomalous and undermines the principle of 'innocent until proven guilty' by leaving a stigma on an accused where a jury is not persuaded to convict.
"There is a certain logic to it but you can understand why it's often an unsatisfactory outcome for all concerned.
"I think it's fine for our justice system to be different from other countries if we are satisfied those differences are worthwhile.
"This research will help us decide if the verdict is a useful feature of Scots law or an accident of history that should be dispensed with."
Freelance court reporter Jamie Beatson has covered thousands of court cases in Tayside and Fife over the years.
He said the most contentious case he could remember recently involved an award-winning horse breeder in Fife who walked free from court over a head-on smash that killed a man – despite four eyewitnesses telling a jury she was on the wrong side of the road at the time of the collision.
A jury of 10 men and four women took one and a half hours to return a not proven verdict by majority, meaning that the accused was free to leave the dock.
Mr Beatson said: "Juries are always made very well aware that not guilty and not proven have the same effect – acquittal – but there is always the perception that 'not proven' means something akin to there being no smoke without fire.
"Certainly, in this case, it appeared that the Crown had laid out a compelling case for a conviction.
"The verdict of acquittal was something of a surprise – but perhaps it is hard for a jury to convict a woman who was clearly an otherwise respectable member of society.
"But if you take away not proven does that necessarily mean a guilty verdict is more likely? Probably not.
"If a jury believes there's not enough evidence to find an accused guilty, the only possible verdict is one of acquittal.
"Removing the not proven option doesn't remedy a deficiency in a Crown case or in the quality of the evidence led."
Scottish juries were historically able to return only proven or not proven verdicts
A third verdict of not guilty was introduced in the 1700s and became more commonly used than not proven.
However, the option of returning a verdict of not proven was never removed.
In more recent years, the general perception has been that a "not proven" verdict suggests a sheriff or jury believes the accused is guilty, but does not have sufficient evidence to convict.
Cupar-based lawyer Douglas Williams – a director of Williams Gray Williams – said he believes the 'not proven' system should remain as it is.
He said: "Some people consider it an anomaly but the reality is it was originally the alternative verdict to "proven " ie guilty .
"Not guilty came along much later.
"The great difficulty is we are not allowed to canvass or poll jurors so what goes on is often a mystery because irrespective of a judges direction jurors will often ignore the law and evidence and return a verdict that displays their reaction on a gut feeling basis.
"On that basis it serves the interests of both the innocent and general society by providing jurors with a safety verdict if they are just not sure or happy with an aspect of the case either evidentially or regarding the law that they are supposed to be applying.
"My general view is if it is not broken.. .
"Our law makers would appear to think that they can make a better fist of it than those who have gone before : what conceit on their part as they certainly will not be as well educated if they had a Scottish education as those who have gone before – but that is another story!"
Last year US lawyer David Rudolf said the verdict would have helped author Michael Peterson who served eight years for the murder of his wife Kathleen before walking free.
She was found dead at the bottom of the stairs in the couple's North Carolina mansion in 2001.
The lawyer at the centre of America's notorious Death on the Staircase murder trial said he wished the US had Scotland's not proven verdict.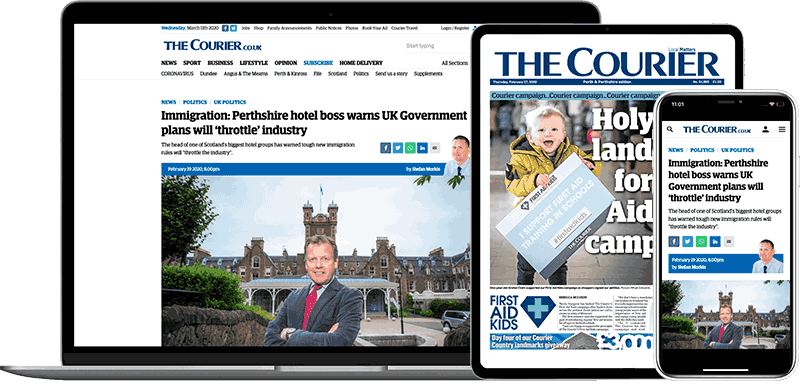 Help support quality local journalism … become a digital subscriber to The Courier
For as little as £5.99 a month you can access all of our content, including Premium articles.
Subscribe