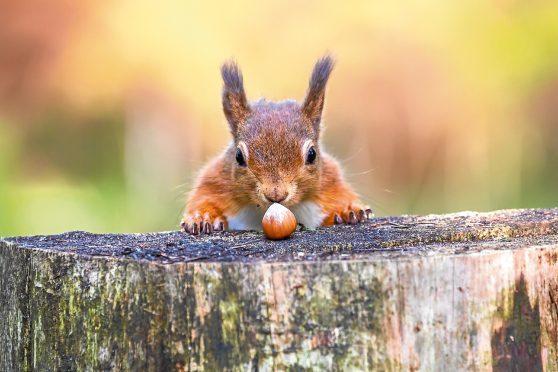 A £2.4 million project to protect Scotland's red squirrels is being hailed as a success.
Populations of the tiny mammal have stabilised across Scotland, with gains in many areas.
The figures were revealed as part of an annual survey by the Saving Scotland's Red Squirrels project, run by the Scottish Wildlife Trust.
Since 2011, the project has been monitoring squirrel populations in the parts of the country where red squirrels are most under threat from the spread of non-native grey squirrels.
Grey squirrels, which were introduced to Britain from North America in the 19th Century, out-compete red squirrels for resources, and can also carry squirrelpox, a virus that doesn't harm them but is deadly to reds.
Between 2012 and 2017 a total of 45 sites were surveyed across Perthshire, Dundee and Angus, with 14 showing an improvement.
A mix of red and grey squirrels were observed at seven sites across the region, an observation seen as negative by the organisation, with only greys being seen at another location.
Mary-Anne Collis, red squirrel conservation officer for Argyll, the Trossachs and Stirling said: "In the Central Lowlands, red squirrels are holding their ground and as a result we've started to see them in areas where they haven't been seen for a long time.
"This is particularly noticeable to the south and east of Loch Lomond and the Trossachs National Park, which is now predominantly a red-only zone."