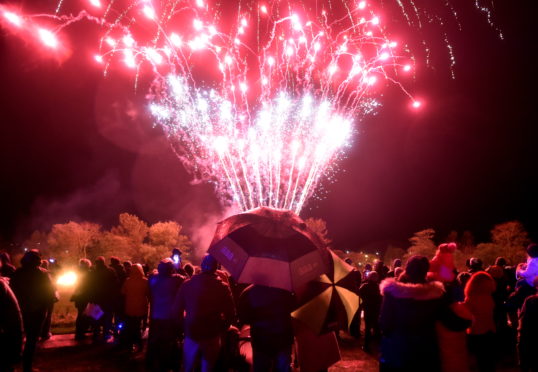 North East Fife based Royal Marine veteran Mark (not his real name) said bonfire night can be an especially difficult time for combat veterans with mental health issues like him, with the loud bangs, bright lights and strong smells from fireworks causing serious anguish.
However, the 41-year-old father-of-three, who asked not to be named, does not believe fireworks should be banned from public sale because he recognises they also provide a lot of fun.
The former RM Condor-based Marine, who served for seven years and saw action in Iraq and Afghanistan where he lost many colleagues in combat, said his "coping strategies" at this time of year include turning up the TV loud or putting on loud music to drown out any bangs.
However, he admits his avoidance tactic comes at a price as he cannot go out with his wife and children to enjoy bonfire night and he tends to "hide away" as he deals with wider mental health issues that can often be "triggered" by loud noises.
"In this day and age there's a lot of lads like myself who had a lot of (combat) experiences in a short space of time – let's put it that way," he told The Courier.
"We were in firefights, explosions – in a nutshell we went through a lot.
"But those experiences have totally changed my whole life. I don't suffer from flashbacks as such – it's more intrusive thoughts. Living in the past but in the here and now.
"But anything can remind me of what I've been through. It could be noisy places, kids screaming, cars backfiring, someone peeping a horn."
Mark said he's "not led a normal life for years".
He added: "You have no motivation to do anything. You don't want to go out. That means I don't do anything with my kids or go anywhere with them.
"That means I'm anxious which leads to other stuff, I'm angry, I'm shouty. There's a distance between me and my missus. We almost split up if it wasn't for the fact I sought help."
However, he knows of plenty veterans who will happily go out and set off fireworks with their children – and for that reason he doesn't want to see them banned.
Veterans charity Combat Stress offers advice and tips to veterans who may be struggling with the sounds and flashes around fireworks displays.
However, the charity also stops short of calling on fireworks to be banned from public sale.
Sue Freeth, chief executive at Combat Stress, said: "The noise of fireworks around bonfire night or other celebrations such as New Year can be difficult to deal with for veterans experiencing post-traumatic stress disorder.
"The tips from our clinical team can help those who struggle to cope with the sudden noises and crowds of fireworks parties and allow veterans and their families to enjoy a traditional bonfire night.
"The noise, lights and smells of fireworks can be similar to those of gunfire, but it is important to remember they are different. By focussing on the differences, veterans can learn to tolerate fireworks. Preparation is very important to manage anxieties during the fireworks season and we hope that our expert tips will help veterans feel less worried."