Scotland's winter sports season got off to one of its earliest starts at the weekend – even without natural snow – with one pair travelling 600 miles just to ski.
Two of the country's snow sports centres are the first in Scotland to offer a guaranteed opening and closing date for the season.
It comes after Glencoe Mountain and The Lecht secured funding for new snow-making equipment from Highlands and Islands Enterprise (HIE).
The Lecht in Aberdeenshire opened its Magic Carpet run on Saturday while Glencoe had a supporters' event on the slopes and also had sledging.
It was offering tow-assisted skiing and boarding for enthusiasts yesterday.
At The Lecht, just a dozen hardy skiers took to the slope in the first hour, but were soon joined by many more.
Dale Knights and Adam Burrows travelled 600 miles from Suffolk to go skiing at Cairngorm – but with no skiing there, they went to The Lecht for the weekend.
Adam said: "Its a great effort by the team here to get the slopes open and, although its just the one run, we are having a great time.
"It's amazing that the snow factory can churn out snow on any given day.
"Hopefully there will be a lot of snow this winter and we can come back up when the slopes are covered and all the runs are open."
Scott McCartney, 30, a snowboard instructor, said: "This will be my first season at The Lecht and its got off to a great start."
Andy Meldrum, chairman of Ski Scotland said the machines would transform the Scottish winter sports season.
"The value of this cannot be underestimated as it will give visitors more confidence in planning trips and will provide huge benefits for our business and the local economy."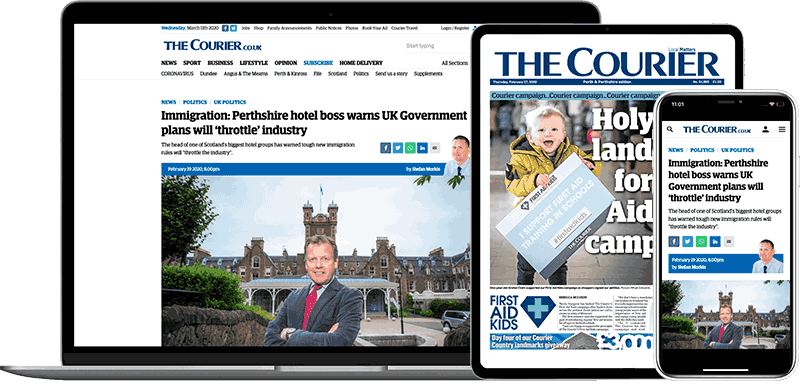 Help support quality local journalism … become a digital subscriber to The Courier
For as little as £5.99 a month you can access all of our content, including Premium articles.
Subscribe