With 2019 upon us, Michael Alexander spoke to people from the Courier Country world of politics, sport, music and beyond to find out what their hopes are for 2019:
It was a year of headlines dominated by everything from the ongoing fallout of Brexit, more Twitter controversies from US President Donald Trump – and the stockpiling of original recipe Irn Bru before a reduced sugar version came in!
But as 2018 slips into the annals of history, what can we expect from 2019?
The Courier contacted various prominent people from across Tayside and Fife to get a cross-section of opinions on what they hope the new year will bring.
And as you might expect from people in the realms of politics, music, religion and sport, certain themes emerged on everything from leaving the European Union to local football teams gaining promotion.
There's no doubt that 2018 was a big year for Dundee with the new railway station entrance opened in March, the Tay Cities Deal announcement, high profile concerts at Slessor Gardens and, of course, the opening of the much anticipated V&A Museum of Design in September.
So who better to start with than V&A director Philip Long who hopes to build on this success in 2019.
He said: "2018 has been a fantastic 12 months for the team at V&A Dundee, opening the museum and experiencing all of the excitement of that, and the huge enthusiasm for our opening exhibition Ocean Liners: Speed and Style which runs until February.
"I can't wait to introduce visitors to our ambitious 2019 exhibitions exploring the revolutionary worlds of videogames and robotics.
"On a personal note, in 2019 I am looking forward to seeing Dundee growing ever greater in confidence and building on its ambition, which is being noticed increasingly around the world. All of us at V&A Dundee have a role to play in that."
Of course the big, as yet unresolved, issue transcending 2018 into 2019 is Brexit – and not surprisingly it's at the forefront of the mind of North East Fife MP and SNP Foreign Affairs and Europe spokesperson Stephen Gethins.
He said: "Brexit is important, really important. It has dominated political discourse in 2018 because the decisions we make now will have an impact on us all for decades to come. Important as it is, it can be frustrating because it removes the bandwidth from discussing other issues.
"So first of all it would be good to get some hard answers about how our future relationship with the rest of Europe will look be that via a second referendum – or People's Vote – as advocated by the SNP and Liberal Democrats among others, or by some other means. Our food and drink industry, education and research and opportunities for young people must be at the heart of that.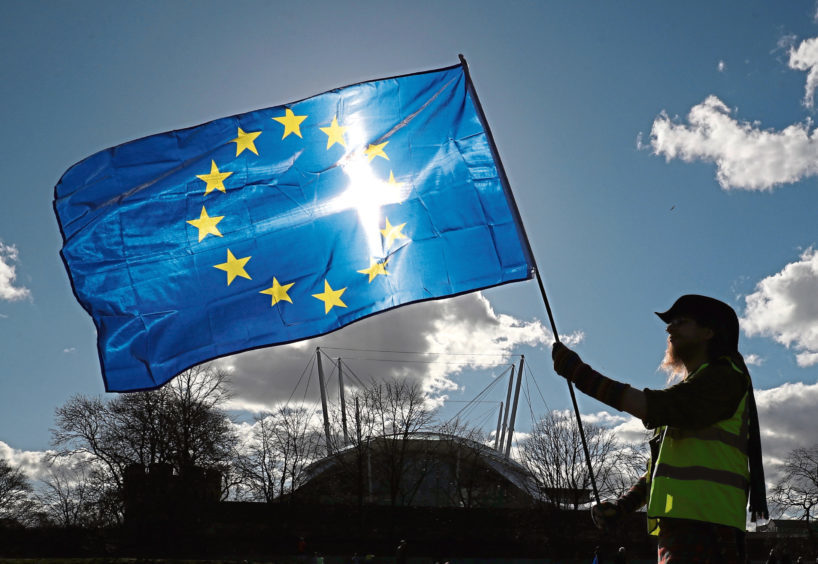 "Then (fingers crossed) with that done early in 2019 we need to discuss the future of our public services after more than a decade of Westminster austerity, as well big global challenges like climate change and the refugee crisis.
"Locally, there are so many important issues and amongst them I hope we will see the Out of Hours GP service at St Andrews Community Hospital safeguarded and the new Madras College begin to take shape.
"It would be great to get back to the important debates and issues that concern us all. That and promotion for Dundee United next year. It's not too much to ask, is it?"
As Dundee United fans wait to see what impact the club's new American owner Mark Ogren will have on Tannadice fortunes, football is also on the mind of Courier columnist and pundit Jim Spence.
Jim said: "Scotland needs to restore its international football reputation so I hope Alex McLeish and the national team qualify for the 2020 European Championship finals.
"Scotland women's football team are in action in the World Cup in France. "Their pride and passion is beyond doubt, and they have a great chance to help the continued growth of the women's game.
"I'm also hopeful that next year sees Andy Murray recapture the fitness and form which has made him arguably Scotland's greatest ever sportsman.
"Domestically, the Premiership needs both Dundee clubs in it, so I hope that Jim McIntyre can keep Dundee in the top flight, and that Robbie Neilson can ensure that United join them there.
"Hawkhill Harriers Laura Muir took the 1500m gold at the European Championships in Berlin earlier this year, and Mark Stewart, from the Discovery junior cycling club, won Gold at the Commonwealth games in Australia in the point's race.
"Both athletes emerged from the athletics and cycling clubs based at Caird Park, and with the fantastic new regional sports performance centre soon to open there, I'm delighted that others will now have an improved opportunity to emulate their brilliant success."
Renowned Dundee musician Andrew Mitchell, aka- vocalist and bassist with The Hazey Janes and Scots indie rockers Idlewild – is releasing a new album in February. There will also be a short flurry of shows, then he'll be knuckling down to some new projects.
However, as much as 2018 had its reasons to be cheerful, Andrew will feel "no twinge of nostalgia" waving goodbye to the politics the UK had to endure in 2018.
He said: "I'd hope for that landscape to shift, for 2019 to offer fairer opportunities for change, equality and democracy for those who are most in need: 2018 was short on compassion, too. We should be stockpiling that, like grit!
"Locally, there's much cause for optimism with the return of the wonderful Dundee Design Festival in May. Also, the treasured Dundee Contemporary Arts Centre turns 20 years old, which is a brilliant achievement."
Perth-raised journalist, author and football fan Stuart Cosgrove describes his recently published trilogy of soul books as a "personal achievement" and, with significant interest from American producers, he hopes to confirm a deal in the New Year that will have an impact on his work plans for 2019.
When it comes to Brexit, however, he predicted 2019 will be "another restless year for politics" – adding that even the most ardent seer would be reluctant to guess how the cards will fall.
He said: "I want the best for Scotland and in a rudderless democracy, that means taking hold of the reins of power, in an independent Scotland. We have the talent to manage our own affairs."
He said his family also has "half an eye on events in Sri Lanka" which is in political turmoil and possibly facing another historic election.
He added: "As many stampede to claim Irish citizenship to stay in the EU in 2019, ironically I have to make an application for dual citizenship of Sri Lanka. It is not in the EU, but it would make my wife happy and would be a nice touch of symbolism in our lives.
"I avoid making any predictions about the other love of my life St Johnstone who have had a great season so far and I vow never to curse their good fortune with overweening ambition – survival will do again, and top six even better."
As the new year dawns, Tayport-raised music business lecturer Richard Smernicki at the University of the Highlands and Islands Perth College is looking forward with optimism to the year ahead.
He is the type of person who, perhaps naively, believes "common sense" will prevail when it comes to politics.
However, having worked in the music industry for 20 years, he thinks 2019 will be the year when independent musicians and songwriters will "take back more control of their income streams" and be paid fairly for their work.
"Could 2019 be the year blockchain technology disrupts the traditional music industry structure, giving musicians greater control over the revenue they generate?" he said.
"I hope to see Dundee develop further as a creative hub in 2019. We have so many talented musicians and creative people here, but our city has never really been fully recognised for this.
"There's been a noticeable increase in music industry professionals setting up shop in Dundee rather than feeling the need to work in London. The growth of this music industry infrastructure is essential for local musicians to develop commercially and creatively.
"Two local bands to keep an eye on over the next 12 months are ST.MARTiiNS, currently recording an EP to be released in March and HYYTS, produced by Gary Clark, and who recently supported Culture Club at The Glasgow Hydro. Overall the year ahead should be a good one for the music industry in Scotland.
But perhaps my greatest hope for the coming year is for Robbie Neilson and his team to get back to The Scottish Premiership where they belong. C'mon United!"
Meanwhile, Bishop Ian Paton, based in Perth, and Bishop Andrew Swift, based in Dundee, of the Scottish Episcopal Church were both appointed to local dioceses in 2018 and continue getting to know the people and communities of the area.
They enjoy seeing the festivities at this dark time of year.
However, in a joint statement they highlighted people who find this time dark for other reasons.
"Homeless people, struggling to keep warm; others without work or on low pay, worrying about how they will look after their families; so many burdened with illness; everyone uncertain and confused by the approach of Brexit," they said.
"But at Christmas time we are reminded of God's gift to the world: Jesus, who came to bring God's light to all humanity and show us that love is the way.
"That's why many people, inspired by his message, work in their community all year round to help others in need or distress. They become a light in darkness."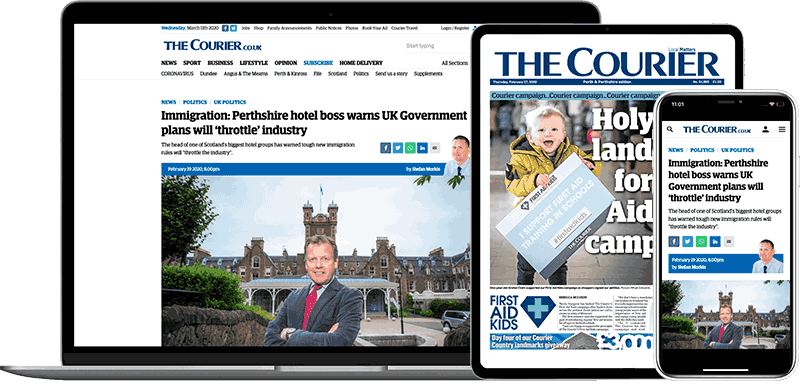 Help support quality local journalism … become a digital subscriber to The Courier
For as little as £5.99 a month you can access all of our content, including Premium articles.
Subscribe