Michael Alexander examines whether it's time to put the brakes on 'fast fashion' for the sake of the environment and a sometimes exploited global workforce.
It is a global industry that contributed a record £32 billion to the UK economy last year.
But with over a million tonnes of clothes worth £140 million going to landfill in Britain every year, should fashion producers be making more of an effort to end the era of throwaway or "fast" fashion?
A cross-party group of MPs thinks so. They have suggested that fashion producers be charged a penny per garment to fund better clothing collection and recycling, to make retailers take responsibility for the waste they create and reward companies that take positive action.
At a time when the British Fashion Council has reported UK designers going "from strength to strength" globally amid a rise in online retail at the expense of the high street, the Environmental Audit Committee has recommended that ministers adopt "clear economic incentives" to encourage retailers to "do the right thing", and suggested the Government reform taxation to reward companies that design products with lower environmental impacts and penalise those that do not.
They propose extending the tax on virgin plastics, due to come into force in 2022, to synthetic textile products to encourage the use of recycled fibres. And they called on ministers to explore how they can support hiring, swapping or subscription clothes services.
The committee said an Extended Producer Responsibility scheme for textiles could raise £35 million for better clothing collection and sorting, which in turn could create new "green" jobs.
Their report, entitled Fixing Fashion: clothing consumption and sustainability, also recommended retailers with a turnover of more than £36 million be made to comply with environmental targets, as the voluntary approach to improving sustainability is "failing".
And they noted that consumption of new clothing in the UK is estimated to be higher than any other European country – at 26.7kg per person.
MPs on the committee also urged the Government to change the law to require companies to perform due diligence checks across their supply chains to ensure their products are made without child or forced labour.
They pointed to labour exploitation in the UK, and said the "Made in the UK" label should mean workers are paid at least the minimum wage.
Jane Keith, programme director for Textile Design at Duncan of Jordanstone College of Art and Design in Dundee, thinks the MPs' report is "great" and "rings true" with what Dundee fashion students are taught about their role at the start of a global design chain.
She supports the idea of a transparent supply chain and retailers being responsible for the waste they create with clear economic incentives.
She is a great supporter of the "brilliant" sustainable fashion library concept offered by Lena in Amsterdam.
Shoppers can borrow vintage clothing for a monthly subscription.
"They source high end clothes which have nothing wrong with them or have been ethically mended," she added. "People go into the store and they can use their vouchers to hire an outfit for a night, for two weeks, or a month, or they can buy. It means the clothes come back into the system and rotate around. It's a really lovely business model."
However, it's also about educating the consumer with a key target group being teenagers.
"This idea of children being taught the joy of making or mending clothes – that is absolutely essential," added Jane, who is the mother of two teenagers and runs her own business.
"Teenagers often purchase an outfit for a party and don't use it again. But it's this throwaway mind set. If something has a hole in it, you can't possibly wear it again! Changing that psychology in the way children think – particularly the teenage group – that's a real key target market."
Brechin-based bespoke milliner, make-up artist and stylist Priestley West is a firm supporter of ethical fashion.
Having originally trained at Brushstrokes, Shepperton Studios and worked across Europe on film sets and high-end fashion shows, he already donates £10 per hat he makes to charity and praises clothing companies who are part of a UN scheme to support Third World villages afflicted by HIV, famine and the like.
However, despite being a staunch critic of companies that exploit workers, he is not convinced that a penny per garment charge is the answer as it will simply be passed on to consumers by already taxed companies.
The supply chain from fabric to sale can be "so complicated", he said, and he believes the problems of fair implementation would be "too great".
"When the government talks of a 1p tax they are talking about some of the huge companies that can make big money," he said, revealing that his conscience could never allow him to shop at Primark in the wake of a 2013 factory collapse which killed 1400 in Bangladesh.
"However when it comes to designers, I don't think it's a win win. There's a complicated supply chain for products. Who would they charge?"
Twelve years after Dundee musician Kyle Falconer sang "I've had the same jeans on for four days now" on The View's 2007 hit Same Jeans, there is evidence that Britain's clothes-buying habits are slowly changing.
According to a report by the Fashion Retail Academy, 25.4% of consumers are now said to be wearing their everyday items such as jeans or t-shirts for over two years before buying new ones (hopefully with a few washes in-between!) while 24% continue to wear an item of clothing for over 10 years.
The report suggests "fast fashion" is slowing down as consumers are 13% more likely to choose expensive long-lasting clothes over cheaper fashionable items.
However, Priestley said the reality for many families on lower incomes is that they have little choice than to buy cheaper clothes which may wear out quicker than their more expensive counterparts. Children's clothes also need to be replaced more quickly as youngsters grow.
Dundee and Glasgow-based personal shopper and style blogger Rachael Stubbs, who did her university dissertation on fast fashion, said that as consumers, she doesn't think we are educated enough on this subject.
She said people need to be more aware of how bad their buying habits are.
At the end of the day producers are responding to consumer demand and she thinks a 1p tax will only do so much.
"I think it's great that we are looking to reduce fashion waste or at least help the issue," she said.
"I think fast fashion is still overlooked as a massive issue despite it being the second largest polluter in the world.
"People like to often turn a blind eye to it because they love clothes, producers are finding themselves making more money than ever and I think MP's aren't making environmental issues like this a problem enough."
Rachael said in addition to making producers pay 1p, other changes should also be made – mainly in the way of marketing and educating consumers on how they can reduce waste.
"There should be charity drop offs and recycle points made more aware to consumers so that they too help with the issue," she added.
"There should also be more education around how bad fast fashion really is both socially and environmentally!
"Their clothes are made in sweatshops at such a low cost that the workers are not treated properly- but it isn't talked about enough.
"I think the more we educate consumers on the pitfalls of fast fashion, hopefully the demand will go down."
Labour's Mary Creagh, chairwoman of the Environmental Audit Committee, said: "Fashion shouldn't cost the earth. Our insatiable appetite for clothes comes with a huge social and environmental price tag: carbon emissions, water use, chemical and plastic pollution are all destroying our environment.
"In the UK we buy more clothes per person than any other country in Europe. 'Fast fashion' means we over consume and under use clothes. As a result, we get rid of over a million tonnes of clothes, with £140 million worth going to landfill, every year.
"Fashion retailers must take responsibility for the clothes they produce."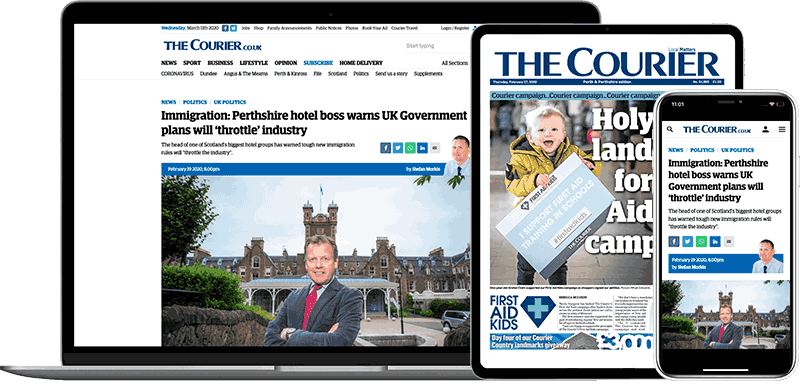 Help support quality local journalism … become a digital subscriber to The Courier
For as little as £5.99 a month you can access all of our content, including Premium articles.
Subscribe