In the first of a two-part series, Michael Alexander speaks to Police Scotland and a Kinross-shire farmer about the costly impact of rural crime and hears about the action being taken to fight back against the brazen work of serious organised crime gangs.
The bleating of new-born lambs fills the air as a tractor busies itself in the distance before returning with a load of neeps to feed cattle still housed in their shed after a long winter.
It's a busy, working round-the-clock, time of year for third-generation farmer David whose great grandfather first farmed this land in 1910.
But as the farmer lifts his bonnet to scratch his weather-beaten brow and gazes across his 450-acre upland livestock and arable farm near Kinross, he reveals that he has been having to deal with another major challenge over the past couple of years – multiple high value farm equipment thefts.
The first incident happened in 2016 when a loader tractor valued at around £28,000 was stolen whilst parked outside a fodder-filled steading.
Then in 2017 and 2018, year-old quad bikes valued at £7000 and £6500 respectively were taken from locked sheds worryingly close to his own backdoor after padlocks were cut under cover of darkness, and despite security lighting. They were never recovered.
David, whose name we have changed to protect his identity, explains that he has since put in CCTV on his farmyard buildings to act as a deterrent.
He is also backing police-led initiatives to have more farm equipment fitted with trackers and security marked.
However, having felt "violated" by the actions of the unknown criminals, he says it feels like "shutting the door after the horse has bolted".
With brazen criminal gangs often wearing hoods and masks, the reality is that he now goes out each morning thinking: "I wonder what's going to be away now?"
"It seems to be opportunism that this farm has been targeted," he says.
"I hope so anyway. I remember before the first quad bike was taken I saw a delivery van that day parked up nearby.
"You just don't know who's coming in and reporting what's about. You just don't know.
"But a major problem with tractors is that a lot of the same makes all have the same key!" he adds shaking his head with incredulity.
"You'd think that with the value that's in a tractor, they'd have a locking system like a car!
"Saying that some of the manufacturers have brought out a chip in a key. But even that's not fail-safe."
David says another problem that's gone on for generations is sheep worrying.
He says the problem has got worse as a result of right to roam legislation with more and more people accessing rights of way in the countryside and on, occasions, losing control of their pet dogs.
"Some incidents involve dogs off leads, some are dogs that get away from folk," he says.
"We had four instances recently. One sheep had its jaw torn right off it. We've lost half a dozen sheep over the years. By the time we get phone calls, the dog is usually gone."
While David remains slightly cynical about some of the deterrents available, and believes there "aren't enough police to do the job", he won't fault the support of PC Willie Johnstone, 52 – a Dundee-based constable working within Police Scotland's Rural Crime Unit.
Born and brought up in rural Perthshire, the time-served agricultural engineer with 28 years' police service, is the point of contact within Police Scotland for all plant and agricultural machinery theft.
Taking their priorities from the recently launched rural crime strategy of the Scottish Partnership Against Rural Crime (SPARC), the rural crime unit's main goal is to advise local officers, support and advise local farmers and to reduce and ultimately prevent crime.
"The scale of the rural crime problem in Tayside and Fife is all relative," he says.
"It's not as big an issue as it is in other areas of Scotland but it's still a big enough area that it has a massive impact on  rural communities.
"It's the knock on effect of getting your quad bike stolen during lambing season – things like that.
"With the farmer here, the local officers did a really good job, but it soon became evident that he was a recurring victim of crime.
"So we did what we call 'target hardening' his property and his assets. We put things in place – one to make it obviously less attractive and do things that are covert to make it more easy to trace if it gets stolen eg design accredited tracker units."
PC Johnstone understood why some farmers felt a "bit negative" about the Cesar security marking system with some seeing it as "only a recovery tool".
However, he insists it is also a useful deterrent and many insurance companies give a discount on insurance if equipment is tracked or marked.
Police Scotland say organised crime gangs from England are often responsible for the theft of high value farm equipment across the UK.
Specialist "inside" knowledge is often required to operate and steal modern technologically advanced £150,000 tractors, for example,  while tele-handlers, also requiring driver expertise, are often stolen to order and have been linked to 'smash n'grab' ATM thefts.
Police say equipment stolen in Scotland has been recovered, thanks to the Cesar marking system, as far away as Lithuania.
However, PC Johnstone says that "realistically", unless there is specific intelligence about a theft and given the volume of plant and agricultural vehicles legitimately crossing the borders of Europe and Ireland every day, it was difficult to stop items leaving the country at a time when the priorities of the Border agencies tended to be counter terrorism and immigration.
"That's not saying that theft of plant and agricultural equipment is not a priority," says PC Johnstone.
"It's just a resourcing issue like everything else."
PC Johnstone is encouraging farmers to speak to police when they attend forthcoming agricultural shows like the Fife Show on May 18 and Angus Show on June 8.
Police Scotland is touring the country with a £150,000 Valtra tractor on loan free of charge from the Hamilton Ross Group to showcase some of the security measures that can be taken and also to engage with youngsters.
"My message to the rural communities is come and speak to us," he adds.
"Tell us where we are getting it wrong. We are not perfect.
"If you are not telling us what is happening in the community, eg where suspicious activity is, we can't act on it and likewise if you are wanting prevention on crime prevention and stuff, give us a shout.
"Trained officers are available to do surveys and give good advice about measures and products."
According to the latest Police Scotland figures, rural crime cost Scotland at least £3.7 million between September 2018 and February 2019, with Tayside, Aberdeenshire, Ayrshire, Lothian and Borders and Dumfries and Galloway consistently the top five targeted areas.
However, police believe the cost is likely to be much higher as its thought up to two thirds of rural crime is not reported .
Gartcosh-based Police Scotland National Rural Crime co-ordinator Inspector Alan Dron said there had been perceptions, wrongly, amongst many farmers over the years that police were "not interested" in rural crime.
However, police are trying to change that view through its membership of SPARC (Scottish Partnership Against Rural Crime) – a 16-member multi-agency organisation which has just launched its first strategy to prevent and tackle rural crime in Scotland.
SPARC's strategy covers seven priorities of agricultural vehicle, farm machinery and plant theft; equestrian incidents; fly tipping; fuel theft; heritage crime; livestock offences and poaching.
For organised crime gangs, remote farm houses can be ideal locations to launder money or indulge in violent sports like hare coursing.
However, multiple tractor thefts can also be lucrative as they bring financial rewards on a par with drug dealing – but "softer" penalties if caught.
"SPARC recognises Scotland is renowned throughout the world for its historic past, natural beauty and ability for producing quality food and drink," says the 49-year-old inspector with a background in firearms policing, public order and the Scottish Crime Drugs Enforcement Agency.
"But rural communities are not immune from those who pursue criminal activities.
"SPARC recognises the need to tackle rural crime in all its forms plus target any criminality including those Serious Organised Crime Groups (SOCGs) who want to make money at the expense of hard working, law abiding people, thus threatening the very fabric of rural communities.
"While the volume of crime in rural communities and environments is often lower than in urban locations, the consequences and impact of an incident or crime committed often has a much deeper and far reaching impact, both on the victim and community as a whole.
"It is also acknowledged particular challenges exist in tackling criminality, particularly with an all too common perception that the cost, extent and social impact of crime in rural areas is underestimated, under-reported and not fully understood."
Inspector Dron said Police Scotland were increasingly working with rural communities to build up an intelligence-led picture of activity.
He conceded that in the past rural crime might not have been seen as a policing priority and often farmers wanted to "sort it out" themselves or not tell their insurance companies.
But the police were committed to taking the matters seriously, he said, and he encouraged farmers to get in touch with any issues.
The Courier contacted several tractor manufacturers for comment about security.
New Holland Agriculture confirmed that it does use the same key for multiple machines. However, specific ranges do have different keys.
A spokeswoman said: "In addition we have data tags , battery isolators and Cesar security. Also we offer PLM Connect telematics system which offers Geofencing.
"The unit can therefore be always tracked or automatically disabled if it leaves the actual ring fence.
"The one thing we can recommend is to always secure their equipment and install deterrents such as alarms and locking gates."
* In Saturday May 11 Courier, NFU Scotland calls for vigilance amid reports that stolen tractors are being used as an 'international currency'.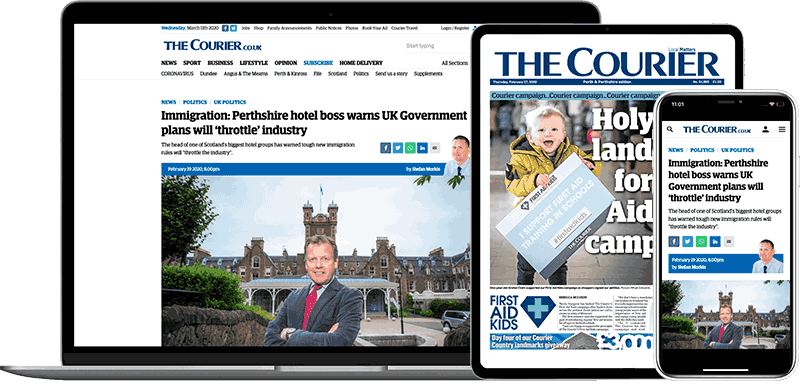 Help support quality local journalism … become a digital subscriber to The Courier
For as little as £5.99 a month you can access all of our content, including Premium articles.
Subscribe