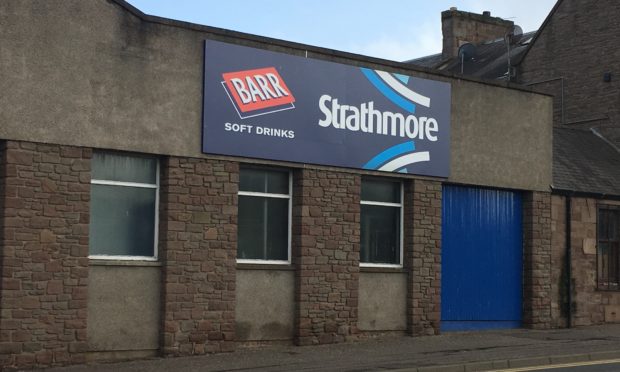 Billed as Scotland's largest underground aquifer, the Vale of Strathmore keeps the mineral water brand bearing its name supplied with 50 million litres every year.
But there are now concerns about access to the water source, leading Strathmore's owner, Scottish soft drinks giant A.G Barr, to submit planning proposals for a new borehole reaching down below Forfar Loch.
A.G Barr, which employs 999 people across its business and made £44.5million last year, has applied for planning permission for a borehole, a building covering it and pipeline at the publicly-owned Forfar Loch Country Park at Craig O'loch Road.
The borehole building, measuring only six square metres, would be built on vacant land in the country park, close to the loch and nearby to Strathmore cricket and rugby club.
The company then proposes piping the water to its bottling plant at 126 West High Street for processing and packaging.
An aquifer is layer of rock, broken rock or sand running beneath the ground from which water is taken for a range of business and consumer purposes.
The period of time the water stays in the rocks leads to a high mineral content and is said to act as a "filtration process" that leads to health benefits.
AG Barr bottles its Strathmore product from an "old Devonian red sandstone aquifer" which runs 120km underground from Perth to Stonehaven.
Council planners granted the company planning permission in February 2017 for its current borehole, which reaches 110m below its Forfar plant site and uses a steel pipe and tap to take water from the aquifer.
AG Barr renews planning permission for its second borehole every three years.
A spokesperson from A.G. Barr said: "Our Forfar factory is home to our pure, clear Scottish spring water brand, Strathmore.  The current borehole draws water from deep underground using a 50-year natural filtration process.
"We have planning permission for a second borehole should we require it, which we renew every three years.  Should we ever decide to progress a second borehole we would work closely with the relevant authorities to ensure minimum local impact."
Councillors have not yet made a decision on the application.
A.G Barr bought the Forfar-based brand in 2006 for £15 million.
Strathmore has an increasing public profile, based on its recent sponsorship of the 2018 European Championships in Glasgow and Berlin and through developing its range of flavoured waters.