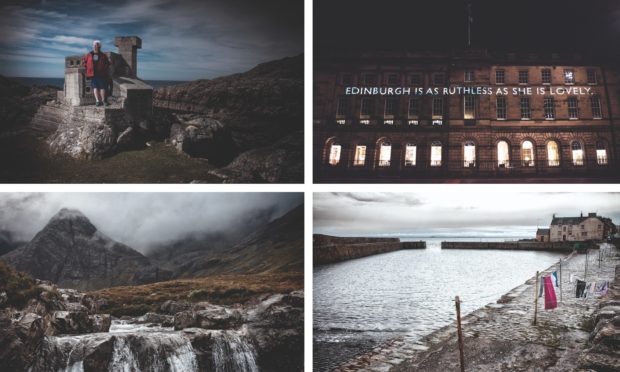 Fife writer Val McDermid has revealed how Scotland has left her spoiled for choice for crime fiction settings.
The best-selling author, 63, says she can store locations away in her mind for decades before finding the perfect crime to fit the scene.
McDermid's latest book, My Scotland, is not a novel but a collection of landscapes and buildings that have become home to her stories and characters, illustrated by photographer Alan McCredie.
She said: "The book is very personal, a cross between a memoir and a travelogue.
"They're the places I've chosen to write about in my fiction, what they mean to me and why I chose them – why they speak to me in the way they do.
"They're not necessarily my favourite places, but places that for some reason have been useful to me in terms of location.
"Robert Louis Stevenson talked about the Hawes Inn at Queensferry (famously mentioned in his novel Kidnapped) and said it's a place that 'cried out for murder' and there are some places you go to and you think 'this is a perfect place to set a crime or a dramatic scene'.
"I'm always filing places away. Things stick in your memory but I don't go out looking."
The book, illustrated with more than 100 stunning images by McCredie, covers Scotland from the Isle of Skye to the streets of Edinburgh.
It also features excerpts from McDermid's novels, charting characters from Karen Pirie's Fife to Lindsay Gordon's Glasgow.
McDermid said: "I think Scotland is a great location because it has that range of possibilities.
"We have a fantastic coastline, but different coastlines on the west coast and the east; the emptiness of the Highlands; the cities and big towns of the central belt; and the rolling countryside of the Borders.
"Really, whatever you want to write about you can find a setting for it in Scotland.
"We are spoiled for choice and I don't think I've ever been anywhere that has that same range, except possibly New Zealand which I kind of think of as Scotland's twin on the other side of the world.
"Alan McCredie has done a wonderful job of illustrating the book. I think he's done a fantastic job."