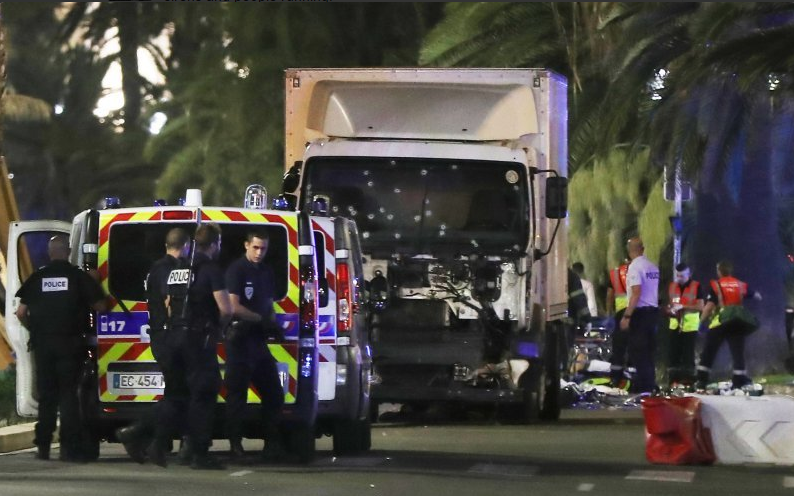 Seventy-seven people have been killed and dozens seriously injured after a lorry ploughed into a Bastille Day crowd in the southern French city of Nice.
A lorry was driven through crowds of revellers – according to some reports it zig-zagged to cause maximum carnage – before police opened fire, killing the driver.
Police discovered a cache of guns and grenades in the cab.
The attack took place on the Promenade des Anglais during a fireworks display. Prosecutor Jean-Michel Pretre said the lorry drove two kilometres (1.2 miles) through the large crowd, killing and injuring dozens.
Police opened fire on the lorry cab, killing the driver and bringing the slaughter to a halt.
The street and pavement were strewn with the dead and injured as emergency services struggled to cope. Officials said 15 people were critically injured.
Footage showed crowds fleeing in terror from the scene in the French city on the Mediterranean coast on Thursday night.
Eyewitnesses reported hearing gunshots and pictures on social media showed armed police with weapons trained on a badly damaged white truck. Other pictures appeared to show many bullet holes in the windscreen of the vehicle.
Nice Matin journalist Damien Allemand, who was at the waterside, said the fireworks display had finished and the crowd had got up to leave when they heard a noise and cries.
"A fraction of a second later, an enormous white truck came along at a crazy speed, turning the wheel to mow down the maximum number of people," he said.
"I saw bodies flying like bowling pins along its route. Heard noises, cries that I will never forget."