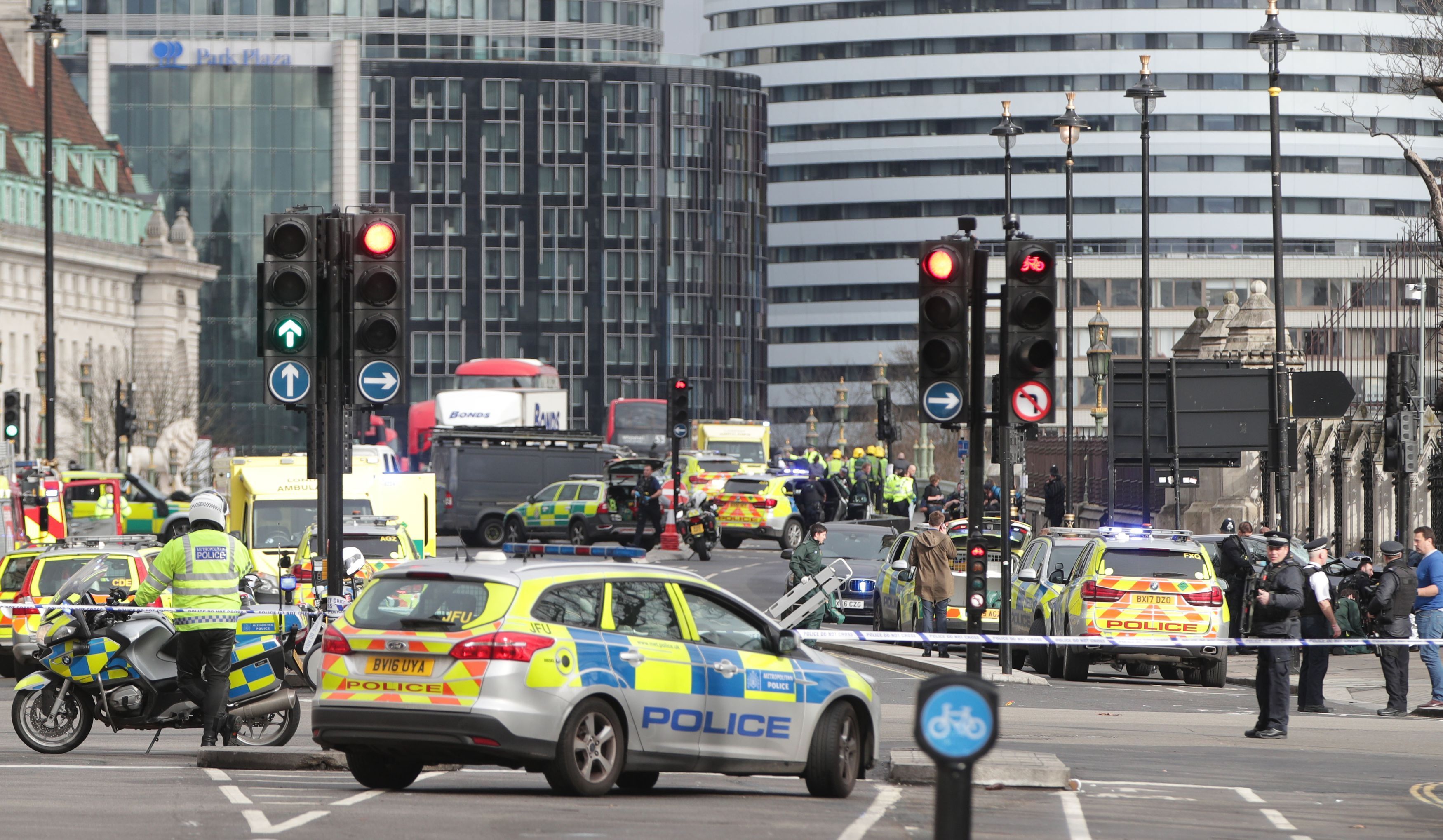 The Islamic State terror group has claimed that the Westminster attacker was one of its "soldiers".
The man, a British citizen who was known to the police and security services, had been investigated some years ago over violent extremism.
Prime Minister Theresa May told MPs he was a "peripheral" figure, adding: "He was not part of the current intelligence picture."
Delivering a defiant message to a packed House of Commons, Mrs May said: "We will never waver in the face of terrorism."
A statement released through IS's Aamaq news agency said the attacker was a "soldier of the Islamic State".
According to the SITE Intel Group, which monitors jihadist groups, the ISstatement said: "The attacker yesterday in front of the British Parliament in London was a soldier of the Islamic State executing the operation in response to calls to target citizens of coalition nations."
The Prime Minister addressed MPs as they gathered at the usual time inside the Palace of Westminster, which a day earlier had come under attack from the knife-wielding terrorist.
An hour after MPs had stood for a minute's silence in honour of the innocent people killed in the attack, Mrs May delivered a statement with details of the atrocity.
Paying tribute to PC Keith Palmer, who died after being stabbed, she said: "He was every inch a hero and his actions will never be forgotten."
Describing the terrorist, Mrs May said: "What I can confirm is that the man was British-born and that some years ago he was once investigated by MI5 in relation to concerns about violent extremism. He was a peripheral figure.
"The case is historic. He was not part of the current intelligence picture. There was no prior intelligence of his intent or of the plot."
Anti-terror police have arrested eight people in the wake of the attack.
Several addresses were raided overnight in London and Birmingham as Mark Rowley, the Metropolitan Police's senior anti-terror officer, said he believed the attacker was working alone.
A minute's silence was held nationwide at 9.33am, including in the Palace of Westminster and at New Scotland Yard, to commemorate the three innocent people who were killed.
The timing of the silence was chosen in honour of PC Palmer's shoulder number – 933.
Aysha Frade was the first member of the public to be identified as a victim, with her principal at DLD College London describing her as "highly regarded and loved".
Forty other people were injured in the attack, with 29 treated in hospital, where seven remained in a critical condition on Thursday.
The casualties included 12 Britons, three French children, two Romanians, four South Koreans, two Greeks, and one each from Germany, Poland, Ireland, China, Italy and the United States. Three police officers were also hurt, two of them seriously.
At the scene of one of the police raids, a flat in Hagley Road, Birmingham, one witness told the Press Association: "The man from London lived here."