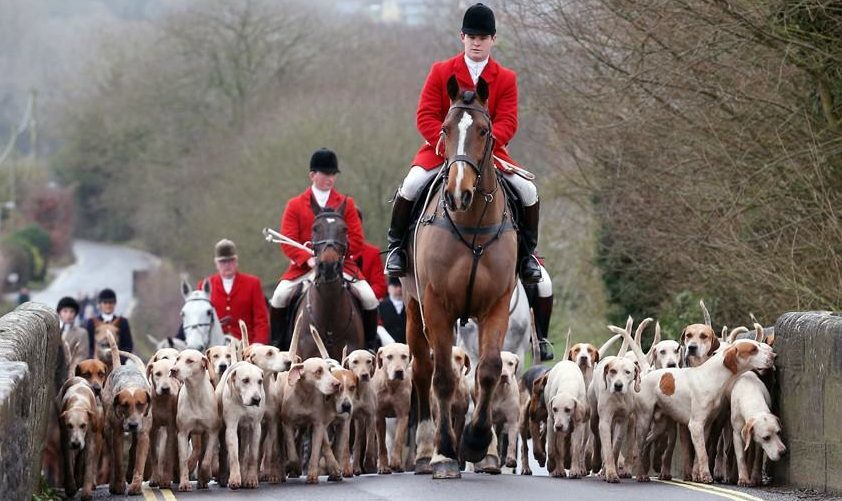 Prime Minister Theresa May has announced her support for fox hunting and will offer Conservative MPs a free vote on whether to bring it back.
The Tory leader made the announcement in Leeds yesterday, and said a decision on the pursuit – which was banned more than a decade ago – is parliament's to make.
Speaking yesterday she said: "Personally, I have always been in favour of fox hunting and we maintain our commitment, we had a commitment previously as a Conservative party, to allow a free vote.
"And that would allow parliament the opportunity to take a decision on this."
Labour introduced the Hunting Act in 2004, which banned the use of hounds to hunt foxes and wild mammals in England and Wales.
In Scotland, the hunting of foxes using dogs was banned under the Protection of Wild Mammals (Scotland) Act in 2002.
Following the PM's comments, people took to Twitter to vent their rage.
In fact, it was hard to find anyone on social media who came out in support of fox hunting following Mrs May's announcement.
Some people condemned it as "sadistic and twisted", whilst others questioned why this was a "pressing concern" of the country's ruling party.
Could the, "I'm voting Tory because Labour are out of touch" people explain how #foxhunting fits their 'normal, down to earth voter' crap?

— Alan (@AlanLewis05) May 9, 2017
"Compassion for animals is intimately associated with goodness of character…" ~ Arthur Schopenhauer #KeepTheBan #foxhunting #foxlove pic.twitter.com/jPgbjjDJKo

— Christopher Mills (@ChrisMillsPhoto) May 9, 2017
I'm so glad we live in an age where the most pressing concern of the ruling party is hunting defenceless wee animals for sport #foxhunting

— Andrew John Rainnie (@AndrewRainnie) May 9, 2017
How the hell is #foxhunting even a debate anymore? How is anyone so sadistic and twisted to ever think fox hunting is okay?

— tom (@ADTR_Tomm) May 9, 2017
https://twitter.com/CySaunders24/status/861971308430622720
Only a disturbed mind can derive pleasure from torturing an animal for hours, then mutilating and killing it.#foxhunting

— Jools #FBPE (@Joolsyboywonder) May 9, 2017
https://twitter.com/InspGadgetBlogs/status/862207116513230848
This is how a real man shoots an animal. #foxhunting pic.twitter.com/QV4NoSPHKD

— bakhtiar123466 (@bakhtiar123466) May 9, 2017