As the RAF celebrates its 100th birthday, Michael Alexander speaks to former RAF Leuchars personnel about what the Royal Air Force means to them.
On April 1 1918, in response to German air raids during the First World War, the Royal Air Force (RAF) was formed with the amalgamation of the Royal Flying Corps (RFC) and the Royal Naval Air Service (RNAS).
From the Battle of Britain to Afghanistan, the RAF has played a crucial role in every British military involvement since – and from RAF Montrose to RAF Leuchars, it's had a constant, if ever-shifting, presence in Courier Country throughout.
But as the history and achievements of the RAF is celebrated with a series of national events – and three years to the day since the controversial handover of RAF Leuchars to the Army – what does the RAF mean to those who have served or been closely linked to the air force in Tayside and Fife?
Record breaking former RAF Leuchars fighter pilot, Flight Lieutenant Roy Macintyre, 59, knows he is "very lucky" to have enjoyed a 36-year illustrious career with the RAF, which he regards as "family".
The Stirling-born officer, who lives in Cupar, holds the RAF record for the highest number of pilot hours (4600) flown in the Tornado F3.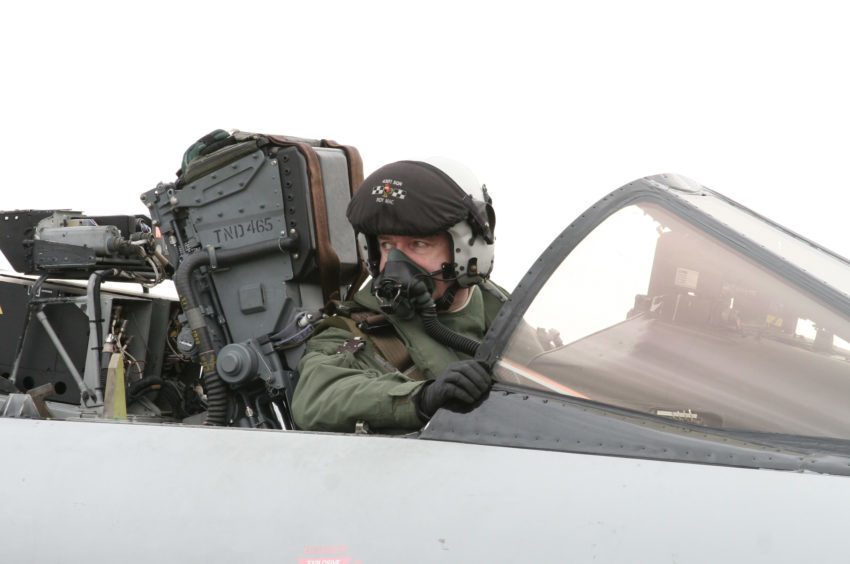 Having retired from the regular RAF five years ago, the former 43(F) and 111(F) Squadron pilot, who served in both Gulf Wars, continued as a full-time reservist and is now an instructor flying Tutors with the East of Scotland University Air Squadron – one of the few RAF units still based at Leuchars.
But he admits he and his senior RAF Leuchars colleagues were "pole-axed" when the Ministry of Defence confirmed RAF Leuchars was to close on March 31 2015.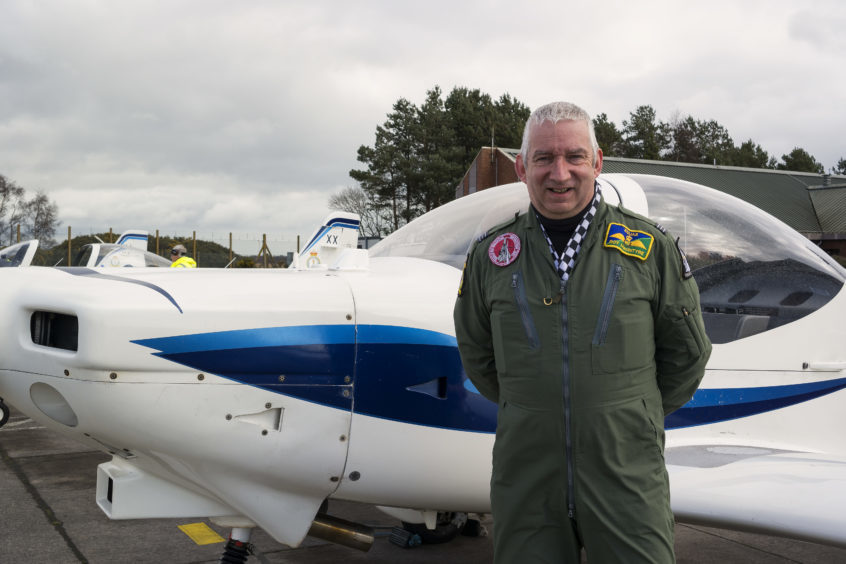 He said: "To be honest, even when the rumours started back about 2011/2012 that Leuchars might be in danger, we all looked at each other and said 'no, don't be silly.
"It's such a major base and so fundamental to the output of the air force and the QRA (Quick Reaction Alert), they'll never close it. So when the word finally came through we were absolutely pole-axed."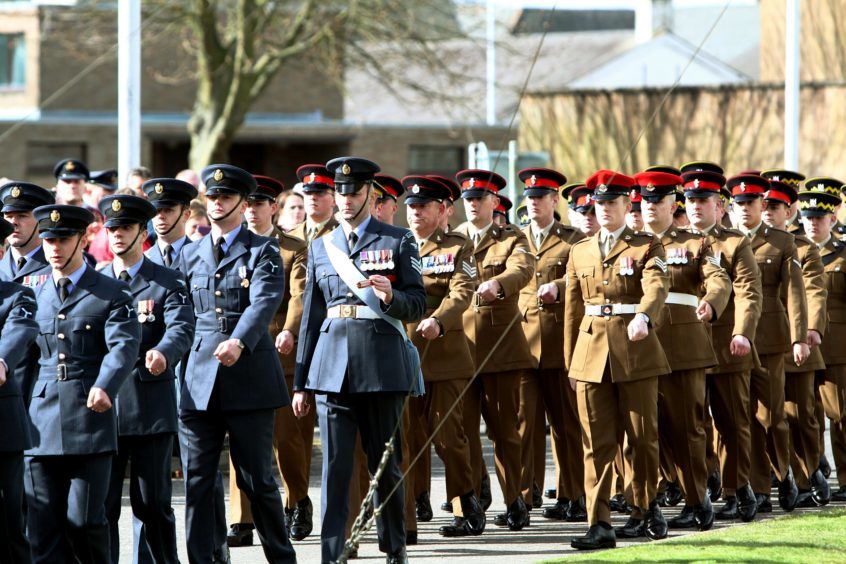 With 55 RAF and 90 university air squadron personnel still attached to Leuchars – which is now Leuchars Station army base – Fl Lt Macintyre says the strategic importance of Leuchars is borne out by the fact that the airfield is still actively used as a diversionary airfield by Typhoons at RAF Lossiemouth where QRA sorties of the type he used to fly are now based.
Following a "rather uncertain honeymoon period with the Army", followed by good working relations now, he said it "irritated" him to begin with when aviation enthusiasts talked to him about the end of flying at Leuchars post-2015.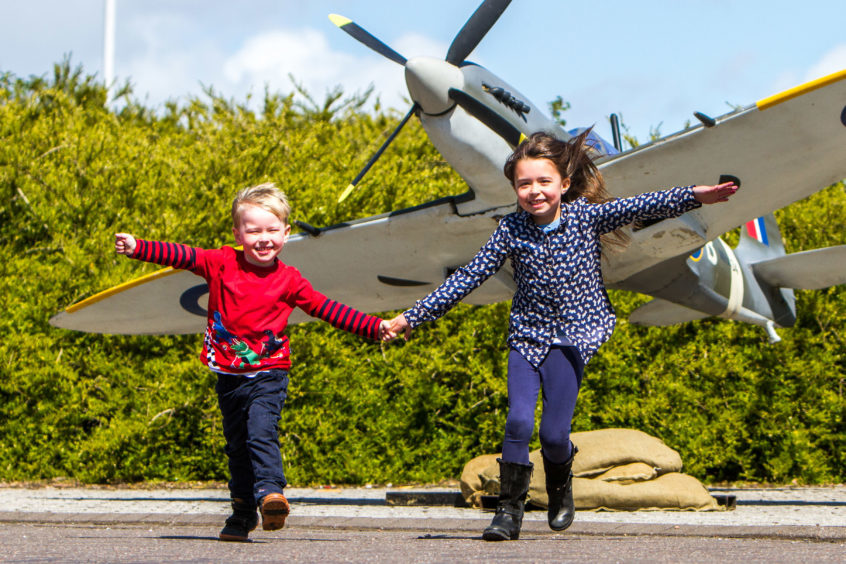 "I would say 'hang on, RAF aircraft are still here! It's just not the fast sexy ones'!" he said.
Another legacy of the decision to move the RAF from Leuchars, he adds, comes around Remembrance Sunday when requests come in to send RAF personnel to events throughout Central Scotland – and due to the "thin" numbers Leuchars cannot always oblige.
However, after almost 36 years' service, he knows he is not really in a position to complain.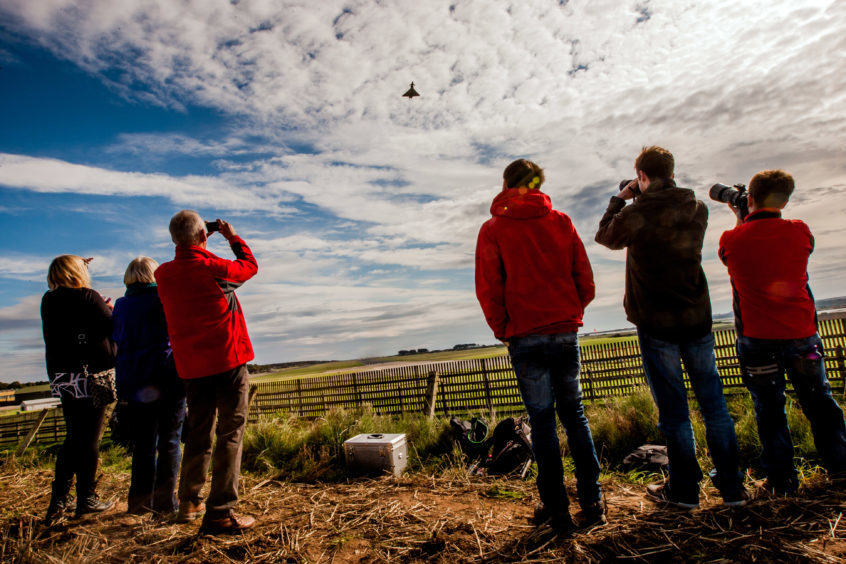 "It (the RAF)  has been a big family," he said.
"It's provided a lot of job security and things like that – I've not had the pressure and the fears a lot of civilian people have had over the years.
"It's the only job I've ever wanted to do. I come from Stirling – born and raised there – so Leuchars was the only major RAF base close to me growing up.
"So it was always the place I looked to say 'that's where I want to go to do my job'. "Leuchars has been a big part of my life. I've been very lucky."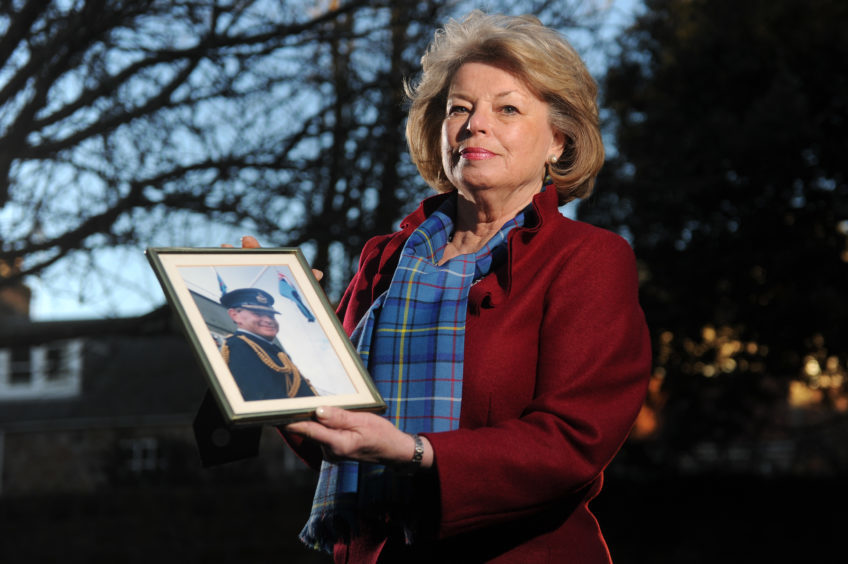 As the wife of former RAF Leuchars Station Commander Air Commodore Jack Haines OBE who passed away peacefully in December aged 72 after bravely fighting Alzheimer's disease for 13 years, Lesley Haines found out early on in her married life about the dedication and commitment needed to be part of the military.
Air Commodore Haines enjoyed a wide and varied career, during which he served as a navigator on four different aircraft types – including flying from carriers with the Royal Navy, an exchange tour with the US Marine Corps and also served at NATO Headquarters in Brussels during their involvement in Bosnia.
However, it was in North East Fife where Air Commodore Haines and Lesley felt most at home.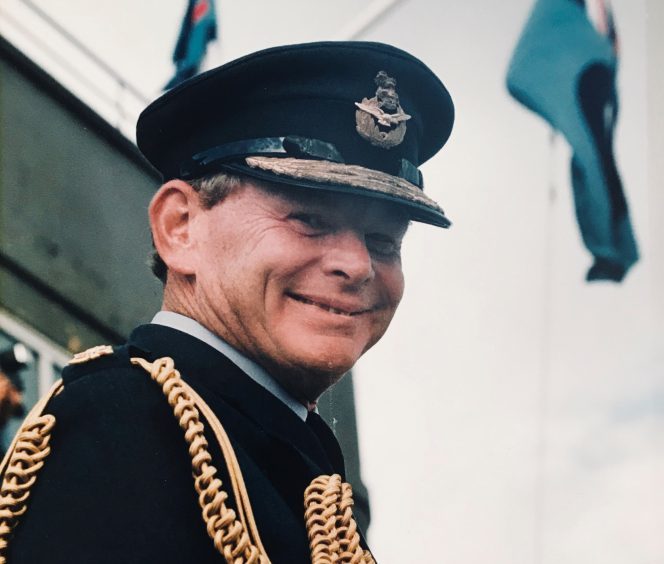 He began and ended his 38 year career at RAF Leuchars with his final command post as Station Commander and the Air Officer of Scotland and Northern Ireland.
He and Lesley settled in St Andrews when he retired from this post in 2001.
They continued to play an active role in the community and Air Commodore Haines was appointed a Deputy Lord Lieutenant in 2003.
Lesley, who still lives in the St Andrews area, said: "I became the wife of an air force officer in 1969 and was soon aware that I was not only married to my husband but also to the RAF.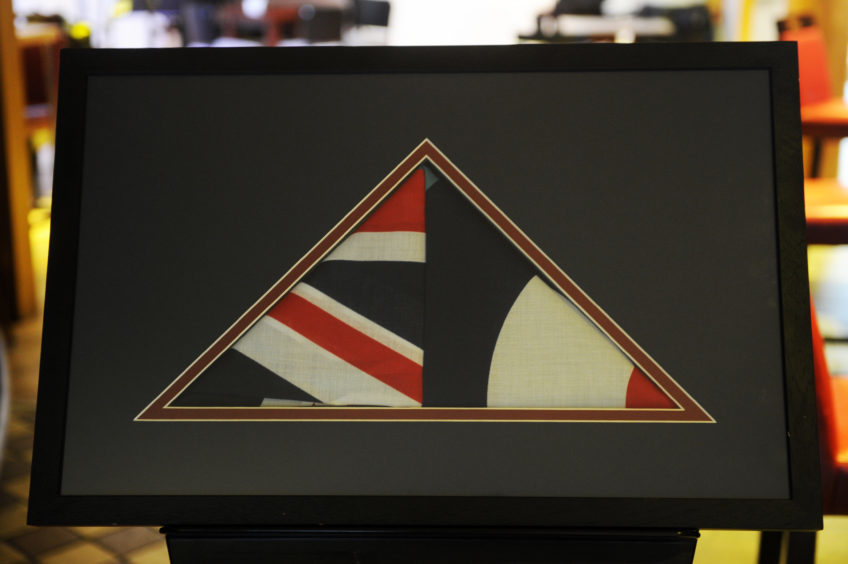 "When I married I knew that I would have to give up my career fir some years – especially as this was my own fashion store in West Sussex.
"My fiancée assured me that life would be very interesting married to a fast jet aviator defending the country!"
With Jack working long and often anti-social hours, night flying, overseas detachments and mess dinners to attend, interesting it certainly was!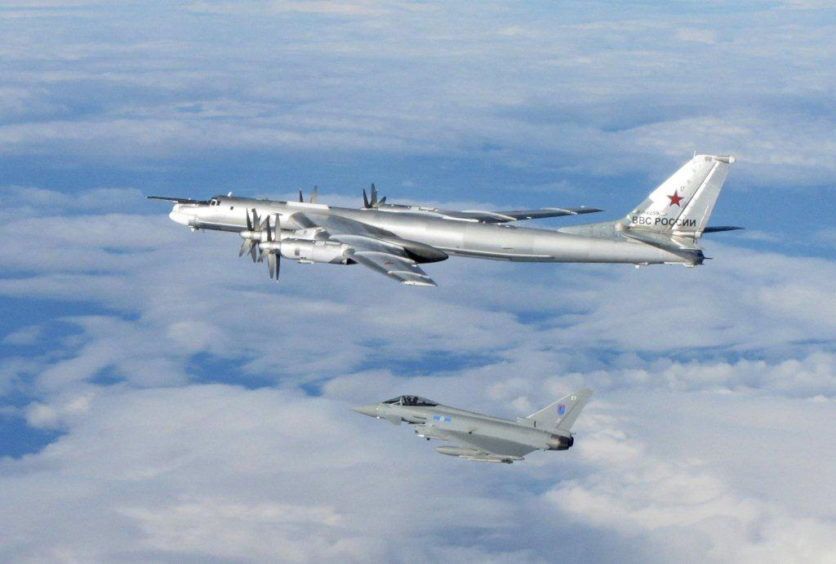 Lesley recalls that in 1969, the RAF was still very much a "male oriented club where rank counted for everything".
At the height of the Cold War, her husband and colleagues were being prepared for a static war between NATO and the Soviet Union over mainland Europe.
Aircraft at Leuchars had to be ready to be airborne within 10 minutes to intercept the regular invasion of airspace by the Russian Bear aircraft.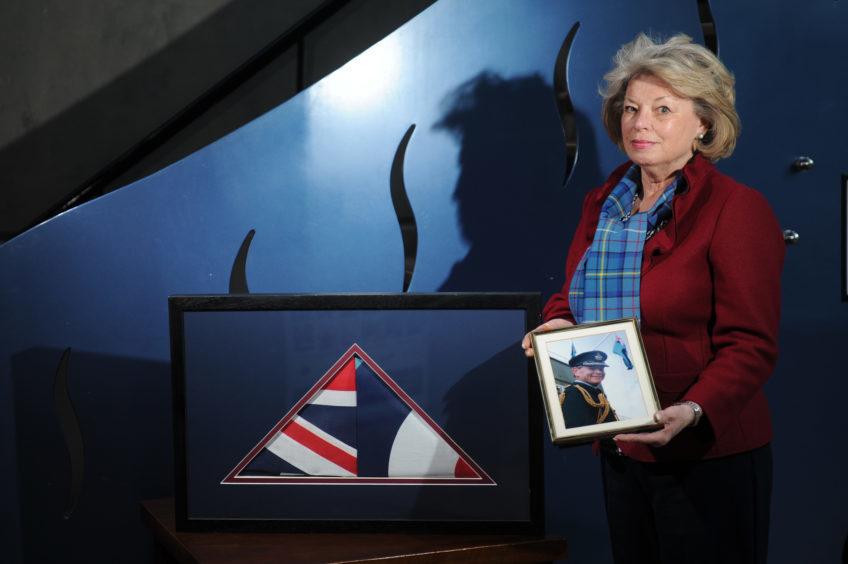 QRA – which operated from Leuchars right up until 2015 – involved two aircraft positioned in small hangars at the end of the runway – fully armed and ready to scramble – and the crews were on duty for 24 hours at a time.
"I mention this as QRA was a huge factor in our life," she said.
"Our first Christmas was spent with Jack on 'Q' with the squadron C.O.  – 'Q' at Christmas was always held by those without children where possible. It was memorable – my first away from family.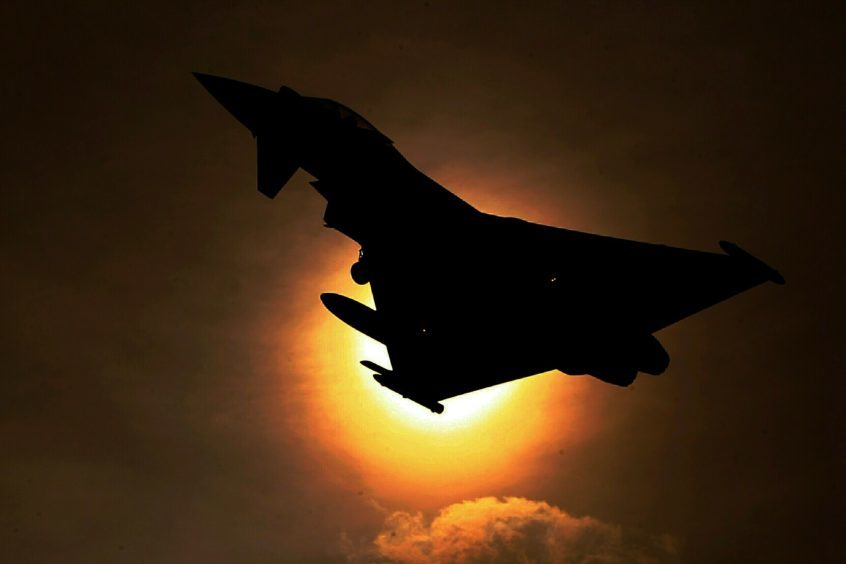 "But it helped me again to understand the dedication and commitment needed to be part of the military – and I in turn would try and support my husband."
Arbroath-based air enthusiast Gill Howie, who owns Squadron Prints Ltd, is not ashamed to admit that she cried when the RAF began pulling out of Leuchars in 2014.
Since 1977, the company has been producing aircraft profile prints and lithographs for the world's greatest squadrons.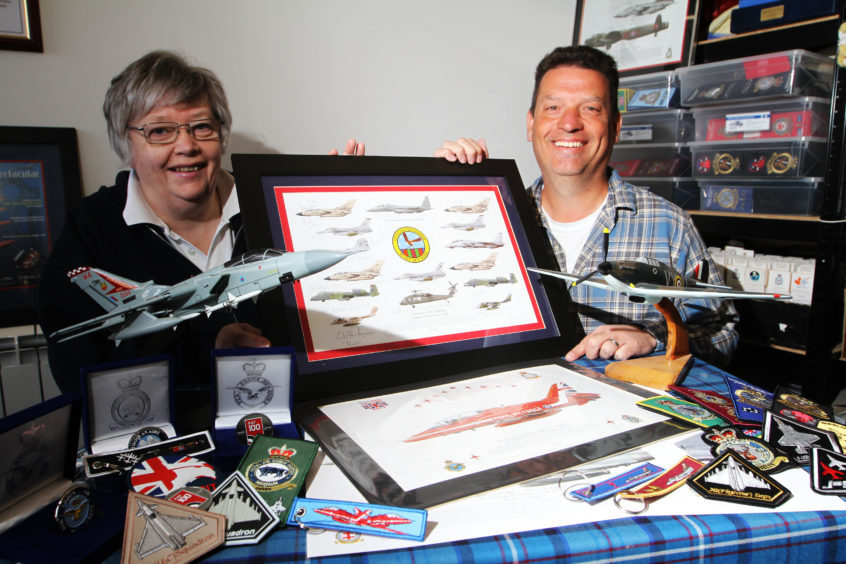 However, she has been using the RAF 100 year to reflect on what the RAF means to her.
And she says that had it not been for the RAF, she would not have a business, a husband and a "bucket load of wonderful friends and extended family".
"Uniquely starting off as an aviation enthusiast peering over the fence at RAF Leuchars or going to the air show, I found myself being inside of the fence on many occasions," she said.
"As luck would have it being a girl in such a world was unusual at the time and attracted a fair bit of attention.
"Armed with my camera I recorded and witnessed the many wonderful aviation stories that happened along with tears and sadness of the not so nice things especially the end of RAF Leuchars.
"My love of aviation at Leuchars developed in to a worldwide passion for aircraft and that of the RAF."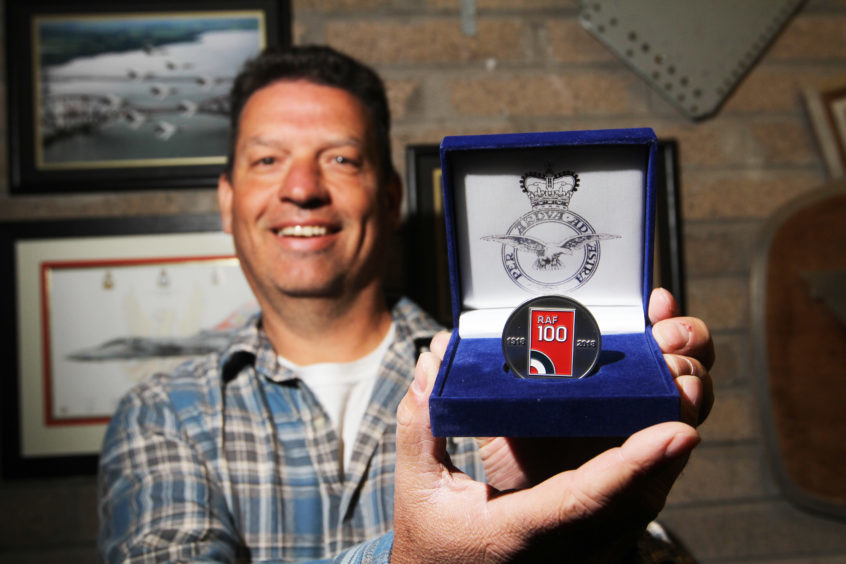 Squadron Prints Ltd supplies many squadrons in the RAF and they are currently working on a number of RAF 100 projects.
Thanks to the RAF staging air shows, she met her husband Berry Vissers – a former crew chief with the Royal Netherlands Air Force – and their business continues to grow.
Dundee-raised former Courier and STV journalist Michael Mulford, 71, toyed with the idea of joining the RAF in 1972.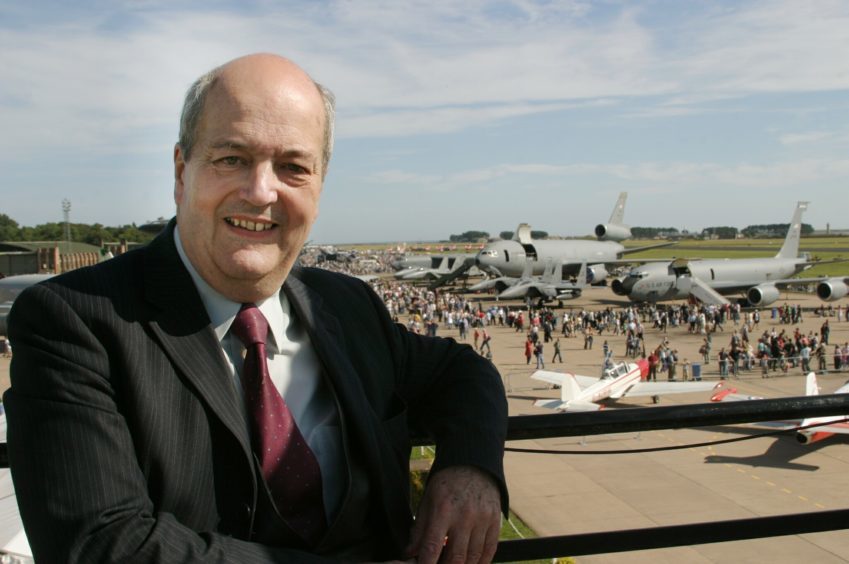 The former Harris Academy pupil left Courier publisher DC Thomson & Co Ltd to complete the RAF's demanding officer training course at RAF Henlow – only to return to journalism after discovering he was nine days too old to qualify for flying.
However, he finished his career on a high in 2012 following a 12 year stint as RAF Public Relations Officer for Scotland and chief spokesperson for UK military search and rescue.
Michael, who now lives in Cupar, says the "saddest yet most inspiring moment" of his RAF media career was watching 120 Sqn from Kinloss flying their Nimrod over the Leuchars Airshow in 2006.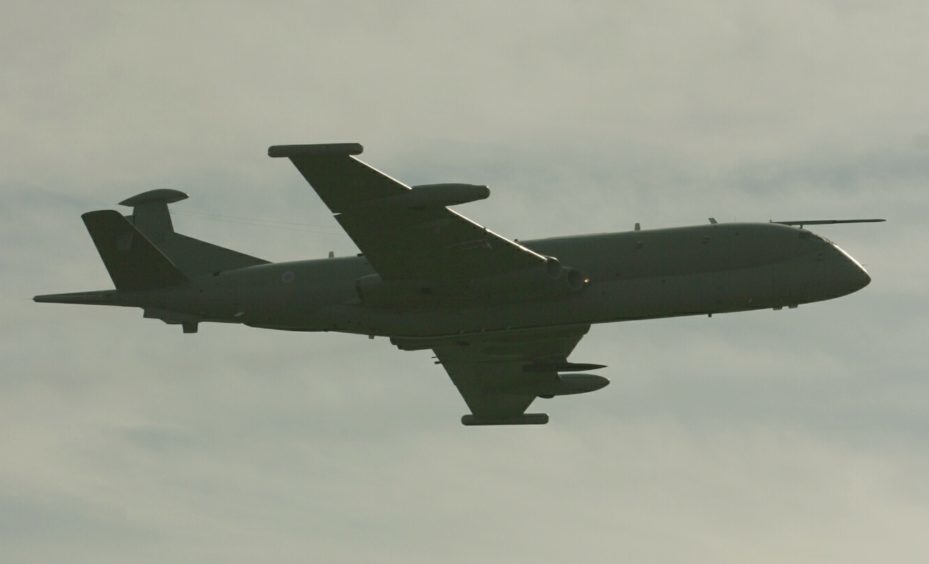 The crowd fell silent as it approached low from the east in tribute to the 14 who had died in the Afghanistan Nimrod crash a week before.
However, he has many other highlights to recall, including some amazing tales of valour and heroism.
They include the crash landing of a Tornado F3 in 2003 at just under 200 mph.
"The crew could have ditched but opted to save the aircraft as best they could when the landing gear failed," he recalled.
"The crew of two managed somehow a high-speed landing, skidded a mile on the belly of the aircraft, walked away, and after a quick medical, went off for a pint in the Mess!"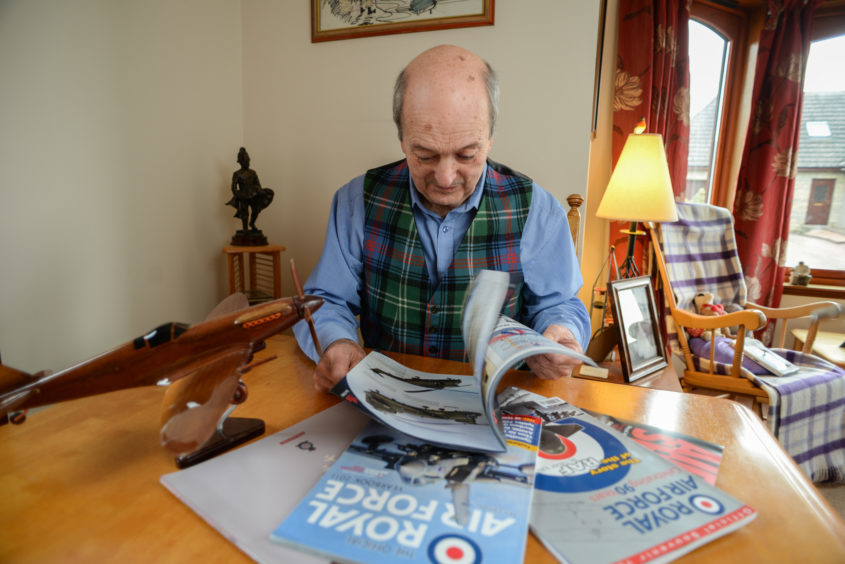 He also recalls an "amazing" story he wrote for the air show magazine in 2002.
It was the tale of Winkie the pigeon who was released from a dinghy in the North Sea by the crew of a Leuchars Bristol Beaufort bomber shot down during the Second World War.
Somehow Winkie managed to fly home over 120 miles to Broughty Ferry but with no message.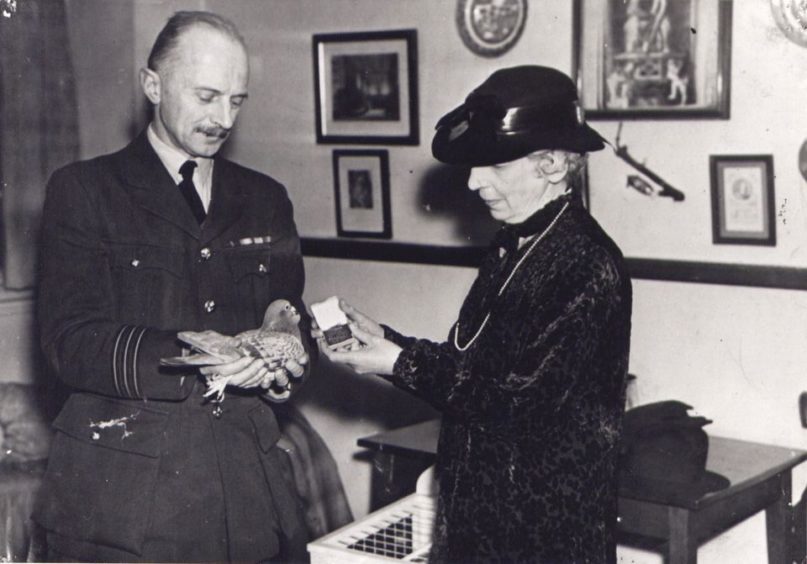 Leuchars experts calculated the speed, time, wind direction and even the effect oil on the bird's wings to work out where the crew of four were.
A rescue was launched, the crew was saved and Winkie was awarded the Dickin medal – the animal VC – with its apt inscription: "We also serve."
"There's one further fantastic story of devotion to duty," he added.
"I helped a veteran move his chair at an air show so he could get a closer, prouder look at a Lancaster bomber.
"I asked if he wanted to go back inside on a chilly day but he explained he intended to sit exactly there all day because : "Lancasters brought me home every time during the war and since this might well be the last time I see one I am here for the day."
"And he was.
"Those of us who enjoy peace, and freedom from oppression because of brave men like that learned a very humbling lesson that day."
Malcolm Hodgson is the Wings Co-ordinator for the Royal Air Force Association in Fife and Dundee raising awareness of association activities, fundraising, and befriending RAF veterans in the local area.
He revealed that in addition, the Leuchars branch have approached Cupar Community Council and asked if the large flower bed on East Road could be used as a floral tribute to celebrate the RAF centenary.
Mr Hodgson said: "They have agreed to this, and SRUC Elmwood College have been asked to produce the display.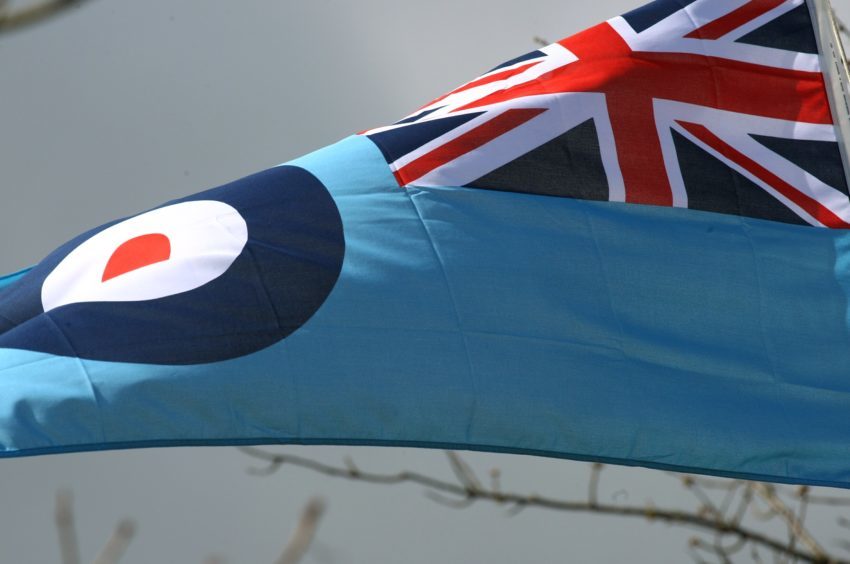 "Initially the floral tribute is to be displayed at the Ingliston garden show in May to 80,000 visitors, plus TV coverage, and will then be uplifted and planted in Cupar for the rest of the year.
"We have received financial support from businesses in Cupar as well as from local community charities, the  RAF and RAFA and the project is proceeding steadily forward."
The centrepiece of RAF100 will take place on July 10, with a centenary service in Westminster Abbey, followed by a parade in The Mall and spectacular flypast over Buckingham Palace.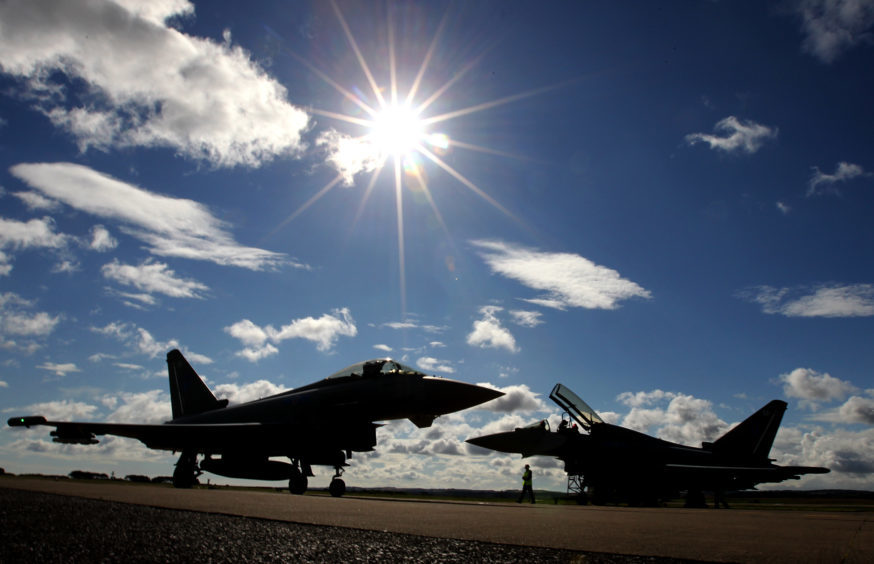 Key events include a gala concert at the Royal Albert Hall on March 31.
One of the many events will be the Centenary Baton Relay which will see a specially designed baton visit 100 sites associated with the RAF in 100 days.
The relay will begin its journey at the Royal Courts of Justice on April 1 and will end 100 days later on July 10 on Horseguards Parade, London.
The RAF100 Aircraft Tour will also allow people to get up close to a selection of aircraft in Cardiff, Horse Guards Parade, Newcastle in Northern Ireland, Birmingham, Glasgow and Manchester.
And there will be an RAF theme at this year's Royal Edinburgh Military Tattoo in August.