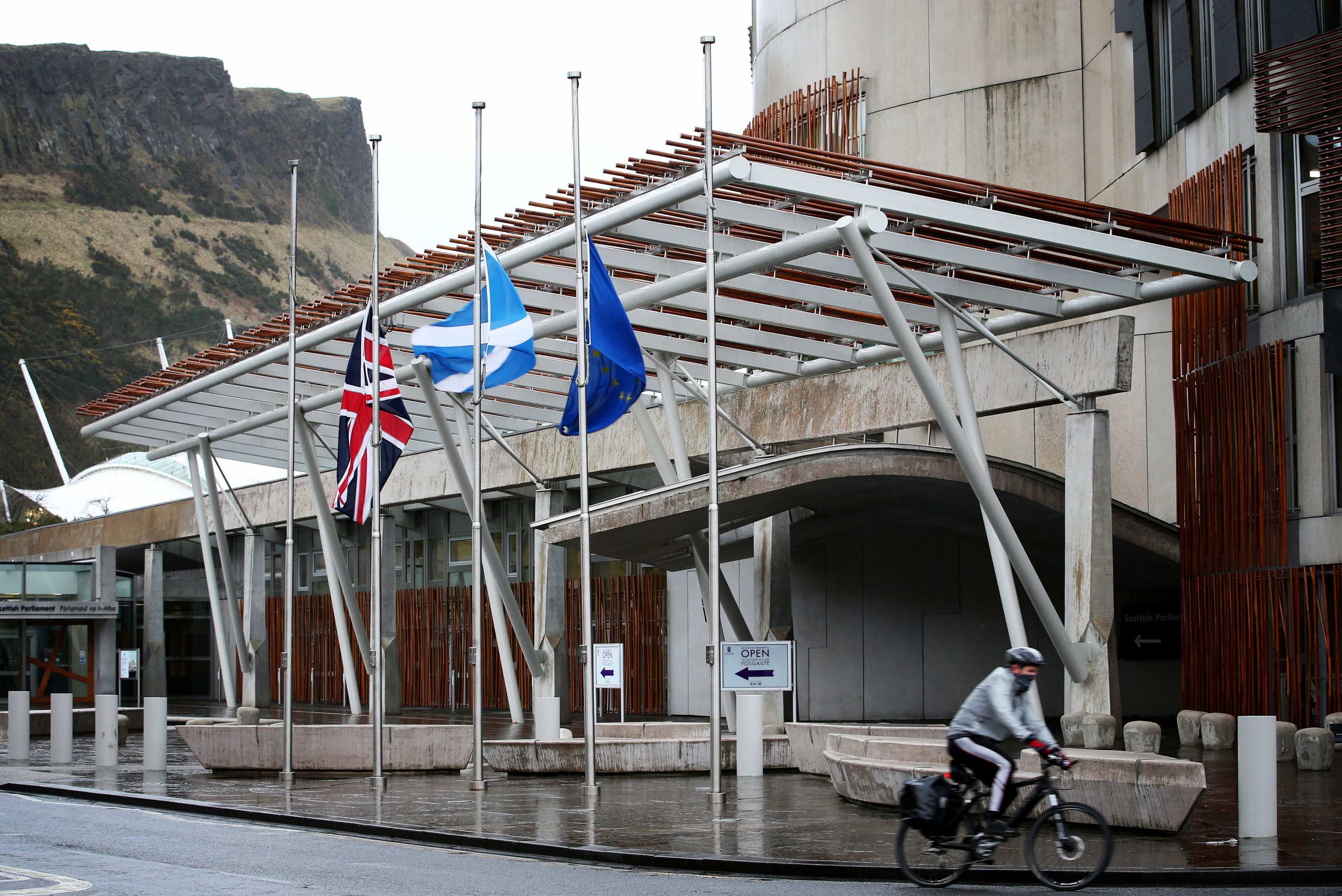 Edinburgh's weather – grey and cold – matches the mood inside the Scottish Parliament, where the flags flutter at half mast in the wind.
MSPs and staff gathered in Holyrood's Garden Lobby to hold a minute's silence as a mark of respect following the terrorist attack at Westminster.
Usually a bustling area of activity and gossip, especially on a Thursday as people exchange chat over coffee on what is likely to be raised at First Minister's Questions, silence fell before the arranged time of 09.33, chosen because it was hero police officer Keith Palmer's collar number.
Meanwhile, staff working in the parliament were told to wear their passes prominently while police patrolled with greater visibility, including walking up and down the media tower.
Nicola Sturgeon and Kezia Dugdale were two was one of 15 politicians who stood, heads bowed, in a line in front of the steps that lead to the debating chamber, while more floated around the area.
MSPs gather for a minutes silence at Holyrood pic.twitter.com/nQRdX1goZG

— Philip Sim (@BBCPhilipSim) March 23, 2017
At FMQs each opposition party leader will ask questions about the attacks rather than quiz Ms Sturgeon about domestic policy.
The debate on asking the UK Government for a Section 30 order to hold a second independence referendum has been postponed until next Tuesday.
Holyrood's business bureau, the group of MSPs who decide what will take place in the chamber, were divided on the issue with the SNP and Greens eventually forcing through the extended delay in the face of calls from the Conservatives, Labour and Liberal Democrats to conclude the speeches and vote on Thursday.
Holyrood's committees meeting as usual today – members joined minute's silence, now back to scrutinising tax admin https://t.co/a02aanyhpZ pic.twitter.com/vlu7qNAa1F

— Philip Sim (@BBCPhilipSim) March 23, 2017
All sides are spinning lines about the other. The claims are that it was "inappropriate" to want to continue and that proceedings are being delayed further to ensure there is maximum coverage of the outcome, but no one's heart is really in it.
We all know that what happened at Westminster trumps any political party, or indeed constitutional, squabbles.
The Scottish Parliament is united in showing solidarity with its sister in London. At times like these, this is all that can be done.