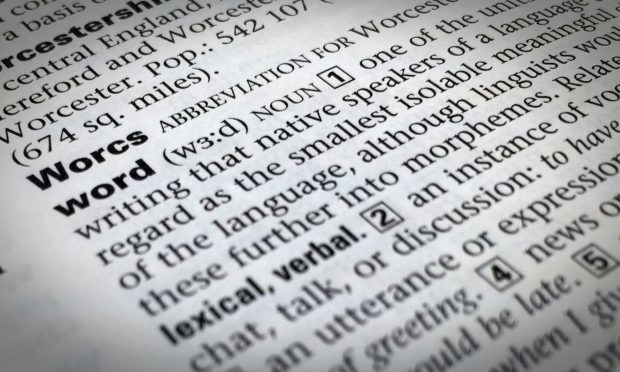 Words, words, words, I'm so sick of words, as Eliza Doolittle memorably sang in My Fair Lady. And if I am, I can imagine how you lot are feeling, having been subjected to my wordy rants for yet another year, as 2017 thankfully limps towards the finishing line.
But it's not over yet, as the Oxford English Dictionary's word of the year has been announced and has subsequently spawned a raft of column inches on its significance, application and, basically, what it actually means.
Yet the OED's finest have bypassed such gems as "covfefe" (c. D J Trump), "snowflakes", "broflakes" or just plain flakes, of which we seem to have seen too many this year and even "milkshake duck" as used to describe an internet sensation that turns out to have feet of clay.
Having previously highlighted "squeezed middle", "post-truth", "vape" and "selfie", our resident wordsmiths have mined the last 12 months of cultural upheaval and come up with "youthquake." Um, well, call me a naïve, sentimental fool but I can't say that has heaved itself into my world view at all this year.
Language as a developing entity and living organism is all right by me but I'm having a bit of trouble with this one. Chiefly because, even living as I do among people who could talk the hind leg off an entire Eeyore's-worth of donkeys, I have not come across it at all. Perhaps this is because I now dwell in a hermetically-sealed world populated by old farts but nary an example of youthquakery have I heard uttered. The word of the year settled upon by the OED's upstart rival, Merriam-Webster, however – feminism – I have heard frequently, leading me to the conclusion that I live in a hermetically-sealed world populated by opinionated female old farts. Never was a truer word spoken, I fear.
A few more young people may have voted for Jeremy Corbyn in the snap election than Theresa May and her ill-advised ilk expected but without wishing to be ungracious about it, he still didn't win it, did he? Although, if his current prognostications about becoming Prime Minister within the next 12 months come to pass, the OED's word of 2018 may well turn out to be "Yahboosucks."
Korean Billy
One of the things that tickled me greatly this year was the discovery that picking up and understanding the Dundee dialect was akin to learning a foreign language. Then there were the Korean Billy videos on YouTube where a young man from that beleaguered peninsula tackled the ins and oots of the Dundee patois, to marvellous comic effect. And it wasn't just that smug, old, deeply patronising British thing that certain elements in society have about laughing at foreigners trying to get their tongues round our native tongue. He really relished the sounds and words and made them live in a new way.
Being from the west coast, I really appreciate the Dundee accent and delivery – once you get the hang of it, it's one of the most expressive and descriptive across the nation.
As my husband (a Dundonian by birth and upbringing) claims, you can have an entire conversation just using the word (syllable?) "Eh!"
Imagine someone says to you, re: roadworks in your area: "The cundie's ower faur frae the cribbie." How much more colourful is that than: "The drain is at too great a distance from the kerb."
And it's nothing if not economical. Take this exchange: "Skaleyat?" "Stoabie!" Two words to cover what could have taken up an entire conversation's-worth of wordplay regarding the vexed and complex subject of school catchment areas.
The days of wall-to-wall RP are long gone, of course, even if you do want to hang on like grim death to the basic communicative advantages of the Queen's English.
"Over-served"
Telly in particular is a source of the rich and strange when it comes to wordplay – directionality is one of my favourites, culled as it is from the CSI series, usually referring to blood spatter. Then there's armography, which seemingly has a real meaning in the world of armour-plating but which currently, thanks to Strictly Come Dancing, refers to waving your arms about. Following that logic, you would imagine that choreography, which appears to be the technical term for the elegant and exciting pattern of steps, should actually be referred to as footography. You get the picture? Well, almost.
Yet on occasion, a new phrase captures the heart and imagination. It somehow encapsulates the over-indulgence of the festive season to describe one's general condition throughout as "over-served". As opposed to just plain greedy (if you're talking about food) or legless (if referring to consumption of drink). "Over-served" pins down the said state perfectly while offering a bit of a get-out-of-jail-free card in the shape of the not-so-deeply-hidden suggestion that it's all someone else's fault.
After all, there is no more effective yet plaintive line of verbal defence than that good old Caledonian cry of: "It wisnae me!"