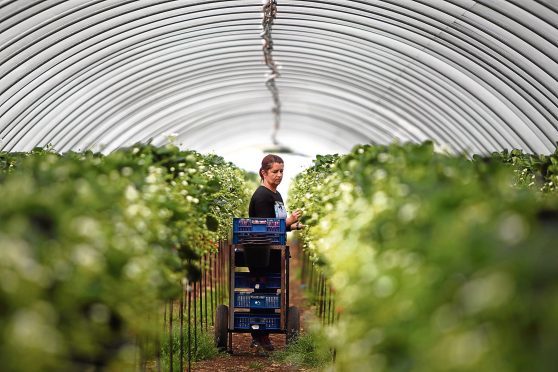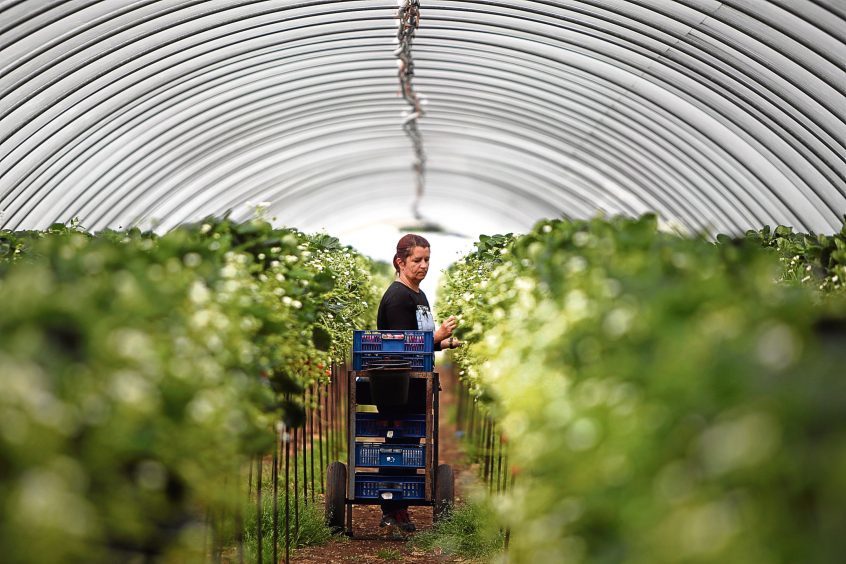 Sir, – One of the bright spots in Scottish agriculture in recent years has been the success of the soft fruit industry in Tayside and Fife.
By adopting new techniques and technologies, as reported in The Courier farming section on January 17, farmers have extended the strawberry harvest from March to the end of December, and in doing so are producing berries which Marks and Spencer rates "perfect".
Counteracting these advances, however, as reported in The Courier ("Labour shortages see fruit farms miss out on £625,000", January 16), is a report that one of the main groups of Tayside and Fife farms last year lost £625,000 because they couldn't get enough workers to pick all their fruit. The group, representing 19 sites in the area, said EU workers were being put off from coming over.
In July 2017 The Courier reported that 99% of pickers and packers were from Eastern Europe and that, at that time, the industry was short of between 500 and 1,000 workers. Presumably they are looking ahead to Brexit and finding more secure and welcoming employment in other countries.
As Brexit becomes more of a reality, and the future availability of these workers becomes ever more doubtful, what lies ahead for this local success story?
Les Mackay, 5 Carmichael Gardens, Dundee.
Strong leader in trying times
Sir, – Regular readers of Jenny Hjul's opinion column are aware that it can normally be summed up in one abbreviation, one adjective and several exclamation marks, namely SNP bad!!!
Not only are these articles biased, they frequently descend into prolonged personal attacks. Her latest column, entitled "SNP has us in poor health" (January 17), went even further than usual as a prolonged, personalised rant against Nicola Sturgeon.
The A&E service in Scotland is facing pressures as a result of the largest flu epidemic in seven years, but a glance at the national press shows that NHS Scotland is out-performing the NHS in England and Wales.
The widespread problems south of the border cannot be laid at the door of Nicola Sturgeon and the SNP.
It is worth pointing out that Nicola and her health minister, Shona Robison, are introducing a new contract with GPs which has the support of 71.5% of Scotland's GPs as well as the British Medical Association.
Dr Alan McDevitt, the chairman of BMA's Scottish General Practitioners Committee, states that the contract will reduce both doctors' workloads and the financial risks of owning their practice premises while improving recruitment and retention.
Ms Hjul also takes exception to the fact that Nicola is trying to find means of minimising the potentially disastrous effects on Scotland of the Brexit debacle. At a time when Britain's European team of David Davis, Boris Johnson and Liam Fox repeatedly demonstrate their ineptitude, and Theresa May's embarrassing reshuffle kept all of them in office, a party leader should show some leadership.
Nicola has already chaired a meeting with all opposition parties bar one to put pressure on the Government not to go down the path of hard Brexit or, worse still, no deal, which would cause massive job losses in all parts of the current United Kingdom.
Surprisingly, and disgracefully, the absentee at that meeting was the Labour party, whose leader dismissed it as a 'gimmick' in spite of the fact that traditional Labour voters stand to lose most by the likely outcome.
The fact the UK would apparently not embrace the current European human rights legislation does not seem to have registered with Labour leaders on either side of the border who appear to be more interested in settling personal, internal party scores.
It is no secret that the SNP stands for Scottish independence, although judging from the near-hysteria of her column, Ms Hjul seems to think the discovery is hers.
I have been a member of the SNP for over 40 years and will aways work towards gaining Scotland its rightful place in the international community, but I accept the main issue at present is not to allow this feckless government to drag Scotland out of the European Union through the actions of an increasingly cynical and insular Westminster system. By her actions Nicola Sturgeon has shown she knows what is at stake for Scotland and what needs to be done.
By her display of bias and attempted character assassination, Ms Hjul has shown that she does not.
Ken Guild, 76 Brown Street, Broughty Ferry, Dundee.
Is a subtle message lost?
Sir, –The Norman French invaded, conquered, settled and ruled England, transforming the very fabric of its society as they imposed a stratified, class-based structure on the Anglo-Saxons.
As an aside to this, Scotland, arguably the only country in the UK never to have been resoundingly conquered, is more democratic in outlook today.
Now a priceless record of the past, the splendid Bayeux Tapestry, provides a graphic description of the Norman Conquest.
Is French President Emmanuel Macron's friendly gesture – to loan it to the UK – with its subliminal message too subtle for the hapless PM and her team?
James Stevenson, Drummond Avenue, Auchterarder.
A fitting treasure in return
Sir, – With the Bayeux Tapestry set to go on display at the British Museum in London in 2022, this act of generosity should of course be reciprocated.
An obvious gift to France is the Ancient Egyptian artefact, the Rosetta Stone, also on display at the museum.
Found by the French in Egypt in 1799, the Rosetta Stone came under British possession after the defeat of the French in 1801.
While the 70-metre Bayeux Tapestry depicts events leading up to William of Normandy's 1066 victory over Harold, King of England at Hastings, the Rosetta Stone came to Britain as a result of the defeat of the French in 1801.
This provides quite a neat link, although maybe not when it comes to us in Scotland and the Battle of Hastings.
Alex Orr, 77 Leamington Tce, Edinburgh.