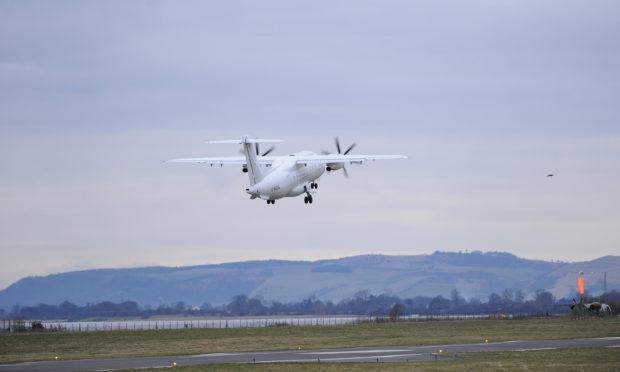 Sir, – The Courier Business Briefing report (Saturday, January 20) was very interesting and positive, particularly in relation to the potential impact of the V&A on the Dundee economy.
However, I do not understand how 500,000 visitors are going to reach Dundee without the help of an airport which can take larger planes than the current Dundee Airport.
Surely some further consideration needs to be given to using the facilities at Leuchars air station and calling the airport Dundee (Leuchars) .
The Scottish Government should be financially supporting local authorities to work together to ensure that the potential from the V&A is fully realised and benefits all the adjoining areas and indeed the whole of Scotland.
Leuchars is closer to the centre of Dundee than Edinburgh, Glasgow and Aberdeen are to their city centres.
Also there is an existing railway station and bus services close by providing an integrated transport system without any further investment.
I know there are political and emotional reasons why Dundee Airport should not be in Fife but common sense and practicality should outweigh them. The Scottish Government needs to take the lead here for the good of the whole of Scotland.
Nicola Sturgeon should speak to Easyjet and Ryanair and persuade the MOD that Dundee (Leuchars) is the future and ensure that 500,000 people do make the trip to Bonnie Dundee.
Jim McArthur, Southern Lodge, St Andrews.
Bank's rationale doesn't stack up
Sir, – It is as if the Royal Bank of Scotland has a death wish.
The decision to shut 62 branches in Scotland alone is nothing short of incomprehensible.
Savings of £9.5 million from this move is hardly worth an entry in the bank's overall profit and loss account and surely could be eliminated by greater efficiencies and productivity.
We are told that branch usage since 2014 has dropped by 40%.
To me the remaining 60% still represents a significant level of demand and to refuse any question of a re-think is at least unsatisfactory.
The bank's recent advertising campaign, that RBS is not the Royal Bank OF Scotland but the Royal Bank FOR Scotland, seems to me to be a possible offence under the Trade Descriptions Act.
Ranald Noel-Paton, Pitcurran House, Abernethy.
Brexit may be the best option
Sir, – I note that the Scottish Government has calculated that the cost of Brexit to Scotland will amount to £12.7 billion.
I also note that the Scottish Government's cost of independence, due to the collapse of oil revenues, loss of the Barnett formula etc, would be £13.2 billion.
It looks as if Brexit is the best option.
Mac Roberts, Orchard Cottage, Inchture station.
Privatisation rewards cronies
Sir, – The narrative the Tories are developing with regards to the failure of Carillion involves profit margins being lower than excepted.
This is simply untrue.
When CEOs, along with accountants, regulators and governments are all implicated in such events, it is not the corruption of a single corporate entity that is at issue, but the profit system itself.
Carillion has exposed the politically sanctioned looting of social assets that has taken place over the last decades in Britain by a parasitic elite.
Some 12 years ago after the collapse of MG Rover the Government commissioned report criticised the asset stripping and self- enrichment of the clique of directors who ran the company.
Privatisation is a way that governments can reward cronies by giving them valuable public resources for a low price.
When the UK Government privatised the postal system, there were news reports that one postal property in London alone was worth the purchase price of the entire postal service.
The privatisation movement and the deregulation movement have turned out to be failures. Privatisation becomes a way for well-connected private interests to loot both the public purse and the general welfare.
The directors of Carillion will walk-away with their large payouts and will suffer no consequences as a result of their incompetence.
Alan Hinnrichs, 2 Gillespie Terrace, Dundee.
Climate 'experts' not accountable
Sir, – Climate scientists are forever telling us to change our ways.
They issue dire warnings , saying that global warming will engulf the planet and results in famine, water shortages, mass extinctions and lead to global war.
Their predictions are always at least 40 years in the future.
By this time, of course, most of these scientists will be dead and cannot be held responsible for the billions wasted on the issue.
Now Historic Environment Scotland (HES) is saying that over 300 landmarks in their care are in peril from flooding, coastal erosion and landslips.
HES has stated that sea levels are set to rise by up to 11 inches by 2050.
May I remind HES that Al Gore in his 2006 scaremongering film 'An Inconvenient Truth' said that sea levels would rise by 20 feet 'in the near future'?
Average sea levels over the past decade have risen by less than an inch.
Can anyone tell us when will the other 19 feet 11 inches hit us?
Clark Cross, 138 Springfield Road, Linlithgow.
Focus on NHS improvements
Sir, – The current state of the NHS in Scotland is a disgrace.
Members of the current Scottish Government should hang their heads.
They have had control of the NHS in Scotland as a devolved issue for years and have slowly destroyed a once proud profession.
Perhaps some hard decisions now need to be made.
For a start, the Government should stop all financial aid to other countries.
We should stop bringing in refugees who have paid nothing and are getting everything.
They are a heavy burden and we should look at ways of making these holiday medical seekers pay up front or put them out.
The NHS in Scotland has irresponsibly closed and continues to close local community hospitals or wards, forcing the public to travel long distances to seek medical assistance.
Also to be tackled is the selfish, ignorant attitude of politicians who stand there praising hospital staff at the same time as sending them into poverty with the reduction and freezing of salaries while they make sure their own nests are nicely lined.
More money could be saved by stopping all the public funded little trips by the Government and NHS managers, instead forcing them to use video conferencing.
This Government would do better to stop its own private agenda on separation and concentrate on sorting out the NHS at the expense of everything else.
Alastair W McLean, 43 Strathmore Street, Broughty Ferry.
Burns shouldn't be vilified
Sir, – Liz Lochhead's banal comparison of Robert Burns to Harvey Weinstein is yet another example of the current feminist fashion for courting publicity and jumping on to bandwagons.
In fact Burns lived through a sexual revolution.
In Scotland up to the middle of the 18th century the Kirk and society was obsessed with rooting out and severely punishing extramarital sex.
But the Scottish Enlightenment, which we recall for its intellectual and scientific achievements, also saw an explosion of sexual licence in every class of society.
The poet's peasant liaisons need to be judged against this backdrop.
There's also little doubt that, as the doyen of the Edinburgh literary scene, he was the favourite 'bit of rough' for many society hostesses.
Rev Dr John Cameron, 10 Howard Place, St Andrews.
Concentrate on the day job
Sir, – We recently heard that Glasgow's ruling SNP administration is to change its name from Glasgow City Council to City Government.
Meanwhile, back in the real world, there are roads to grit.
Martin Redfern, Woodcroft Road, Edinburgh.