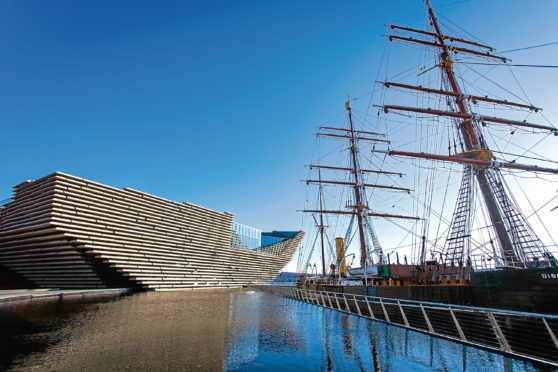 Sir, – I have lived in Dundee for 50 years and I am very proud of the city, particularly the progress made over the last couple of decades in transforming the city from the dark and dreich place it used to be, into the progressive modern city it is now.
Dundee is widely recognised and lauded nationally and internationally for the progress it has made, but unfortunately this progress does not seem to be appreciated by many of its citizens.
I hear people who live here say "why would anybody want to come to Dundee?", "V and A…what's that?", "waste of money" and so on.
But Dundee now has so much going for it.
Are people aware of how many jobs are coming, or have already come, from the huge number of new holiday accommodations in the city?
Not to mention the V and A itself, the new railway station, the proposed Marina in Camperdown and Victoria Docks, the fairly recently beautifully refurbished High Mill at Verdant Works, the refurbished Discovery and the planned refurbishment of the Unicorn, the not too long since total refurbishment of the wonderful McManus, all bringing business and further attraction to the city.
The city has done a great job of selling itself to the outside world, but maybe not such a good job to its own citizens, which leads me to my point: I think that we need a campaign within the city, for the citizens, to publicise the progress made, using the commendations from outwith, but linking this to the economic benefits, highlighting the number of new jobs, and the new businesses, which have come, and will come, to the city, ultimately to the benefit of all.
Les Mackay.
5 Carmichael Gardens,
Dundee.
UK remains a huge draw
Sir, – A contributor to your Letters page (February 17) says that the "EU is in rude health while the UK is ailing". Why is it then that more than four million people have left the EU to seek a more prosperous life in the UK,with hundreds of thousands from the EU still wanting to come to the UK every year?
Mike Rogalski.
82 Feus Rd,
Perth.
Care services mismanaged
Sir, – The breakdown of service by the private care company in Monifieth, Carnoustie and Arbroath highlighted in your recent article (The Courier, February 20) was predicted last year by Angus health campaigner, Jill Scott, who warned privatising the service and cutting half the staff would result in exactly what has occurred. Only in the doublespeak in Angus Council could they describe it as an "enhanced service".
Privatising the service and halving the staff was not a decision made by Angus councillors or council officers but a decision made by Ernst and Young, the firm of accountants who were drafted in at a cost of £800,000 to examine the council's accounts and find out where the millions of pounds in each department was spent.
Montrose councillor, Bill Duff, said that there was no alternative to privatisation as the costs to the council of providing the service was a massive £42 per hour and private provider costs were between £15 and £17.
A huge difference that the councillor explained away by saying that it was caused by mismanagement over a long period of time.
It would appear that the councillor believes there is a statute of limitations on gross mismanagement so that's all right then.
This period of mismanagement is decades long. If you take the costs for one worker he quoted at 40 hours per week at £42 per hour the cost is staggering – £1,680 per week! Multiply that by the number of employees (180) it adds up to over a third of a million pounds a week in wages alone.
It's easy to see why the Health and Social Care Partnership saw the only way out from this was as one councillor suggested, to cut and run. These costs were as councillor Duff said only picked up by what he referred to as "outside eyes" (Ernst and Young accountants). Where were the inside eyes that should have picked up that these massive costs were unsustainable?
If the tens of millions of pounds wasted over decades were picked up by the head of department would the slashing of social care services to the most vulnerable people in Angus need to have gone ahead? These department heads should be replaced.
In no other walk of life would incompetence on that scale be accepted.
Why has no councillor called for disciplinary procedures to be implemented?
Robert Alexander.
39 Barry Road,
Carnoustie.
Apology now required
Sir, – I take deep offence, as must many of your readers, at John Cameron's letter (February 20) where he groups together "nerds, nuts and Asperger sufferers". Has John Cameron never known any people struggling to be full and useful members of their community while disabled by Asperger's Syndrome?
I feel strongly that it is up to John Cameron to apologise, through your Letters page, to folk labouring under the limitations imposed by Asperger's Syndrome.
Are these fitting sentiments for a Kirk Minister (as he refers to himself) to express?
Isobel Brown.
10 School Wynd,
Muirhead.
Case highlights systemic failure
Sir, – Animal cruelty needs to be taken far more seriously than it is in this country.
If ever there was a perfect example of how sentencing does not reflect public revulsion and the level of suffering inflicted, it was the pathetic unduly lenient sentence imposed on a man who kicked his dog unconscious and then threw him into oncoming traffic.
He was given four months custody and banned from keeping animals for four years at Kilmarnock Sheriff Court this week.
Fortunately the dog survived and was rehomed. But he should never be allowed near an animal for the rest of his life, never mind four years.
The function of the courts is punitive but surely it should be a deterrent as well. Where is the deterrent in that sentence?
It is an absolute disgrace.
What on earth was this sheriff thinking?
It is making a mockery out of animal cruelty.
Gordon Kennedy.
117 Simpson Square,
Perth.
Don't forget Scotland
Sir, – As I listened to the BBC TV sports announcer proclaiming excitedly "In the Olympic Curling England has thrashed Sweden 10-3!" it occurred to me that Scots might also be encouraged to try this sport and seek to emulate England's splendid achievement.
James Stevenson.
Drummond Avenue,
Auchterarder.
Too much political spin
Sir, – Some argue for higher taxes to protect critical public services.
Others prefer to encourage a stronger economy hoping higher incomes and more people in work generating the higher tax revenues.
Either argument can be presented honestly and openly without resorting to political smoke and mirrors.
Yet as he presented his finalised Scottish budget Finance Secretary Derek Mackay chose to put more onus on political spin than honesty.
He claimed more than half of tax payers would pay less than the rest of the UK, as a ruse to hide the increased burden on the rest.
The supposed "cut" actually amounts to a few pence per week less tax than would be paid elsewhere in the UK, or what people in the real world refer to as "next to nothing".
Meanwhile, middle income and higher income tax payers will pick up the overall tab for the Finance Secretary's fiscal posturing, chipping in anywhere between a little under £100 a year to well over £1,000 more than elsewhere in the UK.
So what is the Finance Secretary's message for the people of Scotland?
On the one hand he appears to judge lower income earners as mere pawns in a game of political spin, while on the other hand, middle and higher income earners now know they are to be considered as cash cows to fund the SNP's largesse.
I doubt many would be influenced to move south by this budget.
Yet when businesses have decisions to make over where to invest in the future, this rather cynical fiscal manipulation hardly provides a ringing endorsement for project Scotland.
Keith Howell.
White Moss,
West Linton.