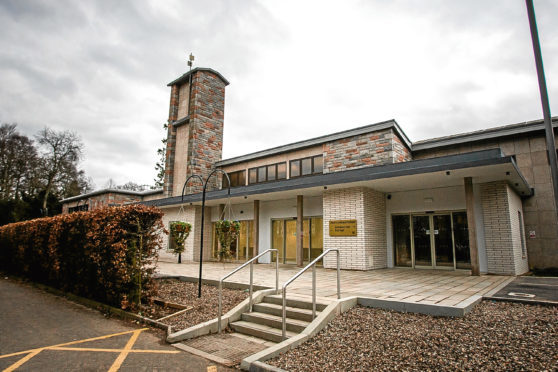 Sir, – My wife and I recently set out to attend a funeral at Perth Crematorium.
Aware that there would be a large attendance, we left home early and actually arrived at the rear of the crematorium building 35 minutes before the service was due to commence.
There we ground to a halt as it appeared that the car park was full. A sign indicated that there was overflow parking in the area near the garden of remembrance but for some reason the barrier was closed.
Instead we were instructed to proceed through the car park to the road out where we could park, but not on the yellow lines which were on our left hand side.
As cars were still coming in it was difficult to cross over and the narrowness of the road did not help.
We are both elderly and not as mobile as we once were. Faced with a long walk back, plus the possibility of having to stand throughout the service, we had no option but to return home.
Bearing in mind the length of time the crematorium was closed for refurbishment perhaps the opportunity should have been taken to improve and possibly extend the car parking facilities and widen the access road in order to cope with funerals which are obviously going to attract a large attendance.
RG Macdonald.
Craiglinn,
Abernethy.
Vehicle bans come at a cost
Sir, – Diane Brown (Courier, April 26) expresses fears that the local council in Perth may have an agenda to limit vehicle access to George Street.
If she is right, this would be a folly and would echo a similar previous disaster.
I have long held the view that St John's Street was ruined, by pedestrianisation, as a vibrant shopping street and natural thoroughfare leading to Smeaton's Bridge via George Street.
St John's Street and George Street, together, have a unique quality which should not be tinkered with without great care.
Malcolm H Cameron.
Oakbank Road,
Guildtown.
The principal speaks for us all
Sir, – Everyone in the whole of Fife should thank St Andrews University principal and vice-chancellor Professor Sally Mapstone for highlighting the importance of the out-of-hours hospital service (Courier, April 26). She was using diplomatic language to show concern for the effect this could have on students in distress.
She would have done well, too, to say something about the woeful performance of the Fife Health and Social Care Partnership over this matter.
A body which was set up with the best of intentions – to integrate health and social care provision – has failed its first major test in the region. It has made a mockery of the principle of effective consultation with the public. It has spread fear and alarm among many of the area's most vulnerable citizens. It has caused confusion about the roles of the health service and the local authority.
Prof Mapstone has at least managed to get a response, albeit an unsatisfactory one, from senior health officials. They failed to turn up at all to a public meeting in Glenrothes, prompting the wrath of local MSP Jenny Gilruth for their disdain.
People there are equally concerned about problems of access to Victoria Hospital in Kirkcaldy, the cost and availability of ambulances, taxis and so on.
It is simply not good enough to suggest that people who are ill can call on friends and relatives for transport at very inconvenient times in the morning.
This whole affair is not just about efficiency and savings in health. It is about the way our public services are run, how responsive they are to needs.
In that respect the partnership has been found wanting over the closures of out-of-hours services in our hospitals. Its attitude must change if it is to win the respect of those it is meant to serve.
Bob Taylor.
Shiel Court,
Glenrothes.
Felling shouldn't be first resort
Sir, – I write regarding the item in Wednesday's Courier which reported that Fife Council are to cut down 18 150ft high trees because of the damage they cause.
It is going to cost £10,000 to do this. Is there not an alternative to this? Why not spend this money repairing the damage and leave the trees alone?
The world needs more trees, not fewer. I would like them to reconsider for the sake of the environment.
Alister Rankin.
Whyterose Terrace,
Methil.
Don't resist Gaelic demise
Sir, – I notice that Police Scotland now has all its vehicles identified in both English and Gaelic. That must have cost we taxpayers a "bonnie penny"! This makes me wonder why such a thing was thought necessary. It also makes me wonder how many police officers – and the people they apprehend – can speak Gaelic.
We hear too that the first comprehensive Gaelic dictionary is to be produced at a truly eye-watering cost to taxpayers as it is to take 25 years to complete.
About 18 years ago statistics showed that for every Gaelic speaker in Glasgow there were 10 people whose first language was Mandarin.
I've no doubt that with the passing of the years the ratio of Gaelic speakers will drop dramatically. All of which means, in effect, that the proposed dictionary will be ready just in time to be cherished by the last two Gaelic speakers in Scotland .
I'm actually saddened by the demise of this ancient language but realism dictates that we react to the truth and not to airy-fairy sentimentalism.
Archibald A Lawrie.
Church Wynd,
Kingskettle.
Celebration of our language
Sir, – A very rare moment happened this week at Holyrood that saw all parties in agreement. Well, I think it was all parties – Labour did their usual level best to be vague.
The subject was the teaching of the Gaelic language and the opening of another school teaching in the Gaelic medium.
This is a fabulous initiative and has support from all parties, which can't be said about many issues.
Gaelic played an instrumental part in Scotland's story. You only have to look at the place and hill names around the country.
No doubt the "bah humbug brigade" will drone on about wasting money but it is only right that parents who wish to have their children educated in Gaelic can do so. Scottish culture is important and should be nurtured and encouraged.
The rise in those wishing to learn more about the Scots language and the opening of more Gaelic schools should ensure both can flourish alongside English.
For too long people speaking in Gaelic or Scots were made to feel somehow less intelligent, these initiatives go someway to re-balancing this antiquated view.
Bryan Auchterlonie.
Bluebell Cottage,
Perth.
The harsh truth of Windrush
Sir, – The 1988 film For Queen And Country, starring Denzel Washington, was about a black man who fought for Britain in the Falklands War but years later found himself no longer a British citizen due to immigration law changes.
Good film but clearly a work of fiction, yes?
Set during the brutal Thatcherite years this now appears to be not such a fictional scenario any more.
There are certainly more than a good few similarities with Theresa May and her Tory Government's current handling of the Windrush situation.
Eric Travers,
Gellatly Road,
Dunfermline,