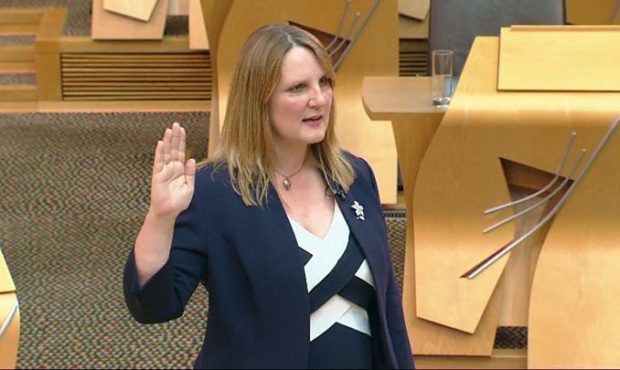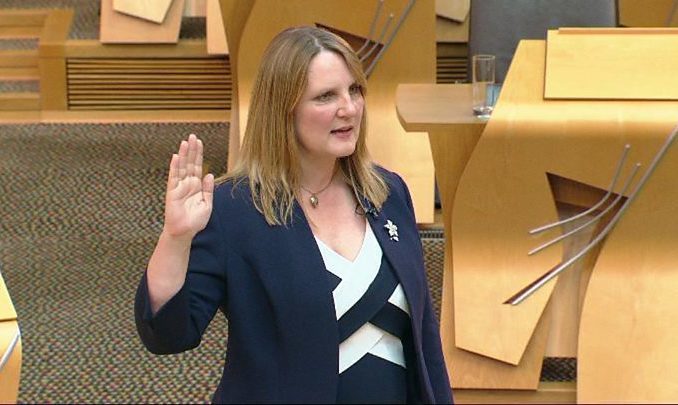 Sir, – The comments by Tory MSP Michelle Ballantyne defending the Maoist two child limit for people on benefits was not only morally repugnant but factually incorrect ("Tory MSP slammed over 'archaic' child comments", Courier, October 25).
A study by Cardiff University just over a year ago found that 60% of people in poverty in the UK were in work.
The study nailed the lie that work is the best route out of poverty.
Since the financial crash of 2008 wages in the UK have collapsed.
This was as a result of the decision to bail out the corrupt banks with taxpayers' money.
The Conservatives' purported concern for the hardship faced by millions is nauseating.
Since 1979 Tory governments sought to destroy the social gains of working people.
Declaring that there was "no such thing as society," Margaret Thatcher set about redistributing wealth from working people to the rich and gutting public provision as part of the creation of a cheap-labour, low corporate tax base for the transnational corporations and international finance.
Ballantyne's comment stands firmly in the tradition of the Thatcherite right.
Cruel and inhumane Tory policies have real life consequences.
According to DWP figures released in 2015, between December 2011 and February 2014 at least 2,380 sick or disabled people in the UK died after losing their entitlement to sickness benefit and being declared fit for work.
Alan Hinnrichs.
2 Gillespie Terrace,
Dundee.
Parents must be responsible
Sir,– I see Michelle Ballantyne has been condemned for saying benefit claimants should be limited to the size of families they have.
Surely if you are in receipt of benefits you cannot expect the taxpaying public to support you if you continue to produce children who mostly seem to have no fathers to support them.
Bob Duncan.
110 Caesar Avenue,
Carnegie.
Changes were necessary
Sir,– With regards to your story regarding our plans to redesign how we deliver swimming in the city ("Council set to cut swimming tuition", Courier, October 25) I thought it appropriate to add the context of why we are looking to do this.
Primary schools have for a number of years been unhappy with the P6 swimming programme and have asked us if we can look at a better way of delivering this programmes.
Their concerns include that, for a variety of reasons, pupils often got less than the 30 minutes in the pool that they were supposed to be getting.
Meanwhile, some of the local secondary schools were unable to accommodate the swimming lessons so pupils had to go to pools elsewhere
The whole procedure and transport meant that pupils were out of class for up to two hours for as little as 20 minutes in the pool.
The programme was not always enough to provide the pupils with the confidence or skill to swim and indeed a number of the pupils had to be re-taught how to swim when they got to secondary school.
Finally, in terms of swimming pedagogy, P6 is quite late and there were suggestions we should be delivering this at a younger age
As a council if a programme that we are delivering isn't working then we are duty bound to look at it and say how can we do this better.
That is what parents, and indeed all Dundonians, expect us to do.
During my first period as convener I asked the department to do exactly that – look at the programme, identify what was not working and find a workable solution.
Unfortunately, much to my disappointment, despite looking at it for 18 months we couldn't make it work and so no alternative was proposed.
To his credit, Councillor Murray, who succeeded me as convener, wasn't prepared to just accept this and again challenged the department to find a workable solution.
Again it has taken over a year but this time we believe we have a solution and, if it is agreed by committee, a number of schools will put it in place and we will report back on how it has worked.
It is worth noting that more of our schools wanted to try this but we have limited it to just five to begin with.
I understand the concerns of parents and we will continue to work with parents throughout the test.
In the article an opposition councillor states I have to justify this change.
On the contrary given that the report quite clearly does that, the councillor will himself have to justify to our parents why he wants to keep a programme in place that our head teachers state quite clearly doesn't work and doesn't deliver for our young people.
Stewart Hunter.
City Chambers,
City Square,
Dundee.
Columnist is wide of the mark
Sir,– With regards to Jenny Hjul's latest piece ("Is May entering 'killing zone'?"), you are entitled to your opinions and if your privileged role as a columnist encourages and enables you to be snide and patronising about a very large group of people exercising their democratic right to protest, so (sadly) be it.
A protest is not, however, a punishment and as the leading public servant of this divided country, Theresa May should welcome clear indication of support for a more informed vote on the deal she is working to negotiate and we have at least an inkling of what Brexit might mean beyond her meaningless tautology.
This was not a march in support of a second referendum but the democratic process.
Your casual linking of the figure of 17.4 million voters to just over half the population shows either a sad want of basic arithmetic or a wanton disregard for accuracy.
Around 13 million registered voters didn't vote.
We cannot know how they would have voted had they been forced to choose.
We do know they did not vote for Brexit.
17.4 million voices in a country with in excess of 46 million enfranchised voices hardly constitutes the voice of the people.
No, Jenny, gratitude is not the emotion which sits best with my feelings towards the current politicians who've chosen to lead this country into this unprecedented mess.
Ann Auchterlonie.
93 Denoon Terrace,
Dundee.
No concept is beyond critique
Sir,– This week voters in Ireland will decide whether blasphemy as an offence should be removed from the constitution.
Religious belief is a choice.
You can't declare a belief and then expect everyone immediately to tiptoe around your new assumed sensibilities.
Individuals are rightly protected by equality legislation but no idea is beyond criticism.
Scotland should follow suit.
Neil Barber.
Saughtonhall Drive,
Edinburgh.
Addressing a big gender tissue
Sir,– I noted with interest that Kleenex has decided to scrap the "mansize" branding from their boxes of tissues on the basis that it is sexist.
It will be replaced by "extra large".
Apparently this follows a complaint from one customer that her son has seen a box of the tissues and asked: "Can girls, boys and mummies use them?".
I guess that the lady in question will not be holidaying on the Isle of Man!
Bob Macdonald.
Craiglinn,
Abernethy.
Angling for some support
Sir,– A statement has been issued by Michael Gove concerning new legislation which is being introduced to Parliament, the effect of which will be to give significant devolved powers to Holyrood to plan and manage Scotland's fishing industry, for so long decimated by the EU Common Fisheries Policy that resulted in our inshore fishing stocks being plundered for years by foreign trawlers.
Will it be too much to expect that Fergus Ewing, and indeed others in the SNP, will welcome this independence outcome?
Or, as we may wearily expect, a grudging "Yes, but…" acknowledgement accompanied by a reiteration of grievances and the continuing demand that Scotland needs to be an independent member of the EU, if that unlikely permission were ever to be granted by the European Commission?
Derek Farmer.
Knightsward Farm,
Anstruther.