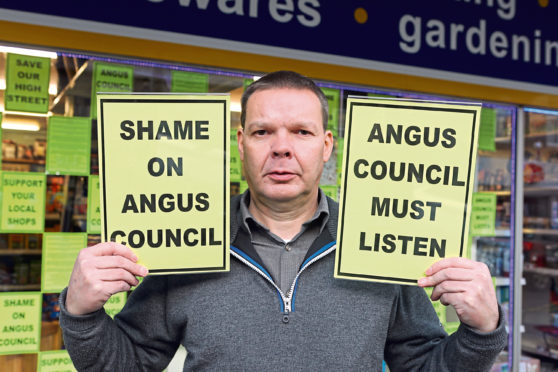 Sir, – I was concerned to read comments by former council leader and current independent councillor Ken Myles regarding parking charges in Angus ("Parking campaigners call for councillor to quit over charges row", Courier, December 15).
The current poster campaign is not aimed at the general public.
Rather, the poster campaign is a cry for Angus Council and elected members to sit up and take action to mitigate the crisis they have created in our local town centres.
The crisis being that shops in the area are haemorrhaging income as revenue drops due to a reduction in footfall.
People are losing their jobs as retailers cut staff.
Parking has now become an issue as side streets are congested while our car parks remain empty.
All other councils UK wide seem to know the importance and priority of parking to regenerate towns, while Angus Council appears to see taxation of towns as a means of paying off their debt.
As long as you keep puzzling over the pennies, Mr Myles, while ignoring the economic expertise in your town and the rest of the UK, Angus will continue its economic decline despite the best efforts of our active communities and citizens who get no encouragement or support from those who are elected to serve them.
Shame on you for thinking that the Brechiners should be distracted by gold frankincense and myrrh instead of making sure that Joseph has a place to park his donkey.
David Todd.
9 Strachans Park,
Brechin.
Driving locals round the bend
Sir – I am calling on Angus Council to stop car parking charges in Kirriemuir.
Due to the geography of Kirriemuir and its town centre, businesses, employees and residents are severely penalised financially by charges.
Residents and businesses have nowhere to park in the two main streets, Bank Street and Reform Street, and surrounding streets.
The nearest free parking involves a long walk to the Glengate, the Roods, Tannage Brae and Glamis/Forfar road, all uphill which is a challenge for the elderly and less able, especially if they are laden with shopping.
The two centre car parks are so important to the life of our town centre, as they are to other towns in Angus.
Residents in Forfar are spoilt for choice.
There are four supermarket car parks and two retail car parks all around the town centre, all involve short walks and no hills to climb.
Three cafés in Kirriemuir are reporting a drop of business of between 30 and 50% with one café already having paid off two employees.
The town centre relies predominately on visitors for their business and parking charges are obviously affecting the choices they make.
Locals are trying their best to support our shops.
A lady who stays uphill from the shops still loves to browse the shops and has stopped using her car.
She walks down to the shops and pays £3.50 for a taxi to take her home.
She refuses to pay car park charges but is still supporting local shops.
I could also share a quote from another lady who eloquently said: "One of the jewels in the crown of Angus is the extraordinary number of small businesses which are different from the homogenised high streets. We should be supporting these unique enterprises, not putting obstacles in their way".
Please Angus Council, stop these charges that are harming our town communities.
Already businesses are closing and jobs being lost.
This impoverishes us all.
Jim Stewart.
3 Croft Terrace,
Kirriemuir.
Firebug thugs help no-one
Sir, – As a citizen of Angus I have been proud to see communities uniting to register disapproval of parking charges.
To the eternal credit of so many, a point has been raised through stringent words and even more notable actions, such as shops opening on Sundays – a free parking day – and competition draws for those who shop locally.
It has all been done with great dignity and finesse.
Therefore the vandalism of parking meters in Brechin ("Controversial car parking meters set on fire in Angus town", Courier, December 4) not only flies in the face of such decent opposition but positively smacks that face.
It is such a shame that a decent fight risks being dragged into the gutter by what amounts to thuggery.
It can only be hoped this is an ill thought out one-off action.
If not a very dignified campaign will very soon find itself being parked.
Jane Simpson,
3 Hillbank Terrace,
Kirriemuir.
No need for special debate
Sir, – Richard Lucas (Letters, December 7) says many people are concerned about Islam.
I do not know any such persons.
The matter rarely figures in conversations I hear.
Mr Lucas should identify them and say what their specific concerns are.
Do these relate to Islamic theology, the attitudes of Muslims, or both?
I have no religious beliefs but have visited several countries with Muslim majorities and lived in one (Indonesia) for three years.
I found people there to have similar attitudes, pleasures and problems to those in this country.
For most of them religion plays only a minor role in their lives.
As is the case here, the younger generations are generally apathetic towards it.
None of the several Muslims in my local area has caused any problems.
They do not, like some "Christians", try to convert others to their religion.
Their shops stock many goods which are not sold elsewhere so provide valuable services.
Mr Lucas says there is need for debate about Islam.
Why?
What matters does he think should be covered and which persons does he think should participate?
Would they include Muslims?
Malcolm Burley.
147 Lauriston Place,
Edinburgh.
System is not fit for purpose
Sir, – So it appears there will definitely be no second referendum on the terms of UK's departure from the EU.
Well, that is certainly the case according to Theresa May.
As such, of course, it is simply a matter not of "if", but "when".
And the options to be offered to the electorate this time?
Why, to "leave", as defined by the terms, knowingly negotiated as being wholly unacceptable, or to simply remain in the Union.
Job done.
More disturbingly and regardless of one's personal position, what was a straightforward, binary, apolitical (the political decision was to actually hold a referendum) democratic decision by the electorate, will have been circumvented by the Machiavellian scheming of our political "representatives" in parliament.
Clearly then, the British parliamentary system (and yes, some of the individuals therein) has become so corrupted as to no longer reflect the will of the people and to use Dr John Reed's telling phrase, is therefore "not fit for purpose".
I believe it was the American satirist PJ O'Rourke who said: "Don't vote, it only encourages 'em!".
Many a true word spoken in jest methinks.
Peter Dickinson.
'Ceol na mara',
13 South Street,
Arbroath.
A good decision on testing issue
Sir, – The significance of Fife Council's decision to scrap John Swinney's national standardised tests is not just that the educational experience of Fife's Primary 1 children will be improved – at least according to teaching unions and a number of educationalists, teachers and parents.
The cross-party consensus at Fife Council, like a similar cross-party consensus which rejected the tests at Holyrood, represents a victory for democracy.
When respect for democracy and the quest for consensus are set aside, the authoritarian mindset of the SNP rears its ugly head.
It is there in John Swinney's determination to plough on with his testing regime despite its being voted down at Holyrood.
The SNP have been in power for so long that it must be tempting to assume they have a divine right to impose their will on us.
Linda Holt.
Dreel House,
Pittenweem.