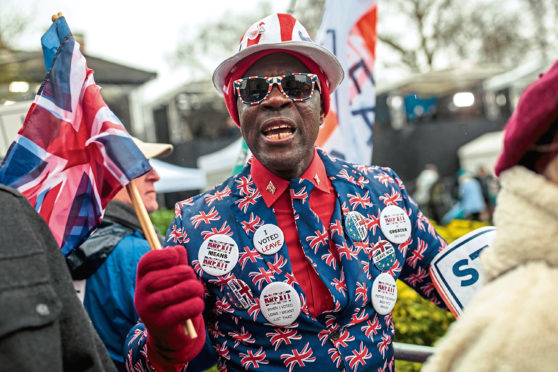 Madam, – In comparing Brexit with the "nightmare of a divorce" (Readers' Letters, Courier, March 27), the Rev Dr John Cameron rightly deplores the latter but he does not recognise the dreadful negotiations and the European Union's fatal flaws.
Our politicians, both those in power and on the sidelines, have repudiated the electorate's verdict and reacted to deny democracy.
The EU has reacted the same way when member states voted the "wrong" way.
Such people's verdicts were not accepted and repeat votes held until the "right" answer was obtained, as in Eire, France, and the Netherlands.
Our EU membership is disgracefully, stealthily undemocratic.
After we joined a Common Market, the covert intention was a United States of Europe, with trappings of nationhood, overriding its sovereign nation states and their voters.
Since then, the unelected EU Commission has lorded over us, costs unaudited and continent-wide regulations, often not in the UK's interests.
The UK negotiators' shambles ruled out a No Deal option, accepted a huge bill (£39bn) and the Irish back stop.
All unnecessary concessions.
Dr Cameron does not mention advantages of membership, or room for improvements in the EU's organisation, more costly and anti-democratic by the year.
Those voting to Leave primarily sought restoration of our sovereignty.
Politicians opposing that must beware of flouting our democracy.
This "divorce" after a forced union, represents liberation, deserving support and sympathy, not derision.
The simple Common Market should be restored.
Dr Charles Wardrop,
111 Viewlands Rd West,
Perth.
MPs would be fired in other job
Madam, – The Brexit indecision continues, with increasing numbers of MPs calling for a "People's Vote" second Brexit referendum.Surely it begs the question: what is the purpose of an MP?
I had long thought MPs, whether they belong to the governing party or Her Majesty's opposition were elected to govern the nation.
Yet here we have a situation where they are avoiding such responsibility and passing it to the people.
So why do we need them ?
Why do taxpayers have to continue to fund their splendid salaries, pension-contributions, and substantial expense accounts ?
Those MPs recommending that yet another referendum should be held are in dereliction of their duty.
Why do we put up with such crass and craven behaviour?
I cannot think of any other segment of the UK employment market that would tolerate such neglect of job responsibility. Such obvious lack of endeavour would lead to those responsible being fired.
Maybe, in this respect, Parliament can learn from the work ethic of less privileged citizens.
Derek Farmer,
Knightsward Farm,
Anstruther.
Putting party before country
Madam, – Jenny Hjul (Democracy is only way out of painful Brexit process, Courier, March 27) refers to Westminster as a "representative democracy".
If only that were true? It is clear that most Tory and Labour politicians put party before country.
The only way that Westminster can be fixed is to use proportional representation, which all the properly democratic governments around the world do, including Holyrood.
There is a lot of media speculation about the next leader of the Conservative Party. Does it matter?
Putting a different head on a destructive beast will not stop it being a destructive beast.
Andrew Collins,
Ladyburn House,
Skinners Steps,
Cupar.
Uneven division of resources
Madam, – Edinburgh will receive just £1,422 per head from central government next year compared to £2,013 for Glasgow and £2,010 for Dundee, with a Scottish average of £1,812 per head.
It seems the more your city votes for the SNP and its independence crusade, the more cash you get.
Martin Redfern,
Woodcroft Road,
Edinburgh.
Fife needs a slice of the action
Madam, – Allan Bullions is absolutely right to see the year on year cuts to Fife schools as detrimental to educational standards – how could they not be? (Spend priorities wrong in Fife, Courier, March 28).
He is also right to brand Fife Council splurging £55 million on a grand pier and whale sculpture project in Leven as "ridiculous" if, that is, Fife Council was going to spend that kind of money, or even had that kind of money to spare.
The Leven project is conceived as a community-run, civic enterprise which will seek funding from myriad sources in Scotland and the wider UK.
These sources of funding are (sadly) not available to make up for funding shortfalls to core services supplied by the council.
The money is out there for ambitious visionary projects – such as the Falkirk Kelpies and Dundee's V&A.
Why shouldn't Fife and Leven get a slice of that action?
One upside of such investment may also be to increase Fife Council's spending power as such projects bring visitors, employment, trade and tax receipts to an area.
Linda Holt,
Councillor for East Neuk & Landward,
Dreel House.
A generation blind to the facts
Madam, – Referring to the letter by Elspeth Maclachlan (Humans cause of destruction, Courier, March 27).
Sir David Attenborough, the most celebrated naturalist, is using his twilight but important years to warn of the dangers to our earth.
That is a wake-up call. Besides the threat to wildlife, the destruction we cause is unbelievable.
Just look at the absolute destruction and carnage on TV.
The result of bombing and shelling in the fight against IS is miles of absolute destruction.
Then there is the years of muck being spewed into the air, fumes and chemicals being put upon the land.
Man is suffering with climate change and when you interfere with nature then nature rebels we have seen recently with devastating floods, cyclones, forest fires and volcanic eruptions.
It is no wonder Sir David is so concerned.
I applaud our young people demonstrating in their droves about climate change.
They are the future of the world and they see what is going on while the generation responsible are blind to the facts.
Thomas Brown,
18 Garry Place,
Bankfoot.
Shaping up to be a real coup
Madam, – As the UK Conservative Party tears itself to pieces, while Parliamentary procedure collapses in disarray, a man in the Kremlin looks quietly on, as his friends in the Labour Party position themselves for elected power.
They will soon run out of money of course, and then he can quietly come to the rescue.
Control of an entire western country, what a coup!
Malcolm Parkin,
15 Gamekeepers Road,
Kinnesswood,
Kinross.