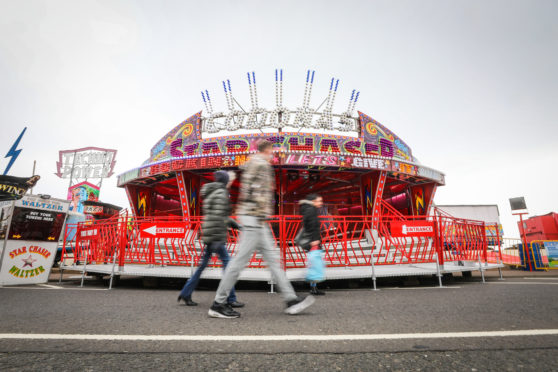 Madam, – I am concerned by the article "All the fun of the fair as market arrives, but for how much longer?" (Monday Matters, Courier, April15).
This article seems to suggest the days of the Links Market may be numbered.
I am a lover of the Links Market, I had grandparents who stayed in the high rise flats on the Esplanade and I enjoyed staying there when I was younger and watching the market arrive every year and of course trying all the rides, old and new.
I have formed friendships with some of the showmen and women and I am a member of the Fairground Association of Great Britain and help with the Model Show every year.
I certainly hope the Links Market will be around for many years to come.
Many councils are closing roads on certain days per month to allow a more pedestrian friendly atmosphere and to encourage people to use and enjoy the streets.
I would welcome more large events on the Esplanade.
There has been recent talk of an airshow on the Kirkcaldy waterfront.
What about holding a German Christmas Market? This could bring thousands of tourists.
And what about a New Year street party which potentially could rival what Edinburgh puts on?
What about summer events? If the Esplanade is used for more large events then more tourists will visit the town, stay in the hotels, eat and drink in the restaurants and bars and spend money in the local shops.
As we know the High Street is in a dire state with lots of empty units.
If more large events are held then this may help to save what is left of the High Street and encourage new businesses into the area.
I would urge Fife Council to reconsider grandiose plans to narrow the Esplanade and concentrate on holding large events on the Esplanade, including the annual Links Market, which draw the crowds.
It can only be good for the local economy and business.
Alastair Macintyre,
18 Webster Place,
Rosyth.
Spelling out Brexit's benefits
Madam, – It would seem that whenever views are expressed these days on Brexit the majority are negative ones of the 'remoaners' and those people who are hell-bent on getting Brexit stopped.
There are, however, two sides to every argument and I think perhaps we should remind ourselves of some of the positives/benefits of Brexit.
First of all we will get back control of our country, our laws and policies and dispose of those of the EU which we deem to be inappropriate.
We control our coastal waters, thus enabling us to say who can fish there, and we are free to implement our own agriculture policies.
We will only allow immigrants in who can benefit our country instead of the present 'open door' policy.
One of the most important benefits is we would not have to plough billions of pounds into the EU bottomless pit.
Just think what we can do with these funds.
They can be used to reinvigorate our NHS, our public services, give much needed funds to our local councils and they would go a long way to put an end to austerity in the country. Who knows, we might even get all our potholes filled!
We in Scotland are only too aware, of course, that if Ms Sturgeon gets her way, we will not get any of these benefits simply because she is totally opposed to Brexit.
All she is focusing on is swapping being under the control of Westminster to being controlled by the EU and she calls that 'independence' for Scotland?
Who is she kidding?
If we are ever faced with another Indyref I think we should keep this in mind when we put our X on the voting paper.
John M Page,
8 Panter Crescent,
Montrose.
Scotland needs migrants
Madam, – Martin Redfern is correct when he says Nicola Sturgeon has no authority over who can live in any part of the UK as, unfortunately, immigration is a reserved power (Playing politics with lives, Courier, April 15).
The fact is Scotland needs to retain its EU nationals and requires more to work in fish processing, food and drink, the soft fruit and vegetables sectors, tourism and care.
In typical fashion Mr Redfern suggests the UK Government are the great protectors of EU nationals and Theresa May is their champion.
He is again correct that the UK Government has invited the three million EU citizens living in the UK to apply for long term residency after Brexit at nil cost to them.
He omits to mention, however, it was intended to be £65 per adult.
Miss Sturgeon playing politics with peoples lives? I don't think so!
Stewart Bousie,
Cornhill Road,
Perth.
Immigration system priority
Madam, – The agreement between the European Union and the UK to extend Article 50 until the end of October has rightly been welcomed by business leaders across these islands.
This was the right decision, as leaving without a deal this spring would have put businesses, local economies and livelihoods at risk.
But the value of this extension will only be realised when political consensus is reached about a sensible way forward.
Decision-makers cannot waste the time that the country has been afforded.
In addition, we must start to address fundamental issues about the direction of our economy.
For firms north of the border, there are few more important issues than the development of an immigration system that meets Scotland's needs.
Outlined proposals must be changed to avoid putting Scottish businesses at risk and undermining efforts to develop demographically sustainable communities in many areas.
Developing a more flexible, responsive, forward-looking system should be a priority for policymakers.
Andrew McRae,
Scotland Policy Chair,
Federation of Small Businesses.
Power of joint working clear
Madam, – The STUC are in town on their first visit since the opening of V&A Dundee and I hope every delegate takes the opportunity of visiting this dramatic building.
It is described thus: "Creating the appearance of a Scottish cliff face using 21 curving concrete walls and holding 2,500 pre-cast rough stone panels, V&A Dundee is itself a testament to great design."
As delegates visit the museum I hope they take time to reflect that design is only the beginning.
To bring design into reality requires the weaving together of a multitude of talents.
Those whose skills created and erected those 21 curving concrete walls; those who prepared and delivered the 2,500 stone panels, the project managers, the labourers, the security guards, the crane operators, the accountants, the back office staff.
The list goes on and on and today there are the curators, the welcoming staff, the guides and the restaurant and café and shop staff who are the back bone of operations.
The vision of the Dundee Partnership and the innovative Japanese design were only the beginning.
It was, and is, the work of many who have brought that vision to the thriving life of the V&A Dundee.
Rev. Erik Cramb,
Former Industrial Chaplain,
Dundee.