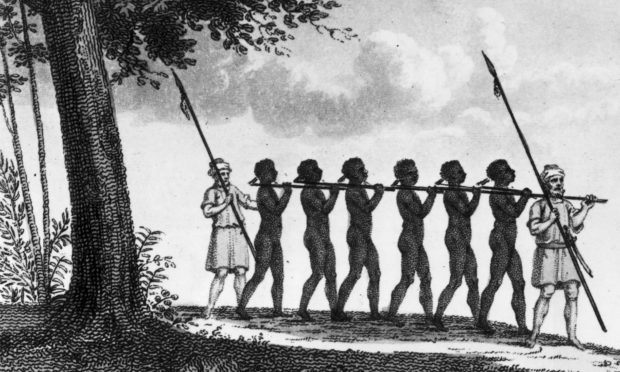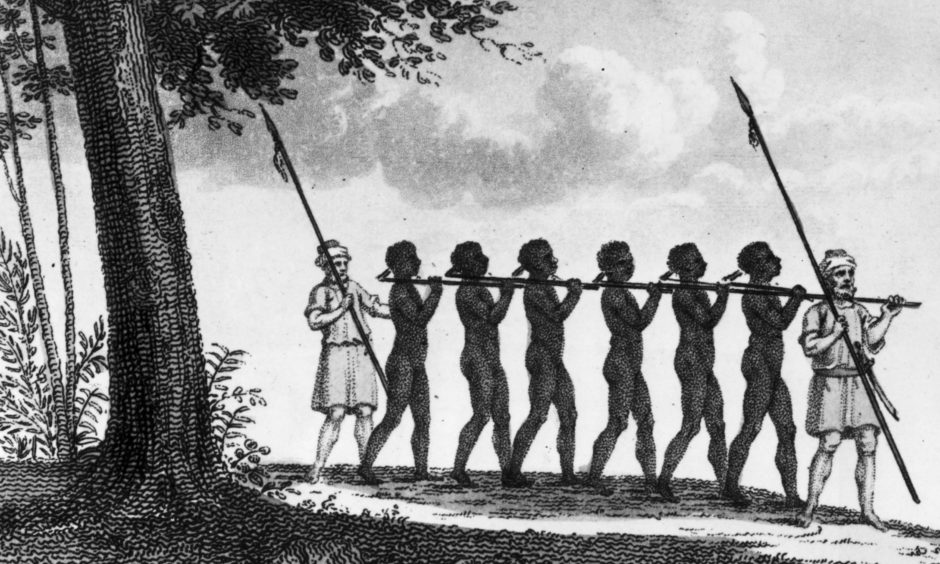 Sir, – It is great to see Scotland's role in the slave trade is to be marked by footage of singer Kayus Bankole, from Leith band Young Fathers, being beamed on to the City Chambers in Edinburgh from New Year's Day to Burns Night.
He will be performing a piece he has written about those in Scotland who profited from this barbaric practice.
There has largely been an airbrushing of Scotland's role in the slave trade, which saw Edinburgh and Scotland as a whole benefit considerably economically.
Events such as this serve to provide a greater understanding of our nation's involvement in slavery, but we must do more.
Scots played an incredibly important role as plantation owners, merchants and slave ship captains.
Even Robert Burns was considering a position as a book-keeper in a plantation before poetry revived his fortunes.
In 1796, Scots owned nearly 30% of the estates in Jamaica and by 1817, a staggering 32% of the slaves.
It was the slave trade which played a major part in financing and powering the industrial revolution in Scotland.
The economic rise of Glasgow and Edinburgh was, in part, produced off the back of slave labour and the commodities it produced such as tobacco, sugar and cotton.
It's time Scottish pupils were taught of the nation's role in the slave trade and that we as a nation come to terms with our involvement through the establishment of a permanent memorial to the millions of black Africans who suffered to make so many in Scotland incredibly wealthy.
Alex Orr.
Marchmont Road,
Edinburgh.
Scottish-indy 'dream world'?
Sir, – The language of SNP activists, who seem increasingly to dominate the published Letters to the Editor of The Courier, grow more shrill and fantastical.
As things stand, at the recent general election 55% of votes cast in Scotland were cast for parties which back the Union.
Ms Sturgeon talks of Scotland remaining in the EU when the United Kingdom exits the EU.
This is not possible as Scotland is part of the United Kingdom.
An independent Scotland, outside the United Kingdom, would have to apply to the European Union for membership but will not be able to meet any of the main qualifications for membership, let alone avoid opposition from within the European Union.
Is it not time to forget this dream-world Indy-issue which has more to do with the Declaration of Arbroath signed 700 years ago than anything else?
We could then look forward to a Scotland continuing within the UK and benefiting from new exciting trade and other opportunities which will flow in due course from Brexit.
FR Noel-Paton.
Pitcurran House,
Abernethy.
'Heavy heart' at food poverty
Sir, – I read today's edition of The Courier with a heavy heart (Minister's anger over food poverty, December 20).
Your front page described the Rev Jim Stewart's "dark shadow of injustice" after he was asked by a local head teacher to help families who could not afford to feed their children.
The reverend described his congregation's generous donation of 50 food bags for the hungry families of Letham in Perth.
Hungry and crushed with poverty in 2019, my word that is difficult to absorb.
Our UK Government donates billions of pounds in overseas aid and our own Scottish Government donates millions on our behalf for the same good causes and yet some of our own families are going hungry.
That seems to me to be very unfair.
I read in the same edition, "Festive fare revealed for inmates dining at Perthshire prisons".
It seemed to me a simple temporary solution could be offered to those hungry families, that with good intentions, the dining kitchens in prisons and schools could be utilised for the benefit of those hungry families.
Perhaps the prisoners could pay back to the communities from which they benefited and serve Christmas fare to the families who need it, or is that too simple a solution?
No one in our society should go hungry.
So I say to those who are in positions of influence, please, do what you can to ensure that our families are at the very least fed and clothed.
Michael Moran.
Greenhead Cottage,
Kinross.
'Spirituality' of Christmas?
Sir, – Like many people I despair of the materialism and commercialism around Christmas but some Christians believe that the only antidote is more of their God.
This is a false polarisation.
Most of the "material" involved in my seasonal event is snipped from the garden: I am especially proud of my home-made wreath.
The winter solstice is half way through the dark and has been marked by festivities of some sort for tens of thousands of years.
The baby Jesus story adds to its richness, especially for those who believe it to be literally true, but, for want of a better word, it is not the only "spirituality" of Christmas.
Neil Barber.
Edinburgh Secular Society,
Edinburgh.
A new festive countdown
Sir, – I decided to write a letter that keeps in the Christmas spirit.
On the 12th day of Christmas the UN sent to me, 12 warming pauses, 11 climate crises, 10 wrong predictions, nine climate junkets, eight frightened children, seven carbon taxes, six Greta Thunbergs, five billion bill; four Climategates, three power cuts, two school strikes, and a turbine that isn't turning.
Geoff Moore.
Alness,
Highland.
Trains go (A) 'bellio-up'!
Sir, – Late trains, no trains, no drivers, overcrowded trains, trains that are instructed not to stop at smaller stations, and even a train where medics couldn't get to an ill passenger without having to clamber over tables!
It's not before time that Abellio's contract with the Scottish Government as ScotRail was terminated.
Little wonder that Abellio has finally gone (A) "bellio-up"!
Archibald A Lawrie.
Church Wynd,
Kingskettle.
Wish list at heart of Christmas
Sir, – Tragically, heart and circulatory diseases kill 17,206 people in Scotland each year and around 690,000 people in this country are currently living with the daily burden of these conditions.
This Christmas, I'm asking you to please think about the millions of families and individuals across the United Kingdom who are missing this year's festive joy. They wish that they could be home from hospital for Christmas lunch, are awaiting a new heart for their baby or hoping a cure is soon found for a loved one's vascular dementia.
By donating to the British Heart Foundation (BHF) this festive season, you can help to make these Christmas wishes come true.
Amanda Bringans,
Director Fundraising,
British Heart Foundation.