 Sir, – I write with reference to your excellent Scottish Government Report Card series and party leaders' comments.
If education is "at the heart of everything I do", Kezia Dugdale should convince her Glenrothes colleagues that Madras College's relocation re-application must be driven first and foremost by the widest-possible educational vision for all north-east Fife's 21st century school generations, not by short-term obsessions with a third-rate location and what is manifestly not a single site.
The Court of Session dismissed Fife Council's fixation on pitches being alongside the building.
That its single-site definition totally ignores secondary school co-location with our world-renowned university is scarcely credible in 2016.
Such increasingly-recognised benefits are wisely promoted by Scotland's government.
Alex Bell's "contradictions galore" in SNP green policies are reflected with far less justification in Labour's "greenest county" lip-service aspiration versus their breaching Pipeland's Green Belt.
Pipeland's environmental contradictions?
An estimated 80 unnecessary school bus runs daily through town (25,000 miles plus car-miles, annually); biomass plant's fume-emitting chimney on St Andrews highest point (despite Athole Stewart's letter that Guardbridge's biomass would never have been approved within St Andrews); constructing six cramped pitches part-duplicating 10 fine existing sports fields.
The exposed hillside site would require major earthmoving/stabilisation, complex high-maintenance drainage systems for farmland flood-control, more heating capacity and would block forever the hospital's planned expansion eastwards.
John Birkett.
12 Horseleys Park,
St Andrews.
Arcade could boost Dundee
Sir, – I agree wholeheartedly with Xander McDade's letter on indoor markets.
People love markets and I make a beeline for them wherever I am in the world.
Perth City Hall would make a great one.
Last year I twice visited the indoor St George Market in Belfast and both times it was stuffed with people.
The market itself is an eclectic collection of stalls where you can buy fresh fish, meat and vegetables alongside artisan breads and locally-made jams, chutneys and the like.
Alongside, there are various ethnic stalls selling ready-to-eat fare and places where you can just buy a cup of coffee.
Sharing the market are a variety of craft stalls where local people sell their goods.
I wondered why Dundee does not open its own previously successful market in the old arcade and was delighted to see just such a proposal was being
considered.
This is one proposal that I hope does not end up on the back-burner.
It would be helpful if the old shortcut through the market from the City Square was brought back into use.
This would be a great addition to the Waterfront development.
It would be good for Dundee tourism and good for local producers as a space to sell their goods.
Anya Lawrence.
74b Gray Street,
Broughty Ferry.
Glasgow is market leader
Sir, – Your enthusiastic correspondent says he's never seen anything in Scotland like the Philadelphia indoor market.
Mr McDade should take himself to the Barras and the Forge in Glasgow to see what Scotland can do.
They are well worth exploring to learn about markets.
Of course, the Philadelphia market is a continuum of the market that's been there since the 18th century.
And the Philadelphia metropolitan area encompasses 6.1 million people who are that market's potential customers.
This is more people than in the whole of Scotland and might help to define our difference.
Andrew Dundas.
34 Ross Avenue,
Perth.
Political imagination
Sir, – May I congratulate The Courier for producing such an indepth Political Report Card.
Nicola Sturgeon's comment that "Scotland is a far better country today than when the SNP first came to office in 2007", does not tie in with the current state of health, police, education, Forth Bridge problems, Edinburgh school problems, potholed roads, and her introduction of legislation against the wishes of the electorate.
I give credit where credit is due. She does have a wonderful imagination.
Peter McCormack.
Grangeside,
Errol.
Poor pay price of austerity
Sir, – The record number of people in the UK who reply on foodbanks in order to eat is the direct outcome of years of austerity measures, welfare cuts, energy price increases and low pay.
The Tories deny it is anything to do with their welfare reforms, however, the evidence and research shows that welfare reform is the main force driving increasing demand for foodbanks.
This is a clear example of the age-old Tory blame-the-victim fallacy, stated with the intention of deceiving people into believing that the reason for the growth of people so desperate that they have to turn to food banks, is that they are simply too thick to  manage their money properly.
This argument is a classic example of a justification narrative.
It is a position that can be accepted at face value, and adopted as a belief by those who cannot be bothered to subject what they are told to scrutiny.
These people recycle diatribes from the right-wing press in place of their own political opinions.
Institute for Fiscal Studies figures show under David Cameron, real wages have fallen by more than £1,600 a year.
And IFS figures show families are on average £891 worse off this year due to tax and benefit changes since 2010.
Social inequality is now at record levels. A study by Oxfam showed that just five of the richest families in the UK have more wealth than the bottom 20% of the population.
The impact these cuts are having on working people is cruel.
Such is the brutality in reducing many to penury that in some cases, benefits sanctions have led to starvation and even deaths. There has been an increase in people who have been the victims of these policies committing suicide.
Alan Hinnrichs.
Gillespie Terrace,
Dundee.
Charity must begin at home
Sir, – I disagreed with David Cameron when he pledged to take in 20,000 Syrian refugees.
The announcement by Richard Harrington, minister responsible for Syrian refugees in this country, that the resettlement scheme would cost at least
£589 million up to 2021 confirms my fear.
Britain's foreign aid budget for 2015 was £12.2 billion which was the second highest out of 28 countries.
Charity should begin at home.
In Scotland, children with a devastating muscle-wasting condition have been refused drugs which could help them because they are too expensive.
The Scottish Government can, however, find £37 million to give to Malawi.
Much of the foreign aid budgets end up in the hands of corrupt politicians with some projects beset by theft, corruption and flawed accounting. In 2015, the Malawi president proposed buying a private jet with our foreign aid.
Clark Cross.
138 Springfield Road,
Linlithgow.
Make difference to young lives
Sir, – News that more young people, especially girls, are joining the Scouts is an encouraging announcement for the main youth organisations in Scotland which sees more than 110,000 young people through its doors each year.
What is welcome is that there is demand for places in youth organisations and a belief in the benefits membership can bring to the lives of young people.
I know, from our own organisation, The Boys' Brigade, that there has been a renaissance recently, with membership increasing.
We now have 20,000 members across 430 groups throughout Scotland and have the capacity to grow even bigger.
Increasing membership is important to us, but even more crucial is ensuring our programmes are meeting the needs of today's young people.
The BB is developing new materials for all our age groups – from five to 18.
Like all youth organisations, to grow, we rely heavily on adult volunteers. Many of our groups tell us that they would welcome even more children and young people, but can only do so if more willing people give up their time and talents to make a difference to the lives of young people.
Bill Stevenson.
Director of The Boys' Brigade in Scotland,
Carronvale House, Larbert.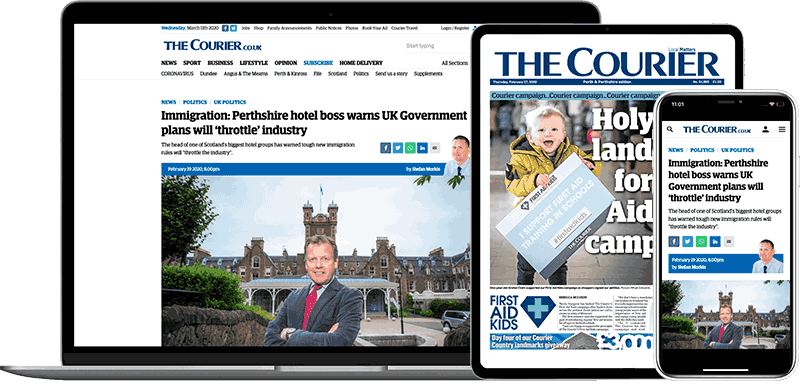 Help support quality local journalism … become a digital subscriber to The Courier
For as little as £5.99 a month you can access all of our content, including Premium articles.
Subscribe