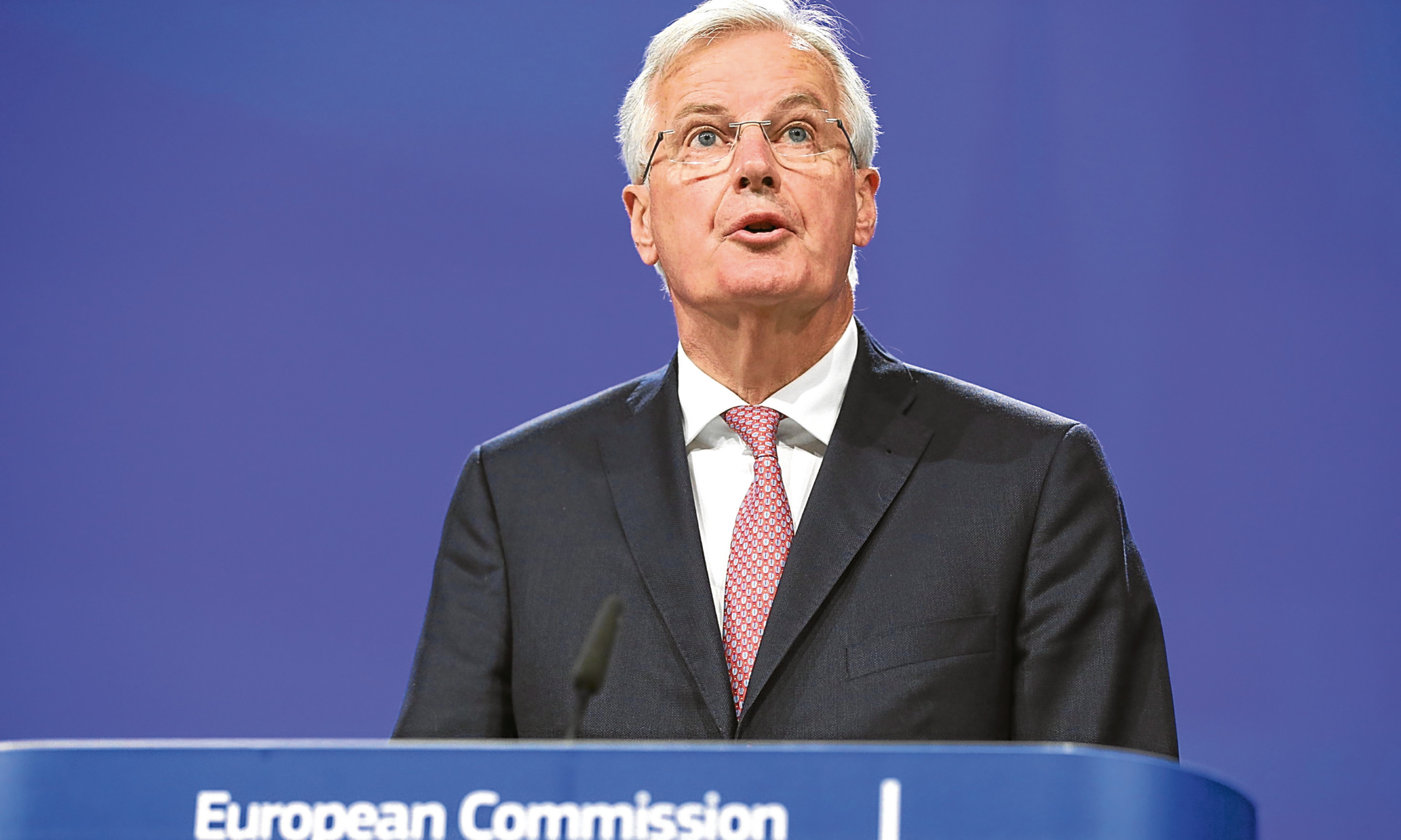 Sir, – EU negotiators are insisting that the so-called Brexit divorce bill must be agreed before talks move on to trade and a possible post-Brexit transition phase.
EU chief negotiator Michel Barnier has also insisted that the UK pays the EU's numerous financial demands which include funding for foreign aid, green projects and refugees programmes even after Britain has left.
It is time for a tougher approach.
The German car manufacturers include BMW, Mercedes-Benz, Porsche and Volkswagen-Audi.
The French vehicle manufacturers include Peugeot, Citroen and Renault.
Italy has Ferrari and Fiat.
Spain manufactures 2.7 million cars a year.
Negotiations with Mr Barnier can be simplified by stating that Britain will impose an import tax on a different model of EU car every week until the EU drops its divorce bill threats and enters into meaningful talks. The EU car manufacturers will demand that Mr Barnier is sacked.
Clark Cross.
138 Springfield Road,
Linlithgow.
Intransigence of Michel Barnier
Sir, – Michel Barnier's arrogant manner from the start of the Brexit negotiations is manifest in his idea of negotiation, which is that Britain must agree to the EU's demands.
The UK Government has produced a number of policy papers which Mr Barnier has rejected.
He initially asked the UK for, and repeatedly raised the question of the divorce bill but refuses to name its price.
It is not for the UK Government to figure out what the EU's money greed is, it is for the EU to state that openly. If the figure which has appeared in various media outlets is correct, then Britain should be willing to walk away.
No deal would be anathema to European manufacturers and agri-businesses who sell us so much.
I am surprised some member states have not already suggested that Mr Barnier be replaced as their chief negotiator for his intransigence and inability to compromise.
William Loneskie.
Amulree,
9 Justice Park,
Oxton.
Don't negotiate with Brussels
Sir, – The delay to our EU exit is because we took the bureaucratic route instead of the unilateral route. For as long as negotiations are involved we will be wasting time, money, and effort.
Any so-called agreement with Michel Barnier and his EU cabal will be worthless anyway, as it will be ignored whenever it suits them in the future.
Direct action is the only answer.
Malcolm Parkin.
Gamekeepers Road,
Kinnesswood,
Kinross.
Westminster incompetence
Sir, – Westminster's £375 billion of quantitative easing (creating money out of thin air) could have been used to stimulate the economy for the benefit of everyone.
They chose instead to give it to the rich. I do not understand why anyone in Scotland who is not already very wealthy would want to continue to be ruled by such an incompetent government.
Andrew Collins.
Ladyburn House,
Skinners Steps,
Cupar.
Education is not schooling
Sir, – Richard Lucas (August 25) is right to say that expecting all (or even most) children to achieve similar attainment levels in literacy and numeracy is unrealistic. There are many reasons for differences other than socio-economic ones. Even among siblings there are often large variations in aptitudes.
For Nicola Sturgeon to commit herself to eliminating the "attainment gap" was astonishingly naive and showed little understanding of the school system.
Nobody expects the NHS to eradicate (or greatly reduce) the huge variations in health among the population.
Why should anyone think that schools can eliminate differences in educational attainment?
Schooling has often done more harm than good to the health and welfare of pupils. Many experience stress and mental/physical health problems due to pressure to perform and bullying.
Making comparisons in performance among pupils, schools, or countries is an invidious practice.
Examination results are a very limited criterion and little is understood of the reasons for these.
Other factors than schooling play key roles: culture, religion, parenting, housing and health. Politicians of all parties believe in performance tables and equate education with schooling. In truth most learning occurs before and after this.
John Swinney wants Scotland to have a world-class education (meaning school) system. What this means and what criteria will be use to decide the matter is unclear. The majority of school systems are of poor quality.
Alan Mathieson.
293 Glasgow Road,
Perth.
Where are SNP donors?
Sir, – We learn that more than 98% of the SNP's general election funding came from three sources, including half a million pounds from the immensely wealthy Weir family, frequent bankrollers of the SNP.
But hang on a minute. Is this the same SNP we're informed is an impassioned grassroots movement transcending social class, age and gender?
A party with more than 100,000 members supposedly ardently committed to Nicola Sturgeon's nationalist dogma?
Apparently so, though it would seem supporters are not devoted enough to nationalism to put their hands in their pockets to back the SNP with their cash.
Such a funding profile is more what you would expect for the Tories.
But then again, the SNP is the party actively considering increasing the age by which the elderly receive free bus passes.
Plus the SNP's potential overhaul of business rates could result in the closure of libraries and sports centres.
Vote SNP and get Tory-style politics, though with an obsessively nationalistic twist.
Martin Redfern.
Woodcroft Road,
Edinburgh.