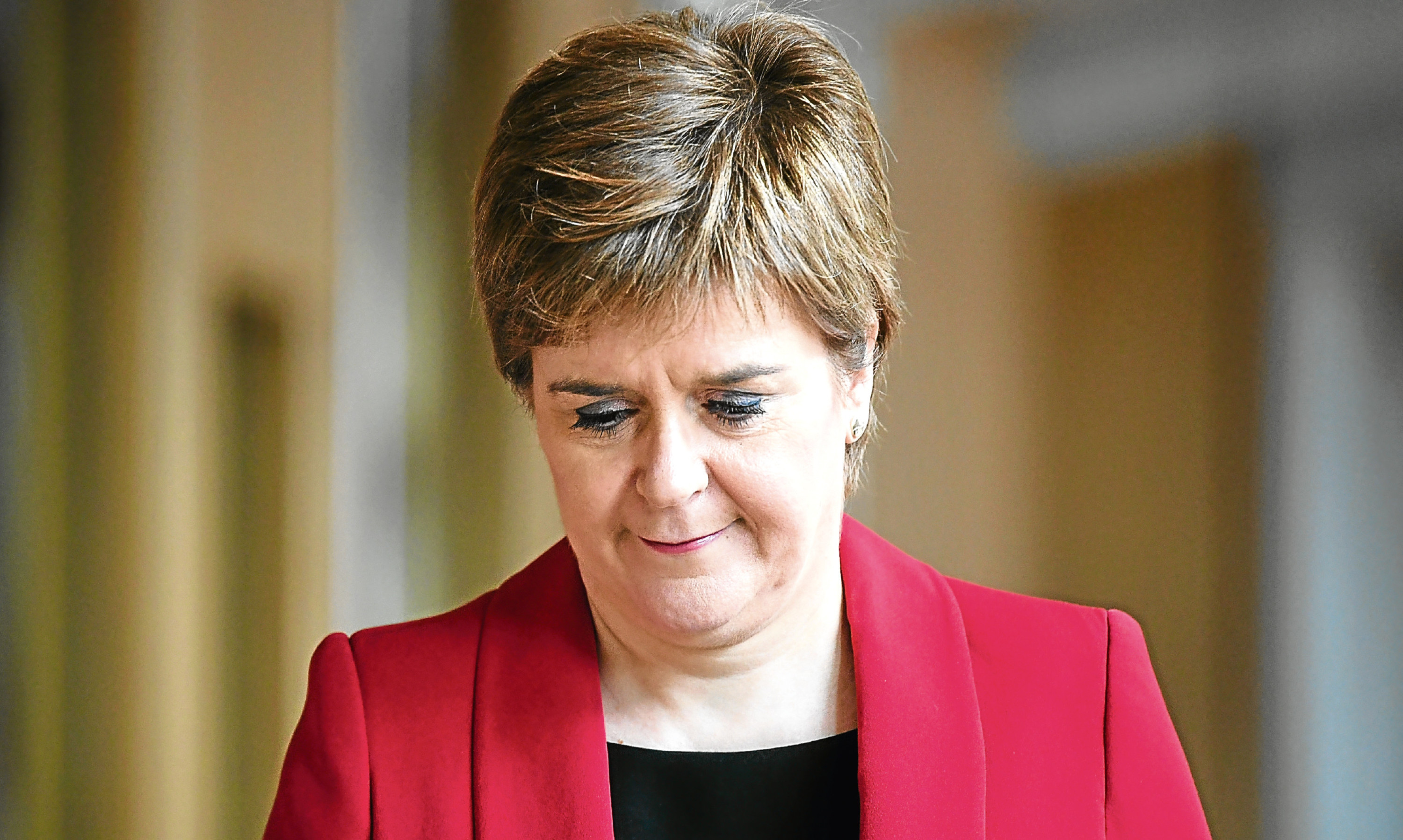 Sir, – I suppose if I was Nicola Sturgeon, secure – in the absence of any credible successor – in my job as leader despite losing 500,000 votes in June, I too would focus on undermining the UK's Brexit position.
UK failure, perceived or real, to get a good deal for Scotland is her only hope of a second referendum.
Just four hours after Friday's announcement of Brexit talks progress she tweeted "… any special arrangements for NI must be available to other UK nations… a UK government that is able to say that come what may, it will avoid hard borders with Ireland/NI after Brexit can never again tell Scotland that independence would mean a hard border between Scotland and UK".
She avoided the other precedent, the UK's £50bn "divorce bill" which is tiny (£800 per inhabitant) compared with an independent Scotland's inherited £150bn share of the UK's £1,600 billion national debt (£2,800 per inhabitant).
An Irish resolution still depends on satisfactory trade agreements, but anyone genuinely interested in the best result for the UK should be tweeting their delight that discussions are now moving to trade.
Ms Sturgeon's problem is EU negotiations are grinding inexorably forward to a deal that even she will be unable to spin well enough to convince enough Scots that she should get her dog's chance last throw of the dice for a referendum.
For Scotland and the UK's sake, I hope I'm right.
Allan Sutherland.
1 Willow Row,
Stonehaven.
Perth needs a clean-up
Sir, – The revamped Perth Theatre is welcome (although the grim 'industrial' aesthetic of the foyer and café is somewhat oppressive), but the white render on the outside, already showing scuffs and dirty marks, is the wrong choice for such a public area.
Of wider concern is the council's inability to keep the High Street pedestrian area properly clean. Spending millions on granite paving, benches etc, only to not maintain or clean them properly lets Perth down.
I have been told the council does not possess a machine for cleaning up chewing gum.
If that is true, should they not hire one?
David Roche.
6 Conachar Court,
Isla Road,
Perth.
Saving St Mary's Church
Sir, – I was delighted to see St Mary's Church in your paper (December 7) stating that the church has been preserved for future generations.
St Mary's Church holds many happy memories for me growing up in Kirriemuir in the '50s and '60s.
I was baptised in the church, went to Sunday School, which was held in Mrs Prain's home in the Roods. Christmas parties were held at the Rectory in the Glengate.
I later was asked to join the choir and I remember with fondness the wonderful organist at the time, Mr Treasure. He would carry on playing long after the congregation had left the church, Jesu Joy of Man's Desiring was a particular favourite.
I was married in St Mary's on a beautiful sunny day in September 1971, by the Rev Milne, who went on to become a Canon.
I have never forgotten a Christmas Eve during the '50s, when we came out after the midnight service to a picture postcard scene, when there had been a fall of snow – truly magical.
It is, as was described, one of the most beautiful churches in the area.
Edith Cargill.
Lochlands Park,
Arbroath.
Decline of armed forces
Sir, – In politics it is usually what is not said that is more important, and so it is with defence secretary Gavin Williamson's statement that "dead terrorists can't cause any harm to Britain" and belief that no terrorist "should ever be allowed back into this country."
Mr Williamson has nothing to say about the reportedly 425 Britons who have already returned home, out of the estimated 850 Britons who fought for self-styled Islamic State.
Realistically, we would need criminal standard evidence to take action against the returnees.
His belief that no terrorist should be allowed to return is just that, a belief; it is not government policy.
Nor is it easy to see how such a policy could be implemented without revoking British citizenship.
This would inevitably lead to court challenges and again, problems of evidence.
It is not just in the sphere of counter-terrorism that the government strives to give the illusion of security.
Our already inadequate armed forces are being asked to make further cuts to both manpower and equipment.
All too many of the navy's ships are tied up in port and not fit to fight, and a question mark hangs over the future of our two amphibious assault ships.
I can only conclude that the decline of our armed forces and of our security will continue under the grandstanding new defence secretary.
Otto Inglis.
6 Inveralmond Grove,
Edinburgh.
The shambles of government
Sir, – Another missive from the Rev. Dr John Cameron berating the SNP (Letters, December 7).
There seems to be a coterie of these people, usually led by Derek Farmer, desperately trying to portray the SNP as bad.
I sometimes think that if a meteorite landed and wiped out a small Scottish town, these people would still find a way of pinning the blame on Nicola Sturgeon and the SNP Government.
If Dr Cameron examined the facts he will discover that the Scottish National Health Service is doing rather better than its English equivalent. When I look at the shambles that are the Brexit negotiations I realise that the lunatics have finally taken over the asylum.
Before jumping into bed with the DUP, Theresa May should have pondered the old Scots' saying "it taks a lang spoon to sup wi' the Deil".
It would appear that, when promoted to cabinet rank, a Tory back-bencher is given two items; a dispatch box for state papers and a stiletto with which to stab their party leader.
What a bunch! And these are the people that Derek Farmer and Dr Cameron support.
Come indyref2 a lot of people who voted no in 2014 will have changed their minds after the Brexit pantomime.
Jim Robertson.
194 High St,
Montrose.
Surely this is a wake-up call?
Sir, – The fact that according to the Joseph Rowntree Foundation an additional 700,000 UK children and pensioners have fallen into relative poverty over the past four years is totally unacceptable and must act as a wake-up call to the Tory Government.
Indeed, the charity said it was the first time in 20 years that poverty in these groups had seen sustained rises.
According to the report, since 2013 an extra 300,000 pensioners and 400,000 children are now living in poverty and the prospects for solving the problem currently look worrying.
Despite the government protecting the value of the basic state pension since 2010, Pension Credit, a benefit paid to the poorest pensioners, has not kept pace with rising costs.
Child poverty has also been driven by stagnant wages for low income families, a freeze on benefits and changes to tax credits, which many families, both in and out of work, rely on.
New threats to the poorest households include rising housing costs, higher food and energy bills, debts, and not being able to contribute to a pension.
Many thousands of people struggle daily to make ends meet, and ending the benefits freeze is the biggest thing the government could do to help.
It must do this now, before we push hundreds of thousands more into poverty's misery.
Alex Orr.
Flat 2,
77 Leamington Tce,
Edinburgh.
NHS disguising problems?
Sir, – It seems the problems in Scotland's NHS are being disguised rather than solved.
Bed-blocking continues, yet 'changes in the definition' of it saw the figures for this year lower than last year's. There is concern about the rising number of vacant consultants' posts, a practice said by Audit Scotland to be a tactic for saving money. Consultants not in post do not require salaries. In NHS Lothian, waiting times in A&E are 'underreported'.
Could the NHS save money by sacking the people whose job appears to be an exercise in creative accounting?
Jill Stephenson.
Glenlockhart Valley,
Edinburgh.