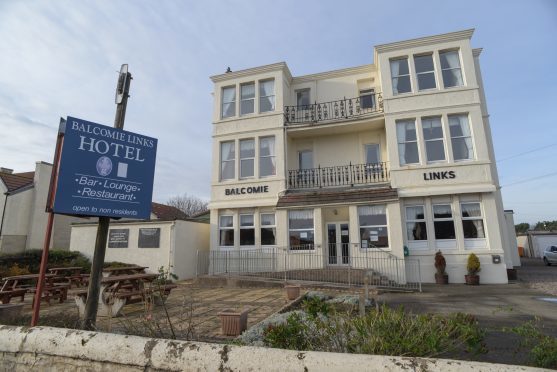 Sir, – I write in reference to the article in The Courier "Plan to demolish distinctive East Neuk Hotel recommended," (January 29).
The Balcomie Links Hotel building is of an unusual design and is described as art deco in style.
For that reason alone it is worth saving from potential demolition.
However, I'd like to inform readers that it is much more than a valuable example of an architectural style.
It is also a historical monument to the Second World War and the personnel who died in covert operations behind the lines in Nazi-occupied Norway.
The basic ideas used to launch each of those operations were thought up in two large rooms on the second floor of the building that we now know as The National Gallery of Modern Art in Edinburgh.
Many of the plans conceived there were passed on to the Balcomie Hotel, which was the officers' mess of RAF Crail, where they were discussed in detail, refined, and made fit for purpose, until they reached the stage they could be put into operation by flying military personnel, resistance fighters and secret agents in occupied Norway.
Instead of being demolished, this building should be restored to a proper standard and a plaque fixed to an exterior wall to commemorate those who lost their lives flying into enemy-occupied territory from Crail Airfield – which is virtually across the road from the hotel.
Archibald A. Lawrie.
5 Church Wynd,
Kingskettle.
We're not 'too wee' to succeed
Sir, – So, the British Government and its Unionist 'auxiliaries' in Scotland are already forward-planning their approach to indyref2.
Experience tells us this will be with acute foresight and malice. What mixture of myth and mendacity will emerge from Perfidious Albion this time?
A consistent basis of the Unionist argument has been to imply that Scotland is simply 'too wee' to become a successful, prosperous and happy country, but what is their definition of "too wee"? Too small a land surface area or too small a population size?
Either way, the fundamental insinuation does not withstand even a basic geographical analysis or any kind of demographic comparison at the international level.
Scotland has a land surface area of around 30,000sqm. That's about the same as the Czech Republic.
Switzerland and Denmark, at 15,000sqm and 16,000sqm, respectively, are about half the size of Scotland, and the Slovak Republic at 19,000sqm, is scarcely any larger. Belgium at 12,000sqm could pretty much be fitted into Highland region.
So that Unionist argument falls at the first fence.
As for population size, Scotland has around five million people. This is, give or take a few hundred thousand, about the same as Finland, Denmark, Norway, the Slovak Republic and the Irish Republic.
We should also not forget the former British colony, New Zealand, which also has around five million people. Iceland has a national population size similar to the city of Edinburgh.
So how has the small population size and land surface area affected these other countries, bereft of an incorporating union with a larger neighbour or an imperial master?
Well, The World Economic Forum's top five happiest countries in 2016 were Denmark, Switzerland, Iceland, Norway and Finland.
As for economic wellbeing, the rankings of The Legatum Prosperity Index's top four in 2017 are Norway, New Zealand, Finland and Switzerland, with small nations such as Denmark and Sweden ranked above the United Kingdom.
But "och aye, ye ken, Scotland is too far away frae the markets" say the Unionist doom-mongers.
Do they mean like New Zealand, then, 1,000 miles from anywhere?
Ron Greer.
Armoury House,
Blair Atholl,
Perthshire.
Will Sturgeon remember this?
Sir, – The Treasury's leaked Brexit economic analysis makes pretty grim reading, with the predictions for somewhere between a 4% to 10% fall in economic output.
Not surprisingly, the Treasury are not too keen to release the full details of this analysis to the public.
Nicola Sturgeon has agreed with the findings of the report, claiming it will have devastating consequences for our economy, and that the hard Brexit or clean break scenario is now dead in the water. It looks, then, as though we now have some clarity from Ms Sturgeon.
The message seems to be that breaking away from your biggest trading partner is a form of economic suicide.
Hopefully she remembers this from now on.
Steven Lyall.
17 Rossie Avenue,
Broughty Ferry.
BBC should not be a gravy train
Sir, – Regarding the debate about BBC presenters' pay and gender equality, I personally do not believe that any TV presenter, regardless of gender, deserves more pay than any nurse, teacher, firefighter, policeman or paramedic.
If a limit must be set, I think that it should be around £50,000 for the BBC television front-of-camera staff.
If their "stars" can get more elsewhere then so be it.
After all, the BBC is paid for by TV licence-payers' fees, and should not be a gravy train.
Harry Key.
20 Mid Street,
Largoward.
Don't give us a cheap quick fix
Sir, – I am writing to refute comments made in The Courier ("Ducting plan 'putting lipstick on the pig' ,"January 27) by the St Andrews University spokesman in relation to the unauthorised ducting on the St Andrews Students' Association roof.
Firstly, the spokesman implies that because interested parties attended consultation meetings with university representatives, this resulted in approval for the "vinyl camouflage wrap" solution proposed in the latest retrospective planning application.
This is completely untrue. All individuals who attended these consultation meetings objected in writing to Fife Council; the 14 written objections included those from a former university vice-principal, a former chairman of St Andrews Preservation Trust, a current member of a university court committee, a past chairman of the St Andrews Partnership and a former president of the students' association.
Secondly, the proposed vinyl wrap material is untested and untried, and no supporting information has been submitted relating to lifespan or maintenance requirements.
The material is completely alien to, and will do nothing to preserve or enhance, the conservation area and no examples or references have been provided of its use in other conservation areas.
This proposal is a cheap quick fix, when a long-term solution is required, such as enclosing the ducting within the building envelope/roof structure as originally proposed in the planning application approved in September 2012.
The unauthorised ducting has now been installed on the students' association roof for more than two-and-a-half years. The university spokesman's acknowledgement that something needs to be done, although an understatement, is very welcome.
However, a cheap quick fix is not the answer in the St Andrews conservation area.
Jim McArthur.
Southern Lodge,
Abbotsford Place,
St Andrews.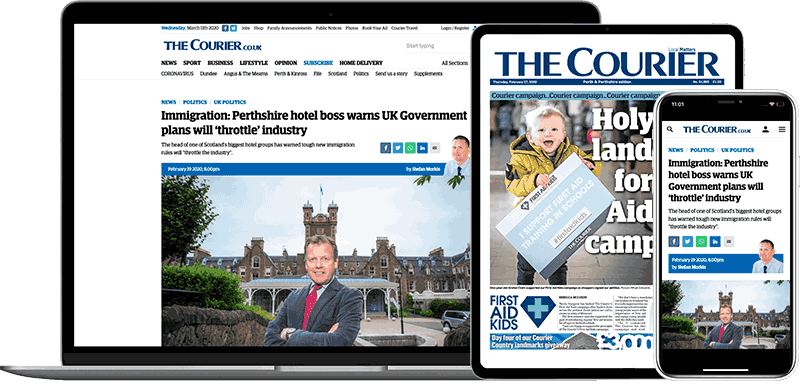 Help support quality local journalism … become a digital subscriber to The Courier
For as little as £5.99 a month you can access all of our content, including Premium articles.
Subscribe