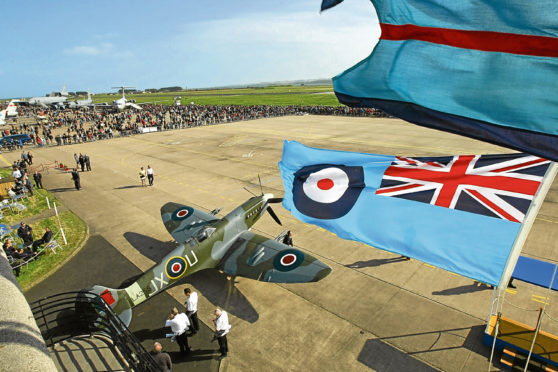 Sir, – I so enjoyed The Courier Magazine celebrating not only the centenary of the Royal Air Force but also the memories of personnel attached to RAF Leuchars ("Aces high", March 31).
My love of aircraft began when I was just a nipper at Auchtergaven Primary School, and it is a love I have pursued all my life.
The nearest I came to joining the RAF was as a member of the Royal Observer Corps, but I became a member of the Scottish Aero Club and the Strathallan Aircraft Society, and my love of flying was indulged for six glorious, unforgettable years when I was a passenger with the Aero Club.
I attended every airshow at RAF Leuchars, marvelling at the aircraft and personnel.
I met Jean, my wife, on the evening of Leuchars one year, and she has shared my interest in aviation, both on the ground and in the air.
We have met personnel involved with Leuchars, including Squadron Leader Paul Rickard, who flew Phantoms and, notably associated with Courier Country, the late Sir Neil Cameron, Baron Cameron of Balhousie and former Marshal of the RAF.
For me, also, it was sad when Leuchars closed and our skies over Tayside became quiet, except for the odd Lossiemouth-based Tornado.
When they went, all was still.
I salute the RAF, and especially the great memories in this area.
One thing is for sure – although we have just one RAF station in Scotland, as the motto states, the tradition is safe.
Thomas Brown.
18 Garry Place,
Bankfoot.
Pheasants, ticks and the science
Sir, – Pheasants are competent vectors of some (not all) Borrelia sp – the group of bacteria that causes the various types of Lyme's disease.
This means that ticks can pick up some strains of the bacteria from pheasants and pass it to other animals as well as people.
However, there are many other animals that are vectors of Borrelia species via ticks.
Recent research on the continent confirms that small mammals, such as wood mice, are probably the most important.
Others include grey squirrels, stoats, weasels, probably other small-to medium-sized mammals and many bird species.
Deer host ticks, but aren't good vectors of Borrelia.
It is likely that high densities of pheasants (and deer) in an area will alter the mix of Borrelia strains there by mopping some up and transmitting others.
Whether pheasants have significant implications for human health is currently unclear.
One thing that is clear though, is that pheasants are not fundamental to the tick life cycle and Borrelia transmission as suggested by George Murdoch ("Disease? It's all about shooting", Letters, April 4).
The idea that reducing pheasants will wipe out the disease ignores the role of the other animal hosts and is not supported by research.
Rufus Sage.
Head of lowland gamebird research,
Game and Wildlife Conservation Trust,
Burgate Manor,
Fordingbridge.
Setting the record straight
Sir, – It is not the intention of grouse moor managers to "rid the hills of mountain hares", but to maintain a healthy hare population which is acceptable to themselves as managers of the land, hill graziers and the public.
Severe weather conditions during spring and a build-up of gut parasites along with tick infestations have a significant influence on the breeding productivity of mountain hares and can create a dramatic decline in numbers for some years to follow.
Hare shooting as a means of control has been the accepted method for a century, but is it only carried out when numbers are in abundance.
Mountain hares form part of a golden eagle's diet, along with red deer calves, lambs and carrion which would support a breeding pair of eagles over an average range of 30-50km², a vast area.
Overgrazing by hares is an issue primarily affecting hill graziers who are often not landowners and are trying to sustain a living from the moorlands, as countless generations before them have done.
Heather moorland is a precious asset and must be managed in a sympathetic manner, taking into consideration all land uses including hill farming, sporting and recreation. The Angus Glens have been recognised and supported by scientific research to have exceptional moorland diversity.
Sporting estates within the Angus Glens would be delighted to answer any questions and offer an insight into their moorland management.
Danny Lawson.
Glentrusta House,
Fern, By Brechin.
Sturgeon told Cameron in 2016
Sir, – On 17 February 2016 Nicola Sturgeon wrote to David Cameron regarding the Fiscal Framework.
Paragraph 7 contains this point on the cost of the new Welfare agency: "… based on information provided by DWP and our own analysis of published data from DWP's Personal Independence Payment and Universal Credit business cases, we estimate ongoing administration costs to be approximately £200m annually, and set up costs to be between £400m-£660m."
The Scottish Government was taken to task by Audit Scotland and MSPs for not having worked out the costs of setting up the agency despite having already spent £200m of the UK funding towards it.
I am amazed no one was aware of this earlier work by Ms Sturgeon's team.
Allan Sutherland.
1 Willow Row,
Stonehaven.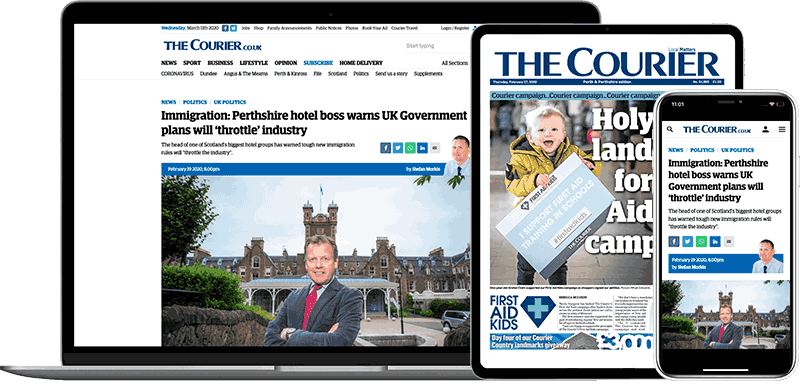 Help support quality local journalism … become a digital subscriber to The Courier
For as little as £5.99 a month you can access all of our content, including Premium articles.
Subscribe