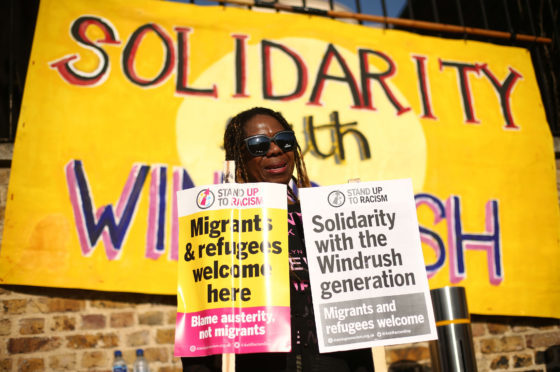 Sir, – We must be careful not to make the Windrush situation synonymous with racism.
The people from the Caribbean Islands are not the only ones to be affected by British Government policy.
Commonwealth citizens from predominantly "white" countries, such as Canada and Australia have also been treated badly, including being deported.
The main problem is that, for decades, the government has moved the goal posts.
Many citizens, even those of British parents, have found themselves on the wrong side of some new rule that no one knew about because we are not informed of changes.
There are also massively steep rises in fees for certain types of "remain" or "right of abode" passport stamps which, if you haven't taken out British citizenship – another expensive fee – were originally promised to be a one-off fee, but now must be paid for with each passport renewal.
It can cost thousands of pounds just to stay in the country that you have lived, worked, paid taxes and raised your children in.
People who have applied to stay under one rule can find the rule changed and that they no longer fit the original criteria.
British people would be horrified if they knew the true extent of government policy toward Commonwealth peoples.
The government would do well to remember who its true friends are. You will need us after Brexit!
Mary Duncan.
45 Woodlands Park,
Blairgowrie.
The ghost of Powell remains
Sir, – The plight of the Windrush generation has put back into perspective not how far we think we have come when it comes to the issue of race relations, but how little we have actually progressed.
This week marks the 25th anniversary of the murder of Stephen Lawrence, which famously led to the description of the Metropolitan Police as being "institutionally racist".
Today, that allegation can be well and truly aimed at the UK Government, with the outcome of the Windrush debacle blowing any delusions of racial equality apart.
What we have been witnessing with UK Governments, both Labour and Tory, is deeply concerning, latching on to the issue of immigration not for the benefits that it brings, but as being something to be "controlled", akin to a disease.
The creation of a "hostile environment" by the then Home Secretary, Theresa May, didn't just affect the 50,000 or so Windrush generation individuals, a number of whom have been deported already or threatened with deportation.
"Go Home" vans demonised not just illegal immigrants, but meant discrimination not just against foreigners, but specifically those of colour who were more easily identified.
Immigration was, under Prime Minister David Cameron, to be cut down to the tens of thousands, and the main political parties pandered to an anti-immigration agenda, very rarely if ever advocating the positive benefits brought to the UK by immigration.
This, of course, was further compounded by Brexit, where immigration was "weaponised" and deployed effectively by the Leave campaign.
We recently marked the 50th anniversary of Enoch Powell's infamous "Rivers of Blood" speech.
Thankfully none of his predictions of widespread civil disobedience came to pass and we live in a largely diverse and tolerant society.
However, the ghost of Powell is still alive and well, and indeed thriving, in the corridors of Whitehall.
Alex Orr.
Leamington Terrace,
Edinburgh.
Concern over unsightly site six
Sir, – Regarding the ongoing controversy concerning "site six "at the waterfront in Dundee, I sincerely hope that this monstrosity does deliver the number of jobs and wealth being promised.
As to it fitting in well with the architecture of the V&A, it's a bit like hanging a lump of concrete next to the Mona Lisa.
Bill Duthie.
25 St Fillans Road,
Dundee.
In control of our own finances
Sir, – Martin Redfern (letters April 23) complains that we Scots will have to pay twice for plastics legislation at both Holyrood and Westminster, but there is a huge difference between these costs.
Money spent in Holyrood stays in Scotland and gets fed back into the local economy because it will be spent and taxed here.
Money spent in Westminster stays in London and we never see a penny of it again.
This is one of the many reasons why Scotland will be much better off when it has full control of its own finances.
Andrew Collins.
Ladyburn House,
Skinners Steps,
Cupar.
Government must take action
Sir, – Many Fifers welcomed that Sepa has now issued a "final warning" to ExxonMobil and Shell occasioned by their emergency flaring at Mossmorran last June.
However, what happens to this final warning if the two investigations Sepa is still in the process of conducting into two further periods of emergency flaring also turn out to have grievously breached regulations?
A final, final warning or a final, final, final warning?
The absurdity points to the inadequacy of both Sepa and the legislative framework within which it operates to give meaningful protection to the residents who live near Mossmorran and who have no choice but to endure the noise, light and pollution caused by emergency flaring.
After 33 years, it really is time the Scottish Government stepped in with an independent inquiry into the total cumulative environmental, social and health impacts of the plant so that a system of mitigation and regulation can be put in place which gives residents real protection.
Linda Holt.
Dreel House,
Pittenweem.
Some honesty is required
Sir, – I see that the Montrose Minor Injuries facility will close at weekends from June 4 due to lack of staff.
My wife had occasion to use the facility recently having had an accident with a knife.
She called and was asked to come in as soon as possible, arriving at 10.15am.
She was the 11th patient since they opened at 8am with three others waiting.
This would seem to be good use of one qualified nurse and an auxiliary – both of whom did an excellent job with my wife all fixed up in less than 30 minutes – with no need for the doctor or a trip to Dundee.
It seems to be claimed that the problem is staffing yet there are more than enough staff willing to work weekends.
In fact, the problem is that the NHS will not, or cannot, pay for an excellent and necessary service seven days a week.
The excuse for closing the Montrose facility is poor and I believe wrong.
This is the second time we have had to use the service and on both occasions it has been exemplary and saved us travelling further afield for treatment.
If NHS Tayside cannot afford the service, it should at least be honest.
I believe there is enough support for some private funding locally until we get management in place that are fit for purpose.
George Sangster.
Woodlands,
Logie,
Montrose.
MoD must come clean
Sir, – Saturday marks the 60th anniversary of the largest Hydrogen Bomb, Grapple Y, exploded by the United Kingdom off Christmas Island.
The Ministry of Defence (MoD) have quoted the strength of this bomb as being three megatons, other sources say anything up to eight megatons.
The MoD fails to admit claims this was a dirty bomb.
There was torrential rain over the entire island and many naive young service personnel took pleasure in showering in the radioactive rainfall, rather than the salt-laden water reserved for this practice.
Is the MoD going to come clean and release all the information relating to their nuclear experiments?
I believe it is time to release all incriminating documents of this era and permit the general public to decide.
David Whyte.
73 Blackcraigs,
Kirkcaldy.