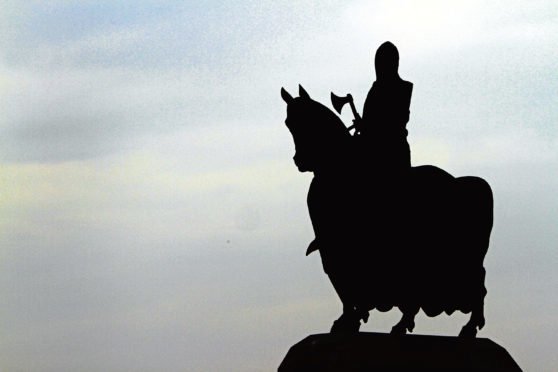 Sir, – Last weekend supporters of Scottish independence flocked to Stirling to march to the ancient battlefield of Bannockburn following an appeal from organisers All Under One Banner.
The march itself may have been fairly unremarkable but the destination gave me food for thought.
Many attendees marching for Scottish independence probably did so in the spirit of peace and civility.
Others might have seen Bannockburn as being particularly suited for demanding the "end of London rule", as was stated on some of the placards. After all, it was the 704th anniversary of a battle won by a Scottish army which was greatly outnumbered by its English opponent.
One might be forgiven for thinking that the march was taking a fresh fight between old enemies to one of their previous battlefields.
From a pacifist point of view every battlefield – whether Bannockburn or Waterloo or Stalingrad – is a poignant reminder of the madness of armed hostility.
What counts is the loss of human life, regardless of creed or nationality.
Some 704 years ago the soil on which "Yes" folk enjoyed their rally was drenched in the blood of thousands of men.
It is worth remembering that these men were people like you and me and probably died quite a horrific death.
This is what we, as human beings, should reflect on at places like Bannockburn.
We must honour the dead on both sides and let them rest in peace.
Regina Erich.
1 Willow Row,
Stonehaven.
Public should have final say
Sir, –As time begins to run out for Prime Minister May to secure a Brexit deal, and the EU Withdrawal Bill receives Royal Assent, it is clear that the tide of public opinion is beginning to turn against Brexit.
As we mark two years since the Brexit referendum, the most recent polling shows a clear majority now in favour of wanting to remain in the EU.
This is hardly a surprise.
A report from the Centre for European Reform recently highlighted that the economy is 2% smaller than it would have been had Britain not voted for Brexit.
This equates to a hit to public finances of £23 billion a year, or £440 million a week.
It is hardly a coincidence that, since the referendum, the UK has dropped below Italy to become the slowest-growing economy in the G7.
It is also clearly no fluke that the UK motor industry has seen investment in the first half of this year, according to the latest research from the Society of Motor Manufacturers and Traders.
Just £347.3 million has been earmarked for new models, equipment and facilities in the UK, around half the sum in the same period in 2017.
It is clearly not a coincidence that BMW, Siemens and Airbus have warned of the dire implications of Brexit on their businesses, with threats to relocate.
With 48% of voters saying they want a second poll on the final deal Theresa May negotiates with the EU, compared to just 25% who disagree, two years on from the referendum, the public call for such a vote is clear.
There are few who voted for Brexit in the belief that it would make them poorer.
The politicians will, one would anticipate, deliver some sort of Brexit deal.
It is up to the public to give its view on whether the deal, and perhaps more importantly its implications, are what it wants.
Alex Orr
Flat 2,
77 Leamington Terrace,
Edinburgh.
Sadly not made in Scotland
Sir, – I came on holiday from Australia to Dundee, the town of my birth, and have had a wonderful visit.
However, I couldn't help but notice the empty shops in Reform Street and to learn of the unemployment problems.
In St Andrews I bought two simple wooden discs with a thistle pattern for stamping shortbread.
They were £13 each and made in Thailand. Really?
I bought in Broughty Ferry for £34 a simple little quaich engraved with words from Auld Lang Syne.
It was made in England. Really?
Bill Boyd.
Willetts Road,
Mackay,
Queensland.
We have gone back in time
Sir, – In your coverage of the latest Scottish Government reshuffle (June 27) you helpfully clarify that a key role for SNP deputy leader Keith Brown will be to help deliver independence, heaping his current ministerial workload on to someone else.
Mike Russell MSP is confirmed as Minister for Government Business and Constitutional Relations (which can be interpreted as really meaning Minister for Independence).
Effectively then, we will have two "independence ministers".
That nice Mr Swinney is not going to be taking forward any education legislation after all, freeing up time to doubtless contribute to his party's main objective as well.
Meanwhile, we see their Westminster colleagues orchestrating cheap stunts, and online, we are witnessing more and more of what we can assume are cybernat or Russian trolls claiming to be "no" voters switching to "yes".
Independence activists are marching in the streets, and we are again seeing co-ordinated press releases combined with dodgy online polls supposedly showing progress in a "yes" direction.
It is also feeling very familiar.
Have I missed the announcement, or am I simply wrong in that we appear to be in the middle of an independence campaign again?
It feels like 2014 all over again, only unlike then, Nicola hasn't had the good grace to tell us about it.
Why not stop the pretence and be open about what is going on?
We can all see and understand the pieces of the jigsaw being put together.
Victor Clements.
Taybridge Terrace,
Aberfeldy.
Stopping the rise of the greys
Sir, – I was very disappointed on a recent visit back to Carnoustie to see the number of grey squirrels living in the park.
These are a recent and now most unwelcome invasion.
What I also found troubling is the apparent lack of any real or meaningful action to tackle the issue.
While there are notices asking for sightings to be reported, it is clear no other effort is being made to rid Carnoustie House Grounds of these most aggressive invaders.
Our indigenous and much loved red squirrel has its last strongholds in Scotland and here we have their number one enemy running wild virtually on the doorstep of the glens.
The red squirrels' last hope of survival surely hangs in the balance.
Urgent action needs to be taken to stop the relentless march north of the grey squirrel.
Let's start by clearing Carnoustie of them.
Alison Cleveland.
La Chanterelle,
Rue du Candie,
Guernsey.
Education is on the slide
Sir, – The squirrels are in evidence in my garden, trying to sabotage my bird feeder.
None is as big or as eye-catching, however, as the squirrel produced by Nicola Sturgeon this week.
To deflect attention from the withdrawal of John Swinney's ill-starred education bill, she staged a reshuffle of her cabinet.
This has been billed as a major or significant reshuffle.
If giving Derek Mackay the economy as part of his brief, after his undistinguished tenure as finance minister, is major or significant, it says little for the rest of the manoeuvre.
The glaring truth is that there is so little talent on the SNP benches at Holyrood that there was little Ms Sturgeon could do.
Sending Ms Robison and Ms Constance to the back benches was necessary but scarcely bold.
The education bill was ill thought out and generated more heat than light.
It says much about an administration that its main concern about education in Scotland, whose standards are on the slide, is with governance, with structures and authority, and not with what kids are taught and how they are taught.
We can expect no progress in reversing the downward trend in Scottish education standards until these issues are addressed.
Jill Stephenson.
Glenlockhart Valley,
Edinburgh.