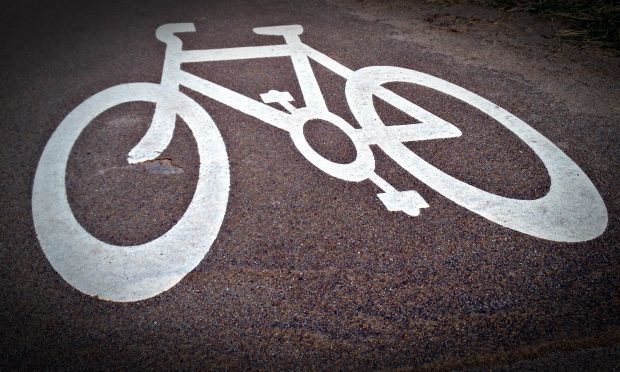 Sir, – The cycle lanes in Perth are dangerous and narrow; they are not joined up and come to an abrupt end, forcing cyclists to rejoin the flow of traffic.
Unfortunately they persist with the new bike lane out to Willowgate, surely one of the most dangerous designs I've ever seen, where cyclists dice with death either crossing two lanes of fast traffic or trying to rejoin the flow.
But most of all these cycle lanes create a perception that cyclists must cycle in them, and that it's ok to pass them within inches, even if there is little space to do so. The danger was so tragically confirmed with the recent dreadful accident in Bridgend.
It is little known that cyclists are allowed to cycle in what is known as "the primary position" or sometimes referred to as "taking the lane". This is where a cyclist cycles in the middle of the lane.
Contrary to what many may think, it is often safer to cycle in this position where you can see better and also be seen more easily, particularly in busy town centres.
It can also discourage vehicle drivers from performing dangerous manoeuvres like overtaking when there isn't enough room or there is an oncoming vehicle.
Cycling Scotland, the Goverment and the Ministry of Transport via the Highway Code could do a lot more to raise awareness of this, which would perhaps lead to less animosity between the various road users and eventually, the roads would become safer.
Unless cycle lanes are segregated, continuous and joined up they are not fit for purpose, but resource constraints mean it is unlikely this is ever going to happen.
So here is an alternative solution for Perth which may sound controversial – get rid of the current cycle lanes and paint a logo (like in the bus lanes) on the road every so often to remind everyone to share the road.
We also need to be more tolerant of each other. Bikes and vehicles are inanimate objects. They don't cause accidents, it is the person operating them who does. We need to think of each other as people, not objects, who are all entitled to use the highway.
We need to share the road, not claim it.
Susan Morrison.
9 Pitcullen Terrace,
Perth.
No value in free parking
Sir, – "New call to subsidise car owners' costs from the National Health budget."
This should have been the headline for your front page article "New call for end to Ninewells charges" (The Courier, July 10).
The facts are that parking charges at Ninewells Hospital, at four hours for £2.30, rather than being "ridiculous", are in fact the cheapest car parking charges in Dundee.
Charges, it must be said, regularly paid by people going shopping or even for a cup of coffee – which is generally more than £2.30.
It is also useful to reflect just what fraction of the staff costs, let alone the cost of drugs, the use of expensive equipment such X-ray machines and MRI scanners, associated with treatment at the hospital, that £2.30 represents.
As for the statement by MSP Bill Bowman that some car owners do not have £2.30 in their pockets, one wonders why Mr Bowman is not making the case for free bus fares to Ninewells for those who have to use public transport to get there, and for recompense for those forced to travel by taxi?
I am also surprised that Mr Bowman, as an elected representative who must be aware of the financial pressures on the National Health budget and the need to prioritise essential expenditure, does not give us a list of the medical procedures he considers should be cancelled so as to provide free parking at Ninewells?
All in all Mr Bowman seems a prime example of one who knows the cost of everything and the value of nothing.
Jack Searle.
32 Farington Street,
Dundee.
One way out of Brexit mess
Sir, – Britain is in a mess because a bunch of nationalist cranks and Tory backwoodsmen, given credibility by Boris Johnson and Michael Gove, misled referendum voters with ludicrous claims they had no expectation of having to fulfil.
They said Brexit would make Britain richer and more independent, with more money for the National Health Service, total control of immigration, continued friction-free trade with Europe and absolutely no costs or downsides.
In the two years since, the gulf between the easy, prosperous, productive Brexit that Leavers expect and the grim, complicated cost of disentangling economies intertwined for decades has poisoned and paralysed British politics.
I see no solution other than Parliament cancelling the Article 50, accepting the EU's four freedoms (goods, capital, services, and labour), the over-sight of the ECHR and joining the euro at the pre-referendum rate of £1 = €1.35.
Dr John Cameron.
10 Howard Place,
St Andrews.
The kindness of a stranger
Sir, – Visiting the Perth farmers market from Fife on Saturday July 7, my wife collapsed returning to our car parked in the car park adjacent to Marks and Spencer.
Thanks to the kind lady parked next to us, in a red car, who hastened to help, and helped me get my wife into our car to recover.
Unfortunately we were not able to obtain her name, but we hope she reads this.
Many heartfelt thanks to a very kind person.
Fay and George Cormack.
2 McLauchlan Rise,
Aberdour,
Fife.
Mackintosh building cost
Sir, – Glasgow School of Arts director Professor Tom Inns said "We're going to rebuild the Mackintosh building".
Estimates of the rebuilding costs are in excess of £100 million.
It will be recalled that, in 1997, the Scottish Parliament building was "only" going to cost between £10 and £40 million.
It ended up at more than £414 million and the annual running costs are an unsustainable £72 million.
Then the Edinburgh tram project was going to cost £545 million but cost more than £1 billion for only part of the project. It is likely the cost of rebuilding the Mackintosh building will escalate out of control.
This might be acceptable if the insurance company is footing the bill but not if the taxpayer has to fund any of it.
Scottish Government ministers were quick to gain publicity by promising funds but they have no right to do so.
Those who wish to see the building rebuilt should finance any shortfall, and not the taxpayer.
Large donations from Nicola Sturgeon and her MSPs would show a good example.
Clark Cross.
138 Springfield Road, Linlithgow.
Wrong date for the marches
Sir, – It is intriguing to see marches taking place in Northern Ireland on July 12 to commemorate the Battle of the Boyne, when King William III defeated King James VII of Scotland (James II of England).
The actual date on which the battle should be marked is July 1 1690 the Julian calendar was in operation at the time the battle occurred.
This was only later replaced by the Gregorian calendar, which we currently use.
Alex Orr.
77 Leamington Tce,
Edinburgh.
Two visitors, at what costs
Sir, – As the Catalan President Quim Torra visits Scotland and meets with our First Minister Nicola Sturgeon, I assume the extent of the Police Scotland operation to assure his personal safety amounts to little more than a couple of constables, provided more out of courtesy than as the result of any risk assessment.
What a contrast to the £5 million expense of policing US President Donald Trump's forthcoming golfing holiday which would have bankrupted the Scottish police had not the UK Government bailed it out!
John Hein.
78 Montgomery St,
Edinburgh.